Ben Broadbent has signalled that the Bank of England is ready to pull the trigger on more interest rate increases to rein in Brexit-fuelled inflation, a day after the first hike in a decade.
The Bank's deputy governor said that he anticipates a "couple" of further hikes as part of measures to get inflation, which is currently at 3%, back on track.
He told BBC's Today programme: "Currently we anticipate we will need maybe a couple of more rate rises to get inflation back on track, while at the same time supporting the economy."
His comments came after the Bank increased interest rates from 0.25% to 0.5% on Thursday, marking the first increase since July 2007.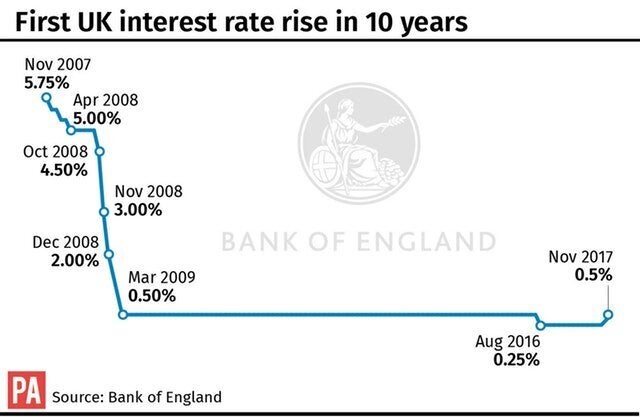 How the UK interest rate has changed 10 years.
The quarter-point rise reverses the emergency cut seen in the aftermath of the Brexit vote shock in 2016 as the Bank sought to head off turmoil in the economy.
The central bank also signalled more "gradual" increases are on the way to cool surging inflation.
However, the hike and comments from governor Mark Carney were read by markets as "dovish" and did nothing to help the dilapidated pound, which slumped over 1% against both the dollar and the euro.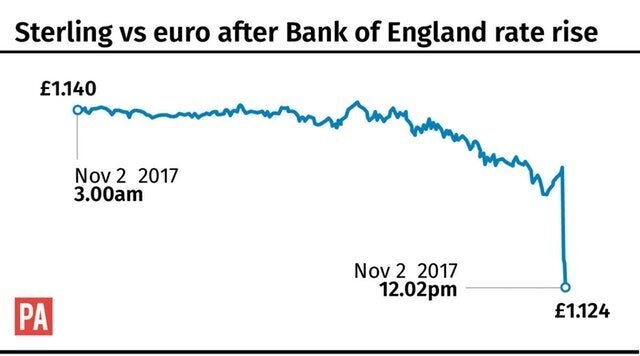 Sterling vs euro after the rise
Mr Broadbent also said that Brexit was weighing on the country's economic performance.
"It is clearly having some effects on the economy. We think investment is weaker than it would otherwise have been.
"Obviously consumption has been affected significantly by the squeeze on real incomes that results from last year's referendum," he said.
Sterling's Brexit induced collapse has placed strain on businesses and consumers by increasing import costs and in turn shop prices.
Before the 7-2 vote to hike, it had been thought that signals of a more "hawkish" path for interest rate increases would boost the pound and help bring inflation on a path towards the Bank's 2% target.
Explaining the Monetary Policy Committee's decision to raise rates, Mr Broadbent added: "Following the referendum, sterling's exchange rate fell very sharply, that's pushed up import prices and with it the rate of inflation.
"And while one can tolerate above-target inflation, the MPC is inclined to accept that for as long as there is also quite a lot of spare capacity in the economy on high employment for example – that was the case back in 2011/12 when we had high inflation.
"That has become less and less the case over time including through the course of this year."