Jose Mourinho said he has paid everything he owed to Spanish tax authorities from the time he coached Real Madrid, after he appeared in court in the Spanish capital.
The Manchester United manager spoke after a brief appearance before a judge to answer questions regarding accusations of tax fraud.
Mourinho is accused by Spanish prosecutors of defrauding the country's tax authorities of 3.3 million euro (£2.9 million) in unpaid taxes in 2011 and 2012.
"I was informed that an investigation was opened and they told me that in order to regularise my situation I had to pay a certain amount of money," Mourinho said as he left the courthouse.
"I did not complain (or) appeal and I paid and I signed an agreement and a compliance act with the state, saying that everything was closed. For this reason I was here only for five minutes to say the same things I am telling you."
The money involves revenues from image rights, not salary paid by Real Madrid. The 54-year-old Portuguese coach was in charge of Real Madrid from 2010 to 2013.
After the tax fraud accusations were announced in June, the agency that represents Mourinho, Gestifute, released a statement saying he paid "more than 26 million euro (£23 million) in taxes, with an average tax rate over 41%, and accepted the regularisation proposals made by the Spanish tax authorities in 2015 regarding the years of 2011 and 2012 and entered into a settlement agreement regarding 2013".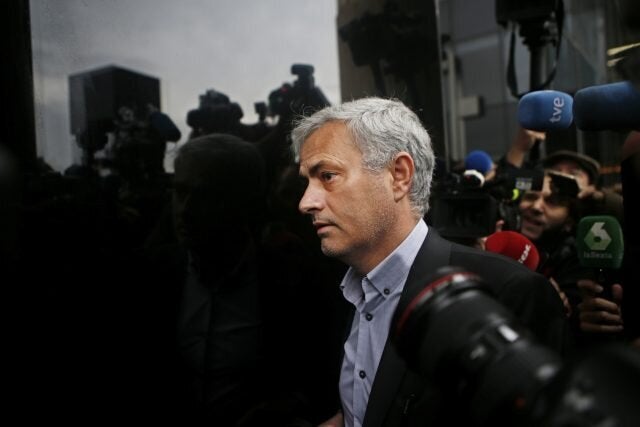 Manchester United manager Jose Mourinho enters a courthouse in Madrid (Paul White/AP)
The agency said tax authorities issued a certificate in which it attested that Mourinho was in compliance with all of his tax obligations. It published copies of the certificates.
Mourinho is the latest football figure targeted by tax authorities in Spain. Last year, Lionel Messi and his father were found guilty on three counts of defrauding tax authorities of 4.1 million euro (£3.6 million) from income made from image rights.
Cristiano Ronaldo, Marcelo, Ricardo Carvalho, Angel Di Maria, Javier Mascherano, Radamel Falcao and Fabio Coentrao are among other players investigated.