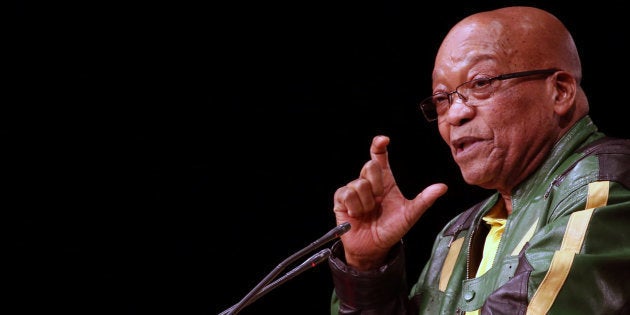 President Jacob Zuma tried to "bully" former National Director of Public Prosecutions (NDPP) head Mxolisi Nxasana out of office by using an inquiry into his fitness, the North Gauteng High Court in Pretoria heard on Monday.
"He tries to bribe him, seduce him with public money," Wim Trengove SC, representing Freedom Under Law (FUL) said before a full bench.
FUL, Corruption Watch and the Council for the Advancement of the South African Constitution (Casac) are seeking an order declaring Nxasana's removal invalid.
Nxasana accepted a golden handshake from Zuma worth R17.3m and left the National Prosecuting Authority (NPA) in 2015.
Before that, an inquiry into his fitness to hold office was abruptly halted without explanation.
The organisations want his removal set aside and the golden handshake repaid.
It is the organisations' case that Nxasana had not requested to vacate his office, as required by the National Prosecuting Authority Act."He was bullied out of the office. The independence of the NDPP was unlawfully undermined," Trengove said, adding that no one should interfere in officials' exercise of powers.
Trengove also argued that there was conflict between Zuma's personal interest and his Constitutional duty and added that he was biased in the appointment of the NDPP.
He told the judges the president and NPA "joined forces" to run the Spy Tapes case for eight years.
Trengove also touched on the Spy Tapes judgment handed down by the Supreme Court of Appeal in Bloemfontein and said both counsel for Zuma and the NPA had conceded that the decision to not prosecute him on corruption charges was flawed.
Matthew Chaskalson, who represents Corruption Watch, added that Zuma created an "appearance of interference in the independence of the NPA" when he paid Nxasana.
But Judge President Dunstan Mlambo, interjected and asked Chaskalson if he was suggesting that current boss Shaun Abrahams – who replaced Nxasana - was a victim of "unlawful decisions". Mlambo said Abrahams was an NDPP who had done nothing wrong.
Chaskalson told the court that, once the removal of Nxasana is ruled unconstitutional, the appointment of Abrahams must be annulled.
"You can't be appointed to a position that is occupied," he said.
"What do you want us to do with Mr Abrahams? Do you want us to say his appointment was null and void?" asked Mlambo.
"Indeed," Chaskalson replied.
He added that, "if there were doubts about Nxasana's fitness to hold office, the doubts should be canvassed in an inquiry".
Earlier, Nxasana submitted an answering affidavit to the court in which he detailed his meetings with Zuma.
However, the court dismissed with costs his application for the condonation of the late filing of the affidavit.
This means his version of events will not be included in the case.
In an exclusive interview with News24, Nxasana said he still believes his departure was linked to the corruption charges against the president, with some fearing that he would reinstate them.
The hearing continues on Tuesday.