The first evidence of Julius Caesar's invasion of Britain has been discovered, archaeologists claim.
Researchers from the University of Leicester believe Caesar's fleet first landed in 54BC at Pegwell Bay on the Isle of Thanet in Kent.
They point to a large ditch found at the small hamlet of Ebbsfleet, at the head of the bay, near Ramsgate, which appears from its size, shape and date to have been a Roman base during the first century BC.
The shape of the ditch is very similar to Roman defences at Alesia in France, the researchers say.
The presence of iron weapons, including a Roman "pilum" (javelin), also suggests the ditch was used by the invading Roman army.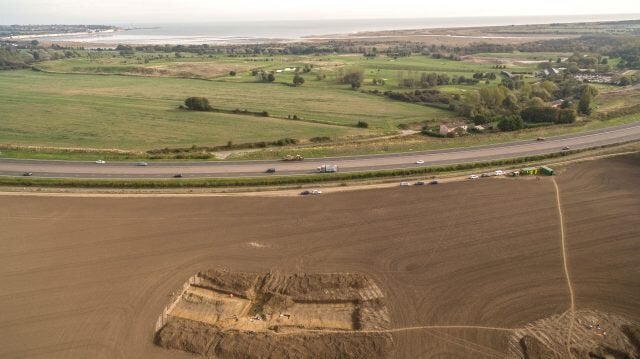 Excavations at Ebbsfleet in 2016 showing Pegwell Bay and the cliffs at Ramsgate (University of Leicester)
The evidence, explored as part of BBC Four's Digging For Britain programme on Wednesday, also matches Caesar's own account of the landing, the researchers say.
Historians believe Caesar's first two attempted invasions of Britain, in 55 and 54BC, were repelled by local Celts.
Previous theories about where the fleet landed have focused on the shoreline about 10 miles to the south of Pegwell Bay, around Walmer Castle.
Dr Andrew Fitzpatrick, research associate at the University of Leicester's School of Archaeology and Ancient History, said: "Thanet has never been considered as a possible landing site before because it was separated from the mainland until the Middle Ages.
"However, it is not known how big the channel that separated it from the mainland (the Wantsum Channel) was.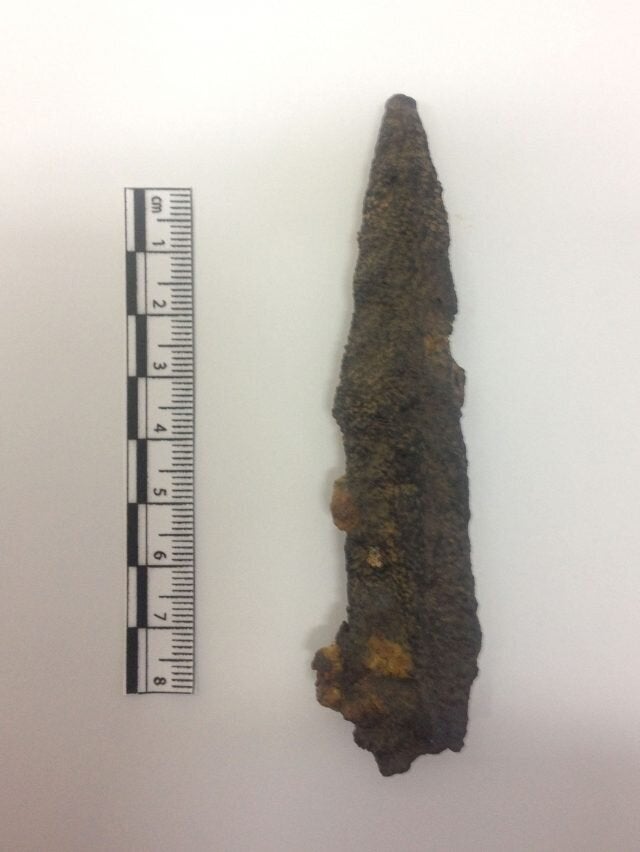 The point of the Roman pilum found in the defensive ditch at Ebbsfleet (University of Leicester/PA)
"The Wantsum Channel was clearly not a significant barrier to people of Thanet during the Iron Age and it certainly would not have been a major challenge to the engineering capabilities of the Roman army."
Dr Fitzpatrick went on to explain how the evidence matches Caesar's own account of landing in Britain in 54BC.
"Sailing from somewhere between Boulogne and Calais, Caesar says that at sunrise they saw Britain far away on the left hand side.
"As they set sail opposite the cliffs of Dover, Caesar can only be describing the white chalk cliffs around Ramsgate which were being illuminated by the rising sun."
The University of Leicester team also challenged the popular idea that Caesar's invasion had little lasting impact on the people of Britain, arguing that Caesar's work helped the emperor Claudius to conquer southeast England almost 100 years later, in AD43.
Matthew Balfour, a Kent County Council cabinet member, said the council was "delighted" to work on the project with the University of Leicester.
"The archeology of Thanet is very special and we are particularly pleased that such important findings have been made with the involvement of volunteers from the Kent community."
Related