Any "divorce bill" for Brexit will be contingent on getting a good deal on future trade, a Treasury minister has insisted.
Chief Secretary to the Treasury Liz Truss was speaking amid reports that UK negotiators in Brussels have agreed a broad framework for a financial settlement which could see Britain pay up to £50 billion.
Ms Truss dismissed the reports as "media speculation", and said that Prime Minister Theresa May had made clear that the remaining 27 EU member states would not be left out of pocket because of UK withdrawal.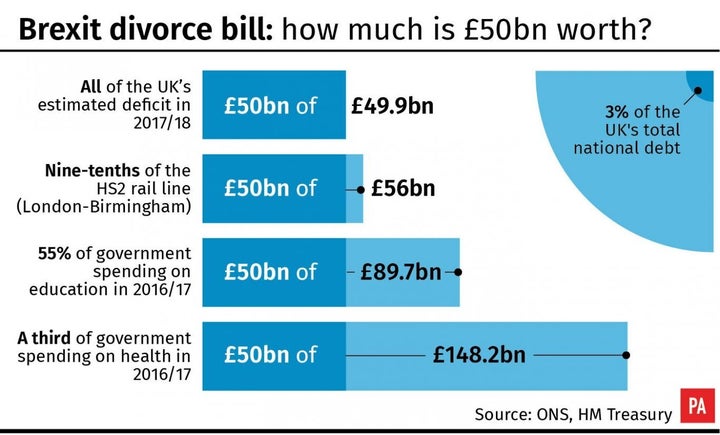 But she insisted that any divorce bill would be smaller than the cost of ongoing contributions to EU budgets if Britain remained, telling MPs: "Whatever happens, we will not be paying anything like what we would have paid as an EU member, and that represents a considerable saving for the taxpayer."
Responding to an urgent question in the House of Commons, Ms Truss said: "What we have seen today is simply media speculation and we will update the House when there is more detail to give."
She added: "As we have said, nothing is agreed until everything is agreed. Any settlement that we make is contingent on us securing a suitable outcome."
Officials close to the Brexit negotiations have been reported as saying broad agreement has been reached on a framework for the UK to settle liabilities expected to total around 45-55 billion euros (£40-£49 billion).
If confirmed, the move could clear the way for Mrs May to finally achieve her goal of moving Brexit negotiations onto the issue of trade.
However, differences with Dublin over the status of the border in Ireland could still block progress at the European Council summit on December 14-15.
Taoiseach Leo Varadkar said on Wednesday that he does not think Ireland will need to use its veto at the crucial Brexit summit because it had the backing of other EU states for its position.
"The solidarity that exists for Ireland and behind our specific issues in relation to avoiding a hard border remains very strong," he told the Irish parliament in Dublin.
The EU's chief negotiator Michel Barnier stressed on Wednesday that agreement on the key divorce issues of the financial settlement, the Irish border, and citizens' rights was "not there yet".
Speaking at the Berlin Security Conference, he said: "We are awaiting sufficient progress from London … We are not there yet. The work on the three main subjects continues this week in a constructive spirit with the UK.
"The next European Council will take place in 15 days' time. If real 'sufficient progress' is actually made, the European Council will be able to open the discussion of a possible transitional period.
"Then the member states will define in 2018 the framework of this new partnership with the UK."
Mrs May is due to meet European Commission president Jean-Claude Juncker on Monday for make-or-break talks which could determine whether Mr Barnier is able to declare that sufficient progress has been made to move the talks onto their second phase.
A recommendation from the French diplomat would spark intensive discussions in EU capitals over the 10 days before the European Council summit, at which any of the 27 remaining member states could wield a veto.
The reported deal on the divorce bill was denounced by former Ukip leader Nigel Farage as a "sellout".
And former Cabinet minister Priti Patel said on Monday that the EU should be told to "sod off with their excessive financial demands".
Liberal Democrat Brexit spokesman Tom Brake said: "Around £45 billion would appear to be the price Johnson and Gove et al are willing to pay for a deluded vision of an imperial Britain post-Brexit."
Repeating Lib Dem calls for a second referendum on any Brexit deal, Mr Brake said the divorce payment would be "dwarfed" by the hit to UK economy of pulling out of the single market and customs union.
But former Conservative leader Iain Duncan Smith told BBC Radio 5 Live that even a divorce bill over £40 billion would be "a good bargain" because the UK would save "staggering amounts of money" on contributions to the EU budgets over the long term.
It is thought unlikely that either the EU or UK will ever put a final figure on the settlement, which covers a complex array of liabilities including funding for projects to which Britain signed up as an EU member, loans which have not yet been repaid, and pensions for European Commission civil servants.
Unofficial calculations have put the gross figure at around 100 billion euro (£88 billion), but deductions for items such as the UK rebate and Britain's share of the European Investment Bank could reduce the net sum to about half that.
Payments would be made over many years as liabilities fall due, so the final total may not be known for decades.
Mrs May's official spokesman said the Prime Minister still believes Britain and the EU "need to take a step forward together" in Brexit talks, and that "nothing is agreed until everything is agreed".
Amid reports that the UK would, in an effort to resolve concerns over the rights of EU citizens in the UK, allow the Supreme Court to refer issues up to the European Court of Justice where it felt unqualified to adjudicate, he said: "We have been clear on this and there is no change in position that, once we leave the EU, we will be taking back control of our own laws."
Asked if that excluded the possibility of a role for the ECJ, he said: "I'm not getting into the negotiations but the point is that once we leave it will be for Britain's courts to decide on these matters of law."
Any role for the ECJ could prove contentious as Mrs May previously ruled out the court having jurisdiction in the UK after Brexit.
Speaking in Berlin, Mr Barnier said he hoped to be able to report to the European Council that sufficient progress had been made on divorce issues to move on to trade talks in December.
"We are working really hard on these subjects and I just wish and hope that, when the European Council meets in a few days' time, I can report that we have negotiated that deal and we have reached a very important step in our relationship.
"If we find that very important agreement in the next few days, we are expecting that in 2018 the European Council will set a new framework for this new partnership with the UK."
Related