Theresa May has been warned not to accept a Brexit deal which could see the European Court of Justice continue to issue rulings which are binding on the British courts.
Sir Richard Aikens, a former Court of Appeal judge, said such an agreement would be "tantamount to reversing the result of the 2016 referendum".
He was backed by the Conservative former cabinet minister Iain Duncan Smith who suggested it could result in European judges ruling on future trade disputes between Britain and the EU.
Their intervention comes at the start of a crucial week for Mrs May which could determine whether EU leaders give the go-ahead for the second phase of the Brexit negotiations – including trade talks – to begin.
The Prime Minister travels to Brussels on Monday to meet European Commission president Jean-Claude Juncker with the EU side insisting she must improve her offer on the terms of Britain's withdrawal if there is to be progress at the EU's December summit.
These include settling Britain's "divorce bill", the resolving the status of Northern Ireland's border with the Republic and the future rights of EU nationals living in the UK and British nationals in the EU.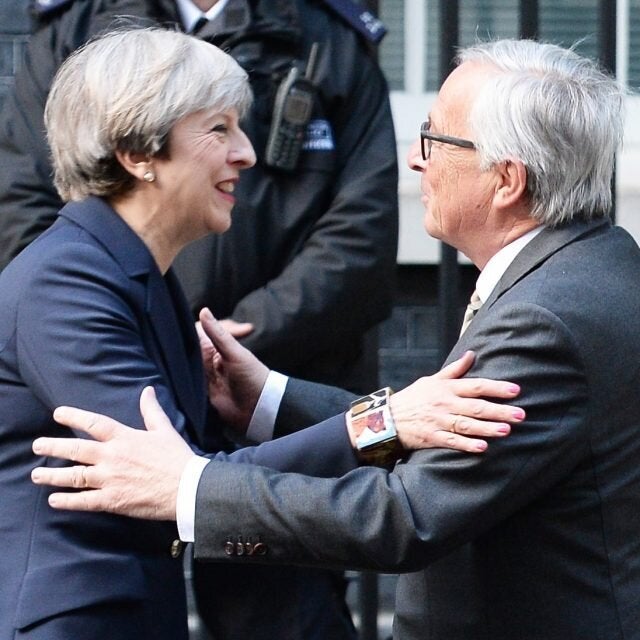 Theresa May will meet European Commission president Jean-Claude Juncker this week (John Stillwell/PA)
Sir Richard, the president of the Lawyers for Britain group, which campaigned for Leave in the referendum, warned her not to compromise on the issue of the jurisdiction of the European Court of Justice (ECJ) in order to secure an agreement on citizens' rights.
In a letter to Mrs May, seen by The Sunday Telegraph, he expressed concern that she was heading for an arrangement in which British judges would be able to refer specific cases relating to EU citizens to the ECJ for a "binding interpretation".
"After the UK leaves the European Union, the rights of EU citizens in the UK … will be governed by a bilateral treaty between the UK and the EU," he said.
"I know of no instance in current international relations where a sovereign state that has entered into a treaty with another sovereign entity (such as the EU) has accepted as binding the rulings of the court of the other party.
"If the (ECJ) were given the exclusive right to interpret the proposed UK/EU treaty in relation to EU citizens' rights to enter and stay in the UK, the right of the UK to 'control' UK borders and the rights of all citizens who lived in the UK would be lost forever.
"That would be tantamount to reversing the result of the 2016 referendum."
In a separate article in the Telegraph, Mr Duncan Smith warns the plan would be "quite unacceptable" as it would put the UK in the position of "ceding power to a foreign court".
He said: "Any oversight in relation to EU citizens could also lead to a mission creep in which the EU demands similar arrangements for legal disputes on trade and other areas."
Related