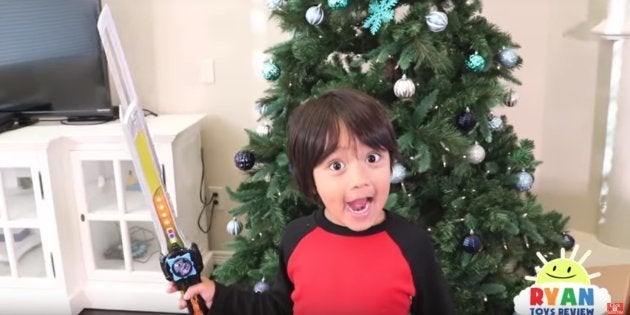 Well, allow us to make you feel worse by introducing you to a self-made millionaire who is just six years old.
While most Grade 1 students are spending their days learning to write their name and make pasta necklaces, this kid made a cool $11 million US last year by reviewing toys on his YouTube channel, Ryan ToysReview.
Ryan ToysReview, which is basically just Ryan playing with toys, trying new food, and loving life as only a six year old can, has over 10 million subscribers.
His parents shoot and produce all of Ryan's near-daily videos, according to The Verge. In fact, his mom left her job as a high school chemistry teacher to work on the channel full time.
Hmmm... a teacher's salary vs. $11 million for producing videos of your own child playing with toys... what would you choose?
The family (who have so far declined to give their full names) launched Ryan ToysReview in 2015, when Ryan was three years old, according to The Verge. He loved watching other toy review videos on YouTube and asked why he couldn't have his own.
"One day, he asked me, 'How come I'm not on YouTube when all the other kids are?' So we just decided — yeah, we can do that. Then, we took him to the store to get his very first toy — I think it was a Lego train set — and it all started from there," his mom said in an interview with TubeFilter.
Ryan's channel really took off a few months later, when a video of him opening a box of 100 toys from Pixar's "Cars" went viral. That video now has over 8 million views.
"He is definitely the youngest YouTube star we've ever seen," Josh Cohen, an industry analyst and founder of TubeFilter, told The Verge.
"His parents are really smart about it, too," he said. "They are playing with toys that Ryan likes, but they are also presenting him with toys that are popular across YouTube."