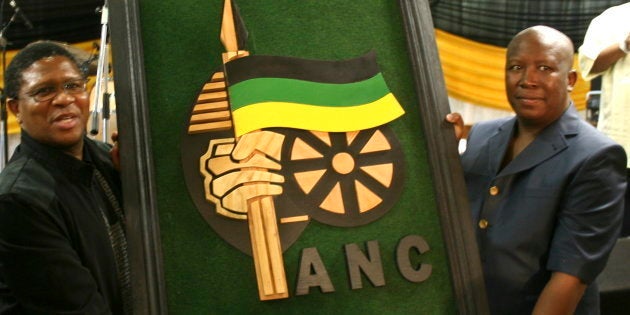 A Twitter spat between EFF leader Julius Malema and police minister Fikile Mbalula over the latter's holiday whereabouts took full flight on Wednesday –– with Malema warning Mbalula that it would all end in tears.
"Now you are talking rubbish, and when I start you will be crying like a baby," Malema tweeted –– in response to Mbalula's comment that the EFF supremo was just trying to gain votes by criticising Mbalula's festive whereabouts.
Earlier, Malema had posted a tweet criticising the police minister for going on holiday, allegedly to Dubai, at a time when crime was high during the festive season: "The whole Minister of Police [sic] out of the country at this critical period of the year, talk of priorities. Crime is a serious problem in this country, but leisure for our ministers is more important according to the conduct of [ANC] ministers, sies."
Mbalula responded: "It is leisure to b with family? Don't b desperate for votes you can do better don't doubt your support man [sic]."
He then suggested Malema "has the unquestionable right to engage me am not allergic to THAT. I must also clarify him something [sic], I don't do quite often..."
Malema, meanwhile, fired back with: "I'm all for the family and you know that very well but timing is everything, we can't have the winning team without a leader. You miscalculated, just accept and come back home now."
Mbalula then began his own torrent of tweets about various crimefighting initiatives underway over the holiday season, even promising "I ain't the Holy Spirit – I won't be in all places at once but the police will."
Mbalula then escalated the banter, questioning Malema about an event he hosted for senior citizens: "How was the Gogos party you hosted yesterday? I trust the police were sent there to keep the Gogos and their gifts safe".
Malema countered that, "The Gogo's need their minister", to which Mbalula pledged: "I'm coming Juju – tell the Gogos their gifts are safe."
Malema then posted the hashtag #YenaAyaKwiniDubai. The phrase "yena aya kwini" is loosely translated as: "Where is he/she going to?" –– so in the context of the Twitter spat, it could be read as: "What is he doing in Dubai?"
This week, Mbalula tweeted a Christmas message. However, his tweet, which was later deleted, displayed his location as Dubai.
Earlier on Wednesday, Mbalula cavalierly dismissed the social media frenzy over whether or not he is currently on holiday in Dubai.
"Uba ndiphi? Ngentlonipho nokuz'thoba noko ayifuni nina lonto Nina ababuzayo. eStay in yho lane bheka indaba zakho Ngu Dezemba lo sukuye... #Holidaes Zi big daes!!! (Where am I? With utmost respect, that's none of the concern of those asking. Stay in your lane; mind your business as we're in December)," his tweet said.
'Enjoying my December break'
"I conclude by saying to those who question my whereabouts, I am with my family enjoying my December break. Anything beyond that is public service overreach. #TimeToReflect #SeasonsGreetings," he added in another post.
He continued with his festive theme, declaring: "Am on holiday please enjoy yours too this is the time to relax with family... #SeasonsGreetings from Kuvukiland".
The geographical references came back as a later tweet read: "This Dubai sensationalist some of them they are properbly twitting from the rooftoptop of burj khalifa.#Dubai [sic]."
In another post on the social media site, he referenced the controversy over Dubai's association with the Gupta family: "Safa ngama Gupta [we are dying because of the Gupta] I pitty [sic] those who have never been to Dubai hurry up guys the gates are closing the law is coming that debars u from visiting Dubai. Bcos it is allegedly owned by the Guptas [sic]."
In October, News24 revealed that the Gupta family and some of their associates established an extensive network of front companies in and around Dubai that were used to conceal and allegedly launder hundreds of millions of rand in dubious payments linked to government contracts in South Africa.
In that same month, EWN reported that Sedgars Sport, which supplied uniforms for South Africa's Olympic athletes and officials, had partially paid for Mbalula's trip to Dubai between December 2016 and January 2017, while he was sports minister.
Sedgars denied financing the trip, and Mbalula said he paid for it himself.
I'm not asking for anything unreasonable, all we are asking for is for our minister to be home with us during this critical period of the year. All I get in response is insult from my minister @MbalulaFikile. Just come back home before we call for your resignation please...

— Julius Sello Malema (@Julius_S_Malema) December 27, 2017