Shares in Mothercare tanked on Monday as the baby retailer warned over profits following a festive sales plunge, with consumer spending falling in both stores and online.
In an unscheduled trading update, the group said UK like-for-like sales plummeted 7.2% in the 12 weeks to December 30, while online sales tumbled 6.9%.
As a result, Mothercare now expects adjusted group profit for the year is likely to be in the range of £1 million to £5 million.
This is down from previous estimates of around £10 million.
Shares dived following the news, crashing over 24% to 47p in mid-morning trade.
Chief executive Mark Newton-Jones said: "As we signalled in November, there has been a softening in the UK market with lower footfall and website traffic resulting in lower spend in both stores and online. This trend has continued.
"Going forward, we are not anticipating any improvement in the short-term market conditions for the UK."
Retailers have been hammered by weak consumer confidence off the back of soaring inflation, which has hit 3.1% following the collapse in the pound after the Brexit vote.
Total UK sales also fell 11% over the period, reflecting a store closure programme linked to a turnaround plan. In the year to date, sales are down 4.5% in the UK.
Mr Newton-Jones added that Mothercare attempted to remain at full price to protect its "brand positioning" ahead of Christmas, but then began discounting heavily, which has eroded profit margins.
"In our UK business, we took a conscious decision to remain at full price to protect our brand positioning prior to Christmas but to then discount more heavily in the end-of-season sale.
"We have subsequently seen good progress with strong sell-through rates on Autumn Winter clearance lines albeit these carry lower margins and will lead to a further reduction in full-year margin as a result," he said.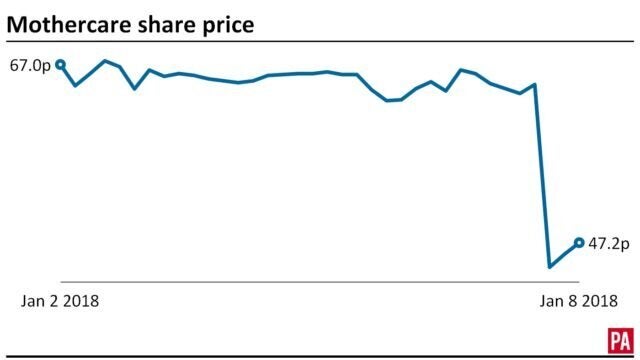 Group sales fell 2.4% as the firm described international trade as "challenging".
It is the second warning over consumer confidence in quick succession from Mothercare, which at its half-year results in November said that the UK retail market is "softening".
The company is working to slim down the total number of UK stores to between 80 and 100 from 143, having shuttered several locations over the past nine months as part of those plans.
The chief executive added: "In line with previous announcements and as part of our transformation strategy, we have taken decisive action to reduce our central cost base. The planned financial benefits of this will materialise in the next financial year.
"Whilst the performance of the business has been challenging in the last few months, we remain singularly focussed on transforming Mothercare to be the leading global retailer for parents and young children."
The results come as Britain's retail heavyweights prepare to reveal their Christmas trading figures this week amid mixed signs on the high street.
Tesco, Sainsbury's and Marks & Spencer are among a bevy of retailers to report to the market following a strong showing from Next and a profit warning from struggling Debenhams.