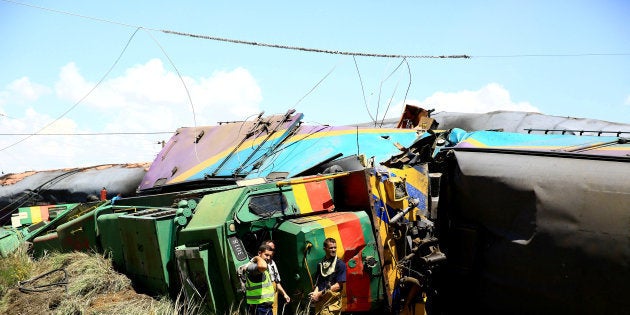 The identification of bodies from Thursday's train crash is expected to begin at the Kroonstad morgue on Monday, eNCA reported. The morgue was reportedly closed over the weekend, so families were unable to search for the bodies of their loved ones.
At least 20 people died and hundreds were injured when the train, travelling from Port Elizabeth to Johannesburg, crashed into a truck on Thursday.
On Saturday, desperate families told eNCA that they had gone to several hospitals and mortuaries to try to find their family members.
One family member reportedly said: "I'm here with my sister-in-law, she's looking for her daughter. She boarded a train from Virginia with two ladies and a gentleman. There were three kids in all. She's nine years old. We've been speaking to people who had the list but till now we haven't received any answers. We don't know where the child is. The person who has the list didn't come today so now we are going to the police station. They said we might find something there."
Meanwhile, the Passenger Rail Agency of South Africa (Prasa) said its Port Elizabeth-Johannesburg route was reopened on Sunday, Eyewitness News (EWN) reported.
"Trains departing from Port Elizabeth to Johannesburg won't be affected. One line will be back in service. We'll update the public as to when the second line will be operational," Prasa reportedly announced.
A high-level meeting between government bodies will take place on Monday to discuss how to assist the families of those who died.
According to Times Live, the number of the deceased could rise even further. Free State health department spokesperson Mondli Mvambi reportedly said: "This number will increase because the passengers in three carriages have burnt beyond recognition. The search-and-rescue operation in these carriages is still ongoing."
The United National Transport Union called for harsher penalties for "ignorant drivers" who ignore road crossings, KFM reported.