Keepers at Bristol Zoo Gardens are celebrating after breeding the world's rarest stick insect.
Five Lord Howe Island stick insect eggs were discovered at the zoo on New Year's Eve.
The zoo's effort to save the species from extinction began in 2015, when 300 eggs arrived from Melbourne Zoo in Australia.
Six animals reached adulthood – three breeding pairs – and produced eggs, which started hatching in May 2017.
Five of those eggs survived and two have now produced eggs of their own.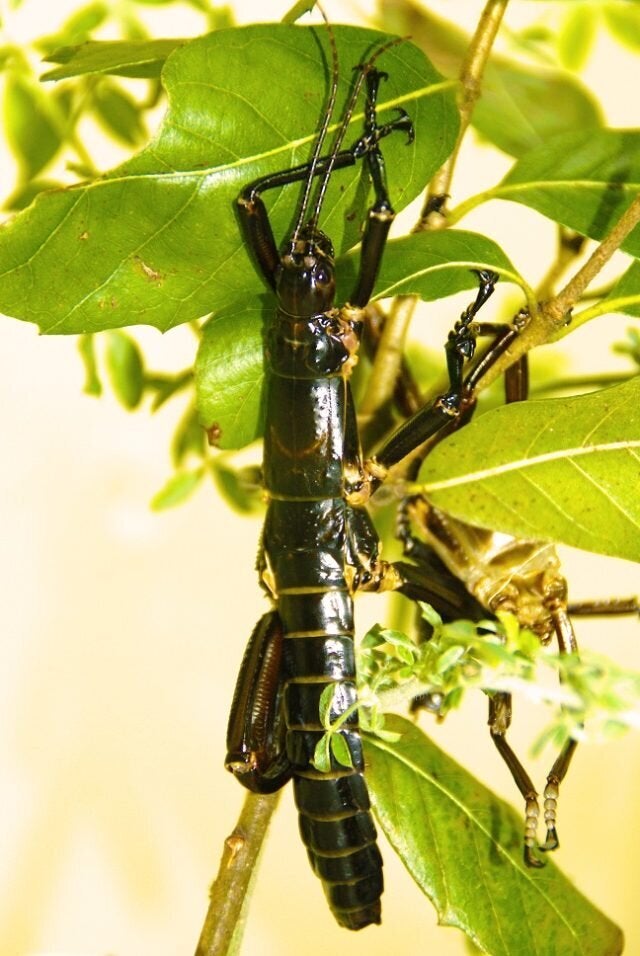 A Lord Howe Island stick insect (Bristol Zoo Gardens/PA)
Bristol Zoo said this is the first time a second-generation of eggs has been laid outside Australia.
Mark Bushell, curator of invertebrates, said: "We had our suspicions that the females might soon lay eggs, but to find eggs on New Year 's Eve is a great end to an already successful year, and a fantastic start to 2018.
"We have been tirelessly working with this critically endangered species for two years now, and to have achieved this success after such a lot of hard work and dedication is truly fantastic.
"It is certainly one of our biggest achievements in the seven years that I have been working in the zoo's Invertebrate department and a huge boost to the European captive breeding programme for this species."
When adults, the stick insects will join the zoo's founder members of the captive breeding programme for the species.
The eggs should hatch after six months of incubation, becoming the third generation of Lord Howe Island stick insects at Bristol Zoo.
It is hoped each generation will breed with greater success as the species becomes more acclimatised to the UK climate and conditions.
Keepers are feeding the stick insects plants specially grown by horticulturists at the zoo.
Lord Howe Island stick insects were once numerous on the tiny island off the coast of Australia after which they are named.
They were believed to have been driven to extinction by black rats in the early 20th century.
But in 2001, they were rediscovered on Ball's Pyramid – a rat-free volcanic outcrop off the coast of Lord Howe Island.
Two breeding pairs were taken to Australia to set up a captive breeding programme, which is now being rolled out across the world.
Eggs were sent to Bristol Zoo, San Diego Zoo and Toronto Zoo in 2015.
The one remaining population on Ball's Pyramid has between just 20 and
Adult Lord Howe Island stick insects, also known as tree lobsters, are wingless and nocturnal.
They feed on only one species of shrub, though keepers at Melbourne Zoo have been doing trials with other plants.
Females are larger than males and can reach up to five inches (13cm) in length.
Young nymphs are bright green in colour and become darker as they grow, eventually turning dark brown or black.