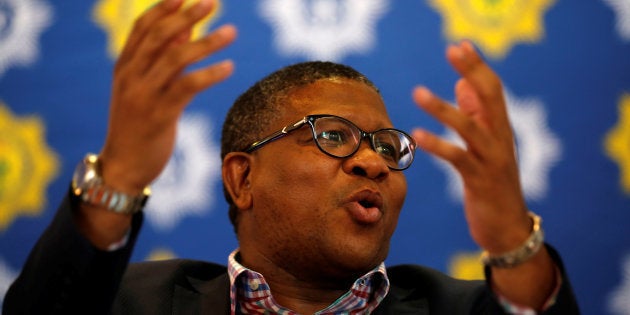 Police Minister Fikile Mbalula has warned of "bombs" that are about to go off in relation to corruption, hinting that more action could be taken against those involved in state capture. According to Eyewitness News (EWN), Mbalula made the remarks at a media briefing on Wednesday. The briefing was called to announce that processes are underway to appoint new heads of the Hawks and the police Crime Intelligence unit.
It was revealed this week that the Asset Forfeiture Unit (AFU) in the National Prosecuting Authority (NPA) obtained preservation orders against McKinsey and the Gupta-linked firm, Trillian, for funds they earned from allegedly unlawful contracts.
Mbalula reportedly told journalists on Wednesday: "You must not be shocked by what you see, Asset Forfeiture, whatever reports, there's going to be bombs that are going to come in relation to this issue of corruption because if we say people are doing corruption, we've got to fight corruption."
According to Times Live, Mbalula said there would be "no holy cows" when it came to the investigation. He reportedly said the state capture investigation was an "untelevised revolution".
Meanwhile, Mbalula announced that former Crime Intelligence boss Richard Mdluli's position will be vacant for the first time in six years, according to News24. He reportedly said Mdluli had been relieved of his duties with immediate effect after being on a prolonged suspension.
"This enables us to move to the next chapter and instil stability and vision at Crime Intelligence," he reportedly said.
Mbalula reportedly said Mdluli was given a choice – either report for work while allowing the department and criminal investigations to continue or take a service termination package. Mdluli took the latter.
"Then he chose an early leave from the office, which I granted and that early leave goes with the benefits and the pensions that he is entitled to as per human resources precedents," Mbalula reportedly said.
Mdluli is facing a criminal investigation for the kidnapping and murder of his ex-girlfriend's husband in 1999.
Mbalula went on to say that the removal of Mdluli would allow the police to bring stability to the crime intelligence division.
"This will enable us to move to the next chapter and instil stability and vision at crime intelligence," he said, according to Daily Maverick.
"We are not going to continue to pay senior officers while they're sitting at home. We want all those who are in service and are being paid a salary to do the work," new national SAPS commissioner, Khekhla Sitole reportedly added.