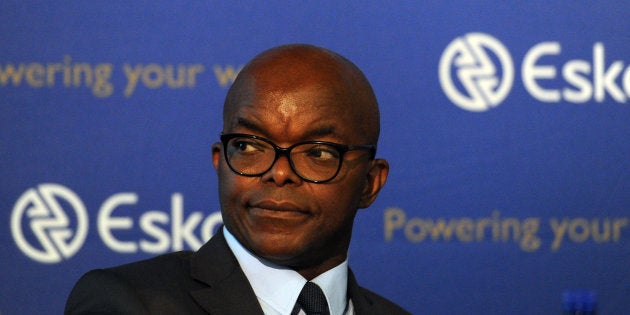 Eskom interim CEO Phakamani Hadebe says it is in the best interests of South Africa that the power utility's controversial, suspended head of generation, Matshela Koko, leaves the company, MoneyWeb reported.
Hadebe reportedly said this in an affidavit before the Labour Court, where Koko is challenging his suspension. Koko wants the court to grant a final interdict stopping Eskom from firing him.
An interim order was granted against Eskom on January 24. The day before, Hadebe reportedly gave Koko an ultimatum: resign or be fired.
On Monday, Eskom was granted a R5-billion loan by the Public Investment Corporation. Eskom is on the verge of bankruptcy, according to Fin24.
Before Hadebe and new Eskom chairperson Jabu Mabuza were appointed, Koko was cleared of various charges, including that he did not declare a conflict of interest when his stepdaughter's company received a large Eskom tender.
Eskom's new leadership served him with fresh charges this year, and a new disciplinary hearing will begin on February 16.
In the affidavit, Hadebe reportedly says that Eskom had a qualified audit least year while Koko was interim CEO, and as a result, the company defaulted on a loan with the Development Bank of South Africa (DBSA). The DBSA threatened to call up a R15-billion loan to Eskom, Hadebe says.
If the DBSA had done so, it would have triggered cross-defaults on Eskom's loans, totalling R361-billion at the time. Hadebe said this is why Treasury asked Eskom to fire senior executives including former CFO Anoj Singh, who resigned, and Koko.
According to Hadebe, funders had made it clear that Eskom's financial problems would only continue unless Singh, Koko and others were removed.
"The continued employment of these senior executives at Eskom was a real and imminent threat to the viability of Eskom and in turn the South African economy," Hadebe reportedly said.
According to Eyewitness News (EWN), Koko heads back to the Labour Court on Wednesday. Eskom is reportedly arguing that Koko's attempt to stop his dismissal is no longer valid because he will have to face a new disciplinary hearing based on the new charges against him.
Eskom reportedly alleges that Koko misled Parliament when he told MPs that he was against payments to Gupta-linked Trillian. Eskom alleges that he breached his duties when Trillian was paid R600-million unlawfully, and that he distributed confidential documents to the Gupta's associates.
According to TimesLive, Koko is arguing that Eskom did not follow proper procedure when Hadebe gave him the ultimatum.