A "smart" precision irrigation system developed by UK scientists could cut water use and boost crop yields in parts of the world facing water shortages, they said.
The micro-irrigation system, which is being trialled on a farm in Tamil Nadu, southern India, has cut water use by up to 80% and doubled the yields of some crops, the scientists from Heriot-Watt University in Edinburgh said.
Local farmers' knowledge on irrigation and soil conditions for different crops is fed into a cloud-based system and is combined with highly localised accurate weather forecasts and other information including soil moisture and grid outages.
These are used to continually refine an irrigation schedule which ensures eight crops – okra, lettuce, basil, basella, pumpkin, corn, rocket and long beans – get the right volume of water at the right time.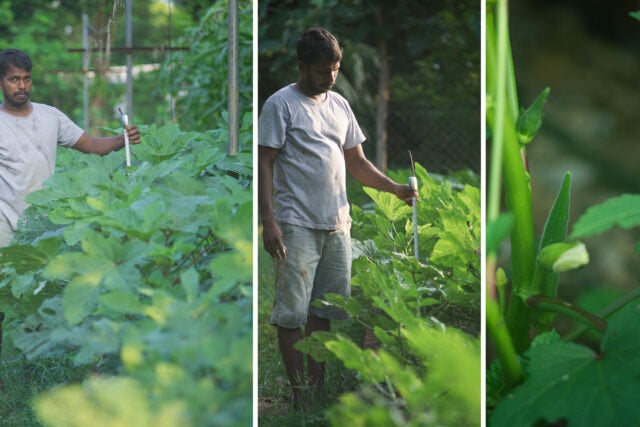 A farm trial in India compared precision and manual irrigation for crops such as okra (SCORRES/PA)
The scientists said the scheme was more effective than manual irrigation, and could also make it more financially viable for farmers to invest in solar pumps instead of relying on the grid.
In India, agriculture accounts for 90% of freshwater abstraction, 18% of electricity and 15% of diesel use, while more than half (54%) of the country faces extremely high water stress and farmers are increasingly indebted due to volatility of crop yields and prices, the experts said.
Professor Eddie Owens, director of Heriot-Watt University's energy academy and the project's leader, said: "We tested eight crops with our precision irrigation system, and had control beds that were manually irrigated.
"Our irrigation system reduced water and energy use by up to 80% and in some of the trials the crop yield doubled, enabling farmers to grow bigger vegetables and fruits, faster.
"These results are extremely encouraging and have the potential to create a more resource-efficient and sustainable future for the global agriculture."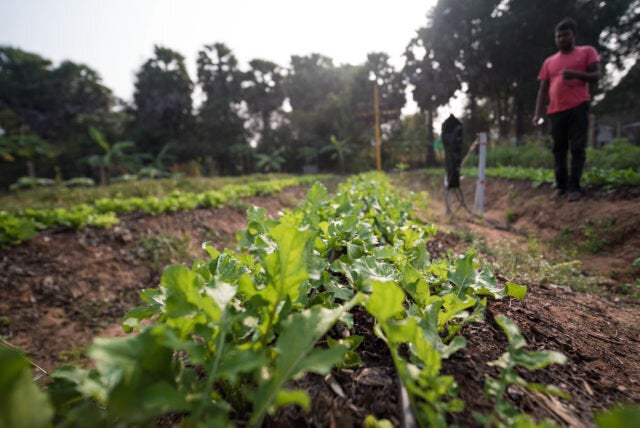 Crops such as rocket benefited from precision irrigation in the 'extremely encouraging' trial (SCORRES/PA)
Martin Scherfler, from project partners Auroville Consulting, said existing irrigation systems in India were typically manual or relied on time clocks, while subsidies or even free electricity had prohibited farmers from investing in solar pumps.
Reducing pumping demand through precision irrigation made solar pumps more financially competitive for farmers, he said.
He added: "This project removes the need for costly hardware, and creates a more affordable, cloud-based solution for smart irrigation."
A next step for the Smart Control of Rural Renewable Energy and Storage (SCORRES) project, funded by Innovate UK, will be to expand the trial across India and into China, Prof Owens said.
Related