The guns were cached in swimming pool heating units ― pools and their accessories being the sort of thing you can ship from Miami to Rio de Janeiro without arousing suspicion. The smugglers had gutted the units and filled them back to their original weight with rifles and ammunition.
There were 60 assault-style rifles and ammo in the shipment that arrived at Rio's international airport on June 1, 2017 ― 45 of them manufactured in the United States. And they were all almost certainly intended for the drug gangs fighting among themselves and against local police in Rio's favelas, helping drive a sharp spike in violence across Brazil's second-largest city. These were Brazilian turf wars, waged with weapons manufactured in Maine, Massachusetts, Illinois, Minnesota, South Carolina, Alabama and Florida.
The shipment was no one-time deal. The Brazilian traffickers had a routine, with code words rooted in Portuguese lingo. The assault-style rifles were flechas in the traffickers' slang — arrows. The cartridges were biscoitos, or cookies. Bullets and ammunition were jujuba de Smith: jujuba like the candy, Smith as in Smith & Wesson. At one point in their investigation, Rio's Civil Police listened in on a phone call between two men, one identified as Gil dos Santos Almeida, the other as João Victor Silva Roza, who police say helped negotiate weapon sales in Rio de Janeiro. The following is a translation of a transcript of the call included in Federal Police records and documents from Brazil's Federal Public Ministry:
Gil: Hi, dude.
João Victor: Do you have the Smith candies?
Gil: Whose?
João Victor: The Smiths.
Gil: No, man.
João Victor: Don't you? I will take that shit there. Got any?
Gil: Yeah.
And now here they were, in the customs area of Rio's Galeão International Airport, a heating unit full of flechas and biscoitos and jujuba, exposed by an X-ray machine. It was, according to the Federal Police, the largest shipment of rifles and ammunition ever seized at Rio's airport.
In the days after the bust, police arrested several Brazilians they said were involved in the plot. But the alleged head of the operation remained elusive, even though police believed they knew exactly who he was: Frederik Barbieri, a 46-year-old Brazilian who had been raised outside Rio de Janeiro before becoming a millionaire by smuggling guns from the United States to his home country.
There had been a similar sting in 2010 and similar accusations against Barbieri. But by 2012, he had fled to the United States and settled in South Florida, from which, Brazilian police allege, he spent five years smuggling more than 1,000 rifles and thousands of rounds of ammunition into Brazil.
Whenever a mass shooting happens in the United States ― at Sandy Hook or Sutherland Springs, in Las Vegas or at Stoneman Douglas High School ― Americans engage in predictable, and usually fruitless, debates about gun control: about how to reduce the sheer volume of guns available in America, how to limit the ease with which Americans can buy them, and how to reduce the increasingly heavy death tolls guns bring to our cities and states, schools and churches.
Barbieri's case, however, highlights another phenomenon that is rarely discussed: the fact that American guns often find their way out of the United States via smugglers looking to make an easy profit by selling cheaply bought contraband at a sizable markup.
"This has been going on for decades and decades, because the United States is the candy store of guns for the world," said Joseph Vince, a retired special agent for the U.S. Bureau of Alcohol, Tobacco, Firearms and Explosives, or ATF. "This has nothing to do with the Second Amendment, or hunters or shooters. This has to do with us creating a situation that takes a lot of lives and provides the means for organized crime to exist in these countries."
It's not just the guns being trafficked out of the United States; it's the gun violence problems, too.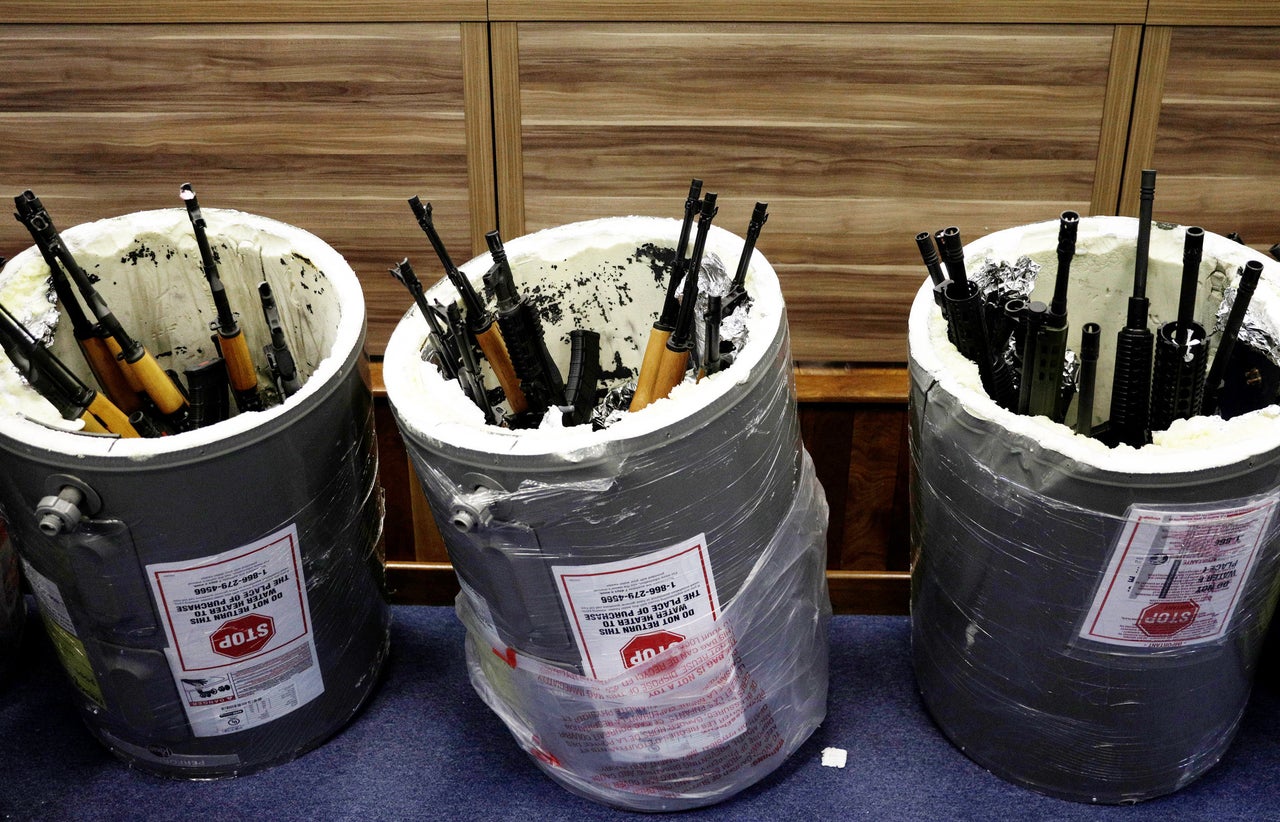 American rifles are not exactly flooding Brazil, at least not to the extent that they have flowed into Mexico and other Latin American countries. Still, in the last three years, Brazil's Federal Police have seized more than 1,500 American-made guns, most of them from people the police say are drug traffickers and members of drug gangs, according to a report the Federal Police released in December.
Common sense suggests that the number of rifles seized represents only a fraction of the number of rifles available on illicit markets, and some data on seizures support that notion.
Rifles make up fewer than 5 percent of the guns Brazilian police have seized in the last year, according to the Institute of Peace, a São Paulo think tank. But heavy ammunition made for rifles constitutes 22 percent of total munitions seizures, suggesting "both a large presence in the illegal market and the intensity of [rifle] use," the Institute's researchers wrote in a 2017 report.
The vast majority of those weapons have been found in Rio, a city that has experienced a sharp uptick in homicides and violent crimes over the last three years as a nationwide economic collapse blew up the Rio state and municipal budget, left it without money to pay police officers or fund basic services, and spiked unemployment rates.
The result has been war-like battles between a discontented police force and the city's three major drug gangs, which control many of Rio's informal, underserved favela communities. The drug gangs themselves, meanwhile, have been engaged in their own turf wars, leading to daily shootouts between traffickers and other dealers, traffickers and the police, and even traffickers and the Brazilian military.
The saga has taken an immeasurable social and psychological toll on Rio de Janeiro, especially on its poorest residents. There were 688 shootings in January 2018 alone. In Rio's favelas, the informal working-class, often impoverished neighborhoods that the government has neglected and that drug gangs largely control, they have forced widespread school closures, the shuttering of community centers, routine stop-and-frisks of innocent favela residents and the exacerbation of human rights violations already associated with the city's pre-2016 Olympics "pacification" program, which sought to seize control of favelas from the drug gangs and deliver the sort of vital social services the neighborhoods have long lacked. The program is now a broke and miserable failure.
And then there is the body count: Brazil as a whole suffered more than 60,000 homicides in 2016, according to federal crime data, a 3.8 percent increase from the year before. There were more than 5,000 homicides committed in the Rio state alone, a 24 percent increase from 2015. (There were roughly 17,000 homicides in the United States in 2016.)
More than 400 officers were killed in the line of duty across Brazil last year, with 132 of those deaths occurring in Rio, a 34 percent increase from the year prior. But they, too, have become more violent: In Rio state, police were responsible for 925 killings in 2016, roughly the same number of police killings that occurred in the entire United States that year, even though the U.S. population is nearly 20 times the size of Rio state's. Rio was home to more than a fifth of the 4,200 police killings that took place in Brazil.
The majority of these homicides are committed with Brazilian-made handguns. Brazil also has a sizable gun manufacturing industry, and the southern state of Rio Grande do Sul is home to Taurus International, a company that bills itself as "the global leader in revolver manufacturing."
But statistics and anecdotal evidence from police suggest that the authorities are increasingly coming across U.S.-made guns, most of which are assault-style rifles ― AR-10s, AR-15s, AK-47s, or something similar ― or high-caliber handguns that pack far more punch than the weapons manufactured or readily available for purchase in Brazil.
"The U.S. continues to be the largest indirect source of illegal handguns and assault rifles," the report from Brazil's Federal Police, released in December, said. And though it named eight other countries as significant sources of weapons seized by police, officers on the ground discount the role other foreign countries play in supplying the country's, and Rio's, ongoing war.
"Almost all of the shipments of foreign weapons arriving in Brazil leave the United States," Fabricio Oliveira, the head of Brazil's Bureau of Firearms and Explosives, told HuffPost.
That's true whether the guns are manufactured in the U.S. or Europe, as smugglers routinely siphon European rifles into Brazil through the United States. Surging levels of violence in both Rio and Brazil, the Federal Police said, is increasingly "a result of unrestricted sales in stores and fairs in American cities."
Almost all of the shipments of foreign weapons arriving in Brazil leave the United States.Fabricio Oliveira, the head of Brazil's Bureau of Firearms and Explosives
U.S. gun makers built and sold more than 10.6 million guns in 2015. In 2016, the number rose to nearly 11.5 million, a single-year record. U.S. gun companies more than doubled their output from 2009 to 2016.
Many of them inevitably leak from the United States into other countries. In 2014, more than 2,000 U.S.-made firearms illegally crossed the Mexican borderevery day, according to Mexico's governmental research service.
Though many of those guns stay in Mexico, to be used on one side or the other in its ongoing drug war, they also routinely follow international drug smuggling routes to countries like Colombia, Nicaragua, El Salvador, Venezuela, Paraguay and, apparently, Brazil.
And though drug and gun smuggling to Mexico takes up most of the United States' attention, there's a rich history of such trafficking between the U.S. and Brazil, too.
In the late 1980s and early 1990s, Brazilian drug gangs were loading up so heavily on U.S.-made weapons that Brazilian cops routinely claimed they were outgunned in battles with traffickers. U.S. and Brazilian authorities were so concerned with the practice that Brazil's Federal Police and the ATF set up a direct hotline to communicate about weapon seizures.
Advances in customs surveillance technology and heightened awareness of the problem helped limit the practice, at least between the U.S. and Brazil. In 1996, the Brazilian government successfully persuaded the United States to suspend arms export licenses to Paraguay, a move that helped decrease the flow of guns to Brazil's southwestern border, which had become a major checkpoint on international drug- and gun-smuggling routes.
The hotline between Brazil and the U.S. no longer exists, and the ATF, which holds trace agreements with various foreign countries to help it track U.S. firearm seizures, appears to have let its pact with Brazil lapse years ago. Since 2010, the U.S. Department of Justice and the ATF have prosecuted only two cases of alleged gun smuggling between the U.S. and Brazil, according to public records.
"All firearms that are trafficked are a concern, but Brazil does not have near the volume as the guns that are trafficked to Mexico," Steve Barborini, a former ATF agent who is now a detective in the Palm Beach County Sheriff's Office, said in an email. "Therefore the guns headed to Brazil are not on the priority radar."
U.S. guns seemed to become less of a priority for the Brazilians, too, especially as they saw them with less frequency. They were far more concerned with their own weapon manufacturers and the smuggling of Brazilian-made guns and drugs among its South American neighbors. Brazil has toughened its gun laws over the last 15 years, making it nearly impossible to own a firearm for personal use. But illegal purchasing is common. Many of the weapons manufactured in Brazil are exported to other Latin American countries, such as Paraguay, before they are smuggled right back into Brazil.
Even academic researchers and policy observers diverted their attention away from the U.S.-Brazil relationship, focusing instead on smuggling between the U.S. and Mexico, or to countries like El Salvador and Jamaica, where the problems were more evident.
For years, the flow of weapons from the U.S. to Brazil just didn't seem like much of a problem.
And then, one morning in 2015, a Rio policeman was shot in the head.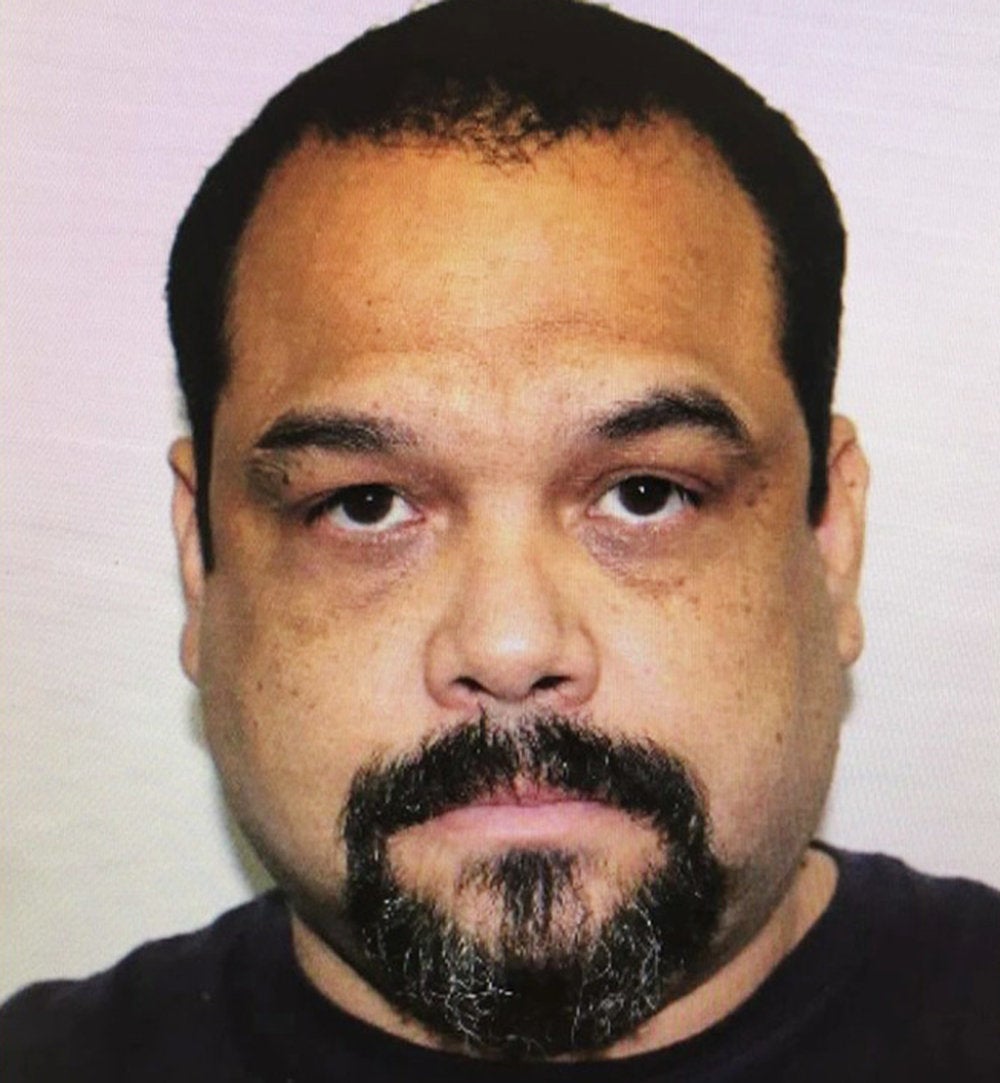 Luiz Carlos Barbosa de Lima had just said goodbye to his wife and 3-month-old son on the morning of May 15, 2015. Barbosa was basking in the glow of perhaps the biggest capture of his career: He'd been one of the lead officers in a raid that brought down a major player in a Rio drug gang. He was an accomplished cop.
Fifteen shots peppered the vehicle Barbosa had just backed out of his driveway in São Gonçalo, a municipality north of the city of Rio de Janeiro that is home to roughly 1 million of the Rio state's 16.5 million residents.
When the shooting finally stopped, Barbosa was dead.
Soon after, police began to investigate not just Barbosa's death but also the increase in the number of rifles used in crimes across Rio de Janeiro. During that investigation, according to authorities in Brazil, they came across a notebook that included notes on drug and weapon trafficking operations ― as well as the names and phone numbers of people participating in the schemes.
Though the police records do not specifically link the seizure at Rio's airport to Barbosa's death, a Federal Police spokesman said the next day that the investigation had started soon after the 2015 killing of an officer in São Gonçalo.
The police dubbed their investigation "Operation Armalite," naming it after a gun producer based in the rural town of Geneseo, Illinois, that produces rifles similar to the AR-10 and, according to its website, "products that consumers, military, and law enforcement users around the world depend on."
At the time of Barbosa's death, Frederik Barbieri had been living in Port Saint Lucie, Florida, with his wife, Ana Claudia, since at least 2012. Barbieri had been born, according to the Brazilian press, in Iraja, a neighborhood in the Rio suburbs. He'd had only minor run-ins with the law in the United States, according to state records: a traffic violation in 2012 and a citation related to another traffic violation in 2015 that was ultimately dismissed.
But Barbieri was no stranger to Brazilian law enforcement, which had accused him of illegally trafficking weapons into the country in 2010. He had somehow escaped punishment. But now, back in Brazil, police were slowly piecing together a puzzle that would lead to Barbieri's arrest in the United States nearly two years later, in a case that caused the Brazilian media to brand him "Senhor das Armas" ― the Lord of Guns.
For nearly two years after the launch of the investigation, the Brazilian police had monitored phone calls between suspected traffickers whose names they'd come across in the discovered notebook. They'd pieced together elements of the scheme they were trying to stop but hadn't had much luck finding a way to stop it.
The alleged smugglers weren't exactly subtle. HuffPost's reporting on Barbieri's scheme is based on official documents and records from Brazil's Federal Public Ministry, as well as an indictment from the U.S. Department of Justice that was unsealed after his arrest in the United States. The following conversation between negotiator João Victor and an unidentified man was translated from a transcript in documents from Brazil's Federal Public Ministry:
João Victor: Hey, bro. I'm with two big dealers out there …
Person 2: Big ones?
João Victor: Yeah, dude.
Person 2: Take it easy, there. Let me talk to someone in here. Which one is it? That one of mine?
João Victor: A-R
Person 2: How much?
João Victor: Four, five ... forty-five.
Person 2: Let me talk to someone in here, and I will let you know. I'm not giving you certainty, no. OK? I'm not going to do the same thing the guy did to you, no. But I'll talk to my buddy in here. If my buddy goes, I'll talk to you.
João Victor: Are you going to do this now? I'll keep waiting for you, huh?
Person 2: That's it! I'll call you back.
Even when they stuck with the code, there was little mistaking their subject. "I wanted to get an arrow from there," a man named Chuca, who police say was one of João Victor's associates in the scheme, said in a conversation monitored by the police, "and how many muni [ammunition]?"
"I think it's 18, he said," João Victor said.
Then, on the night of May 31, 2017, police intercepted a phone call between João Victor and another man, named by police as Luciano de Andrade Faria. According to police records, the two men openly discussed waiting for a call from a dispatcher, who would alert them to a new shipment possibly arriving in Rio the next day. They were hoping to clear it through customs and pick it up as soon as possible.
The next morning, on June 1, police officers knocked on the door of a home in Nilópolis, a city just northwest of Rio. They had traced the phone call to that address, but police were shocked when an older man appeared before them. He didn't fit the profile of the traficante they were looking for. Still, they pressed: Did he have any ties to any transportation businesses that picked up foreign shipments from Rio's international airport?
"No," he told them.
But, the man added, his son owned an import services company. Then he pointed down the street, in the direction of a home a few blocks away.
Within minutes, Luciano was telling cops that he was leaving for the airport later that day to pick up a shipment from the United States. At Galeão International Airport, Luciano directed them to customs. After a few orders and some initial confusion, they found their shipment. When they put the containers through X-ray machines, police found exactly what they were looking for.
All but 15 of the 60 guns they found had been made in the United States. The firearms were as follows, according to Maurício Mendonça, a delegate for Rio's Civil Police:
45 rifles, equivalent to AK-47s, that fired 7.62 x 39 millimeter ammunition. Thirty of them were made by Century Arms, an American gun manufacturer based in Florida. The other 15 were made in either Romania or Serbia.

One rifle, equivalent or similar to a G3, that fired 7.62 x 51 millimeter ammunition, manufactured by PTR Industries, of Aynor, S.C.

14 rifles, equivalent or similar to AR-10s, that fired 7.62 x 51 millimeter ammunition. All of them were made by American companies: eight by Huntsville, Alabama-based DMPS Panther Arms and one each by the following companies: Smith and Wesson, of Springfield, Mass., one of the largest gun manufacturers in the world; Rock River Arms, of Colona, Ill.; Diamondback Firearms, of Cocoa, Fla.; Windham Weaponry, of Windham, Maine; Alexandria Pro-Fab, of Alexandria, Minn.; Palmetto State Armory, of Columbia, S.C.
It was Brazil's largest seizure of illicit firearms since at least 2007, according to federal authorities.
Two weeks later, the Brazilian authorities accused Barbieri of orchestrating a broad scheme to repeatedly smuggle weapons from Miami International Airport to Rio de Janeiro with the intention of selling them to Rio's drug gangs.
The plot involved more than 15 people, most of whom were immediately arrested in Brazil. But Barbieri, the man police alleged was the mastermind of the scheme, remained free in Florida.
That scheme, as outlined in official Brazilian and American documents, is fascinating in its simplicity.
Upon arriving in South Florida, Barbieri set up a pool supply company in Miami and operated it as a seemingly legitimate business that sold pool heaters and other equipment primarily for export to Brazil.
Once he'd procured the weapons to be shipped to Brazil, according Brazilian police, he'd fill the pool heaters with guns.
Barbieri's associates, police say, would then send the cargo to Brazil via legitimate U.S. shipping and forwarding companies that, according to police reports, were unaware they were serving as the middlemen in a vast intercontinental weapon-smuggling ring.
Once the shipments arrived in Rio, the process reversed itself. According to police, a man named Alexandre Claudio Duarte Pires would sign for the cargo at the airport with forged import tickets that used the names of four legitimate Brazilian shipping companies and listed the recipients as two other real companies that sold pool equipment in Brazil.
A Brazilian customs agent would then clear the cargo through the customs process, the Brazilian documents said. Luciano would pick up the shipments, which were destined ― again, under the assumption that they contained pool equipment ― for delivery to companies based in Jacarepagua, near the park that is home to most of the venues from Rio's 2016 Olympic Games.
Instead of taking the shipments to Jacarepagua, though, Luciano would dump the packages in Niteroi, a separate city across Guanabara Bay to Rio's east, where João Victor would take control of them. At that point, Brazil's police say, João Victor and another associate would negotiate the sale of weapons and ammunition to an assortment of middlemen.
Those middlemen, according to police, would then sell the weapons to their connects in all three of Rio de Janeiro's major criminal factions: the Comando Vermelho (Red Command), Amigos dos Amigos (Friends of Friends) and the Terceiro Comando Puro (Pure Third Command).
The process, law enforcement officials in both countries allege, helped make Barbieri rich. The weapons Barbieri shipped sell for $700 to $1,000 in the United States but command $15,000 to $20,000 on Rio's black market, according to U.S. court documents. The shipment Brazilian police uncovered in June was worth as much as $2 million, Brazilian police claim.
Barbieri's operation, police say, has executed dozens of other shipments similar to this one. Brazilian police believe the smuggling ring managed to sneak more than 1,000 rifles and nearly 300,000 pieces of ammunition into Brazil from 2014 to 2017. If true, it would amount to more than half of all ammunition Brazilian police have seized in that span, according to The Institute of Peace, the São Paulo think tank.
Barbieri remained free in the United States for months as American law enforcement officials, at the urging of their counterparts in Brazil, carried out their own investigation into his alleged crimes. Finally, on Feb. 23, the Americans received a tip from a source that Barbieri was holding rifles in a storage unit in Vero Beach, Florida. Police obtained a warrant to search the facility and found more than 2,000 rounds of ammunition, dozens of high-capacity magazines and more than 50 rifles, most of which were "wrapped for shipment," according to documents filed in the U.S. District Court for the Southern District of Florida.
That night, U.S. Immigration and Customs Enforcement Officials arrested Barbieri at his home in Florida.
Barbieri was indicted on four separate charges, including conspiracy to commit offenses against the United States, firearms smuggling from the U.S. to Brazil, and exporting firearms without a legal license. The charges, all felonies, carry maximum sentences of five to 20 years. Barbieri has claimed in previous interviews with Brazilian news outlets that he is a U.S. citizen. ICE does not comment on the immigration status of people it arrests.
Barbieri's listed phone number was disconnected by the time HuffPost attempted to reach out to him in late 2017. His lawyer in Brazil, Bruno Saccani, flatly denied the allegations against his client late last year, suggesting that police and prosecutors in Brazil had already decided on Barbieri's guilt. Saccani has not responded to multiple interview requests since.
Barbieri denied any connection to the scheme upon his arrest in the United States, according to the federal complaint against him. Leonard Paul Fenn, an attorney temporarily assigned to represent Barbieri, said that the case hadn't progressed enough to offer comment on the allegations against Barbieri.
But in previous interviews with Brazilian news outlets, Barbieri has claimed that it was not him but members of Rio's Civil Police force who organized the smuggling scheme. They were framing him to cover their own crimes, he said. "They are civilian policemen, and then, to say it was theirs, it is easier to say that it was mine," Barbieri said.
Brazil's police forces for decades have dealt with allegations of internal corruption, particularly at the state level and especially in Rio de Janeiro. But Brazilian police immediately responded to Barbieri's claims by saying they would investigate if they could find any evidence to corroborate them.
Brazil is currently seeking Barbieri's extradition to face criminal charges there.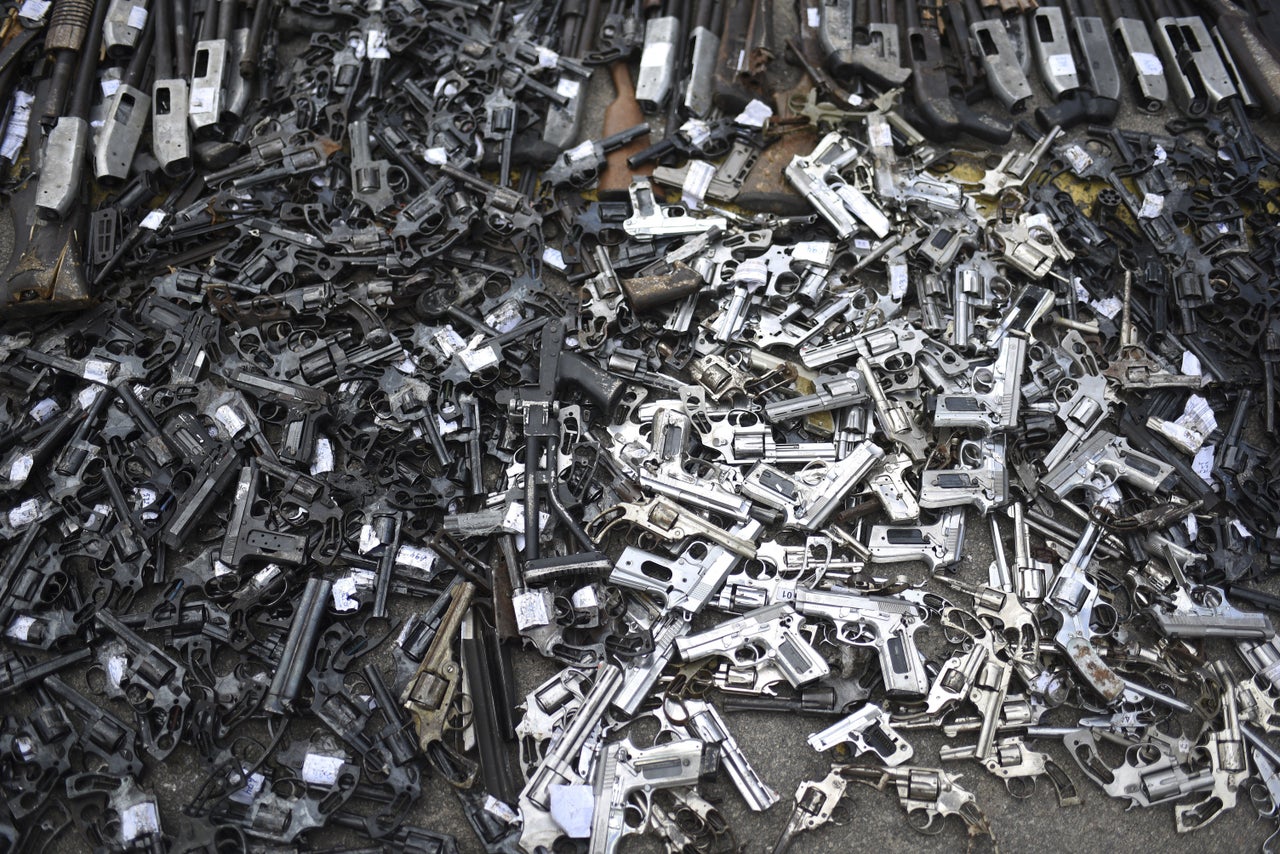 The majority of weapons smuggled from the U.S. to Brazil still come across the porous border between Paraguay and Brazil, according to the Brazilian Federal Police report issued in December.
The shipments police tied to Barbieri, however, came straight from a major U.S. airport to one of Brazil's busiest hubs: pool heaters, stuffed with guns and ammunition, shipped on planes, passing beneath the noses of customs officials and inspectors in both countries.
"It was unexpected," Maurício Mendonça, the Rio police delegate, told Globo News shortly after the June 1 seizure. "We did not believe that the criminals would use this kind of route on that scale."
Former officials from U.S. Customs and Border Patrol were less surprised that such a scheme was so easy to pull off. There's simply no way customs officials can inspect every shipment that comes into or goes out of a busy hub like Miami.
"You want to smuggle in plain sight," said Kenneth Prager, who led the CBP's Miami Field Office in the late 1980s and early 1990s. "Brazil's trade with Florida is a very big deal, and whenever you have a legitimate program like that, someone's going to use it for illegitimate means. Smuggling is the second-oldest crime ever, so none of this is a surprise for me."
The Miami airport handles 84 percent of all imports to the United States from Latin America and the Caribbean, and 81 percent of all exports from the United States to the rest of the Americas.
In 2014, more than 100,000 tons of cargo entered Miami International Airport from Brazil or exited the airport bound for Brazil. That same year, the Miami airport handled nearly 34,000 tons of industrial machinery and equipment ― that is, packages like those that contained the pool heaters and air conditioners in which the guns were secreted.
Smuggling is made even easier because of the sheer number of guns available in the United States. There are, according to estimates, more than 350 million guns in the United States, and U.S. gun manufacturers continue to churn them out at record pace. In 2016 alone, they produced more than 4.2 million rifles, and more than 147,000 of them were legally exported from the U.S. to other countries, according to ATF.
There are no real estimates on how many guns have left the country illegally, but from 2009 to 2014, authorities seized more than 73,000 U.S.-made firearms in Mexico alone, according to the U.S. Government Accountability Office. More than half were rifles and shotguns, and most of them, the ATF reported, were likely purchased legally in the U.S. before they were smuggled across the border. And in 2011, the ATF reported that more than 90 percent of weapons seized in the Bahamas and more than 80 percent of those seized in Jamaica were U.S.-made, the Council on Foreign Relations reported.
Miami's location in a state with lax gun laws exacerbates the problem. It's easier to procure a significant amount of high-powered rifles in a short amount of time in Florida, which has no ban on assault weapons, requires no license to purchase firearms and does not register guns. Buying a rifle in Florida is so easy that it took two HuffPost reporters just 38 minutes to legally purchase an AR-15 in Orlando two days after the Pulse nightclub massacre in June 2016. Many states, including Florida, impose no restrictions on purchases of multiple firearms. The United States has no federal gun trafficking law, and the bar for prosecuting trafficking-related crimes is often prohibitively high, multiple former ATF agents said.
"Because of how easy it is to get guns in the U.S., you can stockpile them and wait to devise a plan to get them out of the country," said Donald De Fago, a retired former U.S. Customs and Border Patrol official who led agency efforts to combat trafficking. "If you have the market down in Colombia or Brazil or anywhere, and you have the will and the financing, you can just take your time here."
The ATF, meanwhile, is an agency in something of a perpetual crisis, largely created by America's powerful gun lobby and its allies in Congress, who together have spent decades trying to cripple the bureau charged with enforcing U.S. gun laws.
From 2005 to 2014, at a time when gun manufacturing was skyrocketing, the ATF saw its budget increase just 34 percent, barely enough to keep it ahead of inflation and far less than what other law enforcement agencies received. Its staffing levels have remained stagnant: It had fewer total employees and only about 300 more special agents in 2015 than it had in 2001. A quarter of the bureau's special agents were set to reach retirement age by 2013, with an additional 20 percent eligible for retirement by the end of 2018. In 2016, President Barack Obama attempted to boost the agency's budget so it could hire replacements, but the available funding was barely enough to maintain staff levels.
The agency is so busy combating firearms smuggling in the United States, where an estimated 50,000 firearms are illegally trafficked across state lines each year, that the bureau often lacks the resources, manpower or time to worry about guns leaving for other countries.
"They have so few inspectors that, even in this country, it'd take 20 years for every dealer to be inspected," said Vince, the former ATF agent who is now a criminal justice professor at Mount St. Mary's University in Maryland. "You can't operate like that."
Morale at the ATF has plummeted as well. Once considered one of the best places to work in the federal government, ATF ranked 279th out of 314 federal agencies when employees were asked about the capabilities of its senior leadership in a 2014 survey, as the Center for American Progress noted in a study of the agency published in 2015. It is no coincidence that the ATF has spent much of the last 15 years without a permanent director.
The ATF keeps aggregated trace data on weapons that leave the United States for certain countries, but Brazil is not yet one of them. The United States has also failed to ratify the Inter-American Convention Against the Illicit Manufacturing of and Trafficking in Firearms, Ammunition, Explosives and Other Related Materials (CIFTA), a treaty that would require increased criminal penalties on illegal manufacturing and trafficking of firearms and, in theory, allow countries in the Americas to share more information and increase cooperation on cross-border efforts to reduce gun crimes. (Critics of CIFTA say that it is possibly unconstitutional or, at least, "incompatible with American liberties.")
The agency also closed its office in Bogota, Colombia, leaving it without a single international bureau in South America. Though ICE and the Drug Enforcement Administration have agents in Brazil, the closest ATF agents are headquartered more than a thousand miles away, in El Salvador.
There are, however, indications of concern within the U.S. government. In 2007, the U.S., Mexico and other countries in Central America entered a cooperative agreement meant to stem illegal drug and weapon trafficking between the countries. And in response to a 2009 report from the Government Accountability Office, the ATF and ICE began to work more collaboratively to combat firearms smuggling across the border with Mexico.
In July 2017, barely a month after the Brazilian sting operation intercepted the shipment at Rio's airport, the ATF and Brazil signed a new memorandum of understanding on a trace agreement between the two countries. It's a relationship, an ATF spokesman said in an email, that "allows for more efficient and comprehensive tracing of firearms recovered in Brazil. Tracing firearms gives law enforcement investigative leads to assist in solving crime and helps in the interdiction of firearms to prevent crime."
That agreement, the spokesman said, is "another example of the thousands of partnerships ATF has in providing these investigative leads to the law enforcement community in the U.S. and internationally."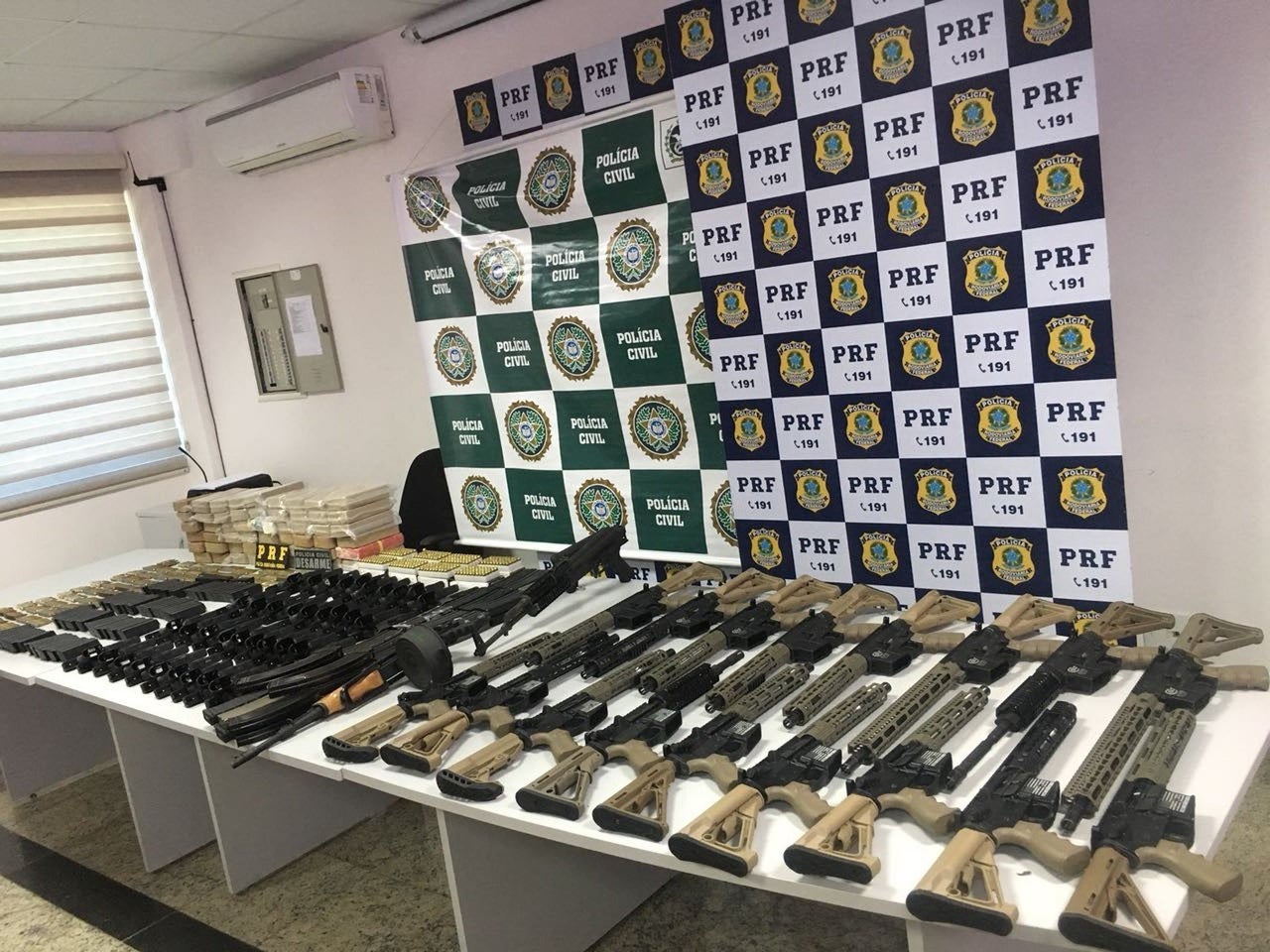 In the days after Barbieri's arrest in the United States, Brazilian cable news outlets and newspapers plastered his photo onto their nightly broadcasts and front pages. The Lord of Guns, the orchestrator of Brazil's biggest gun-smuggling operation in at least a decade, had finally fallen.
On its face, the investigation into Barbieri's alleged crimes worked exactly as it should have. Brazilian police carried out a thorough investigation that led them to a shipment of illegally trafficked weapons at Rio's airport. They contacted U.S. law enforcement officials, who launched their own investigation and caught Barbieri before he could send 50 more rifles to Brazil.
And yet, if Brazilian officials are right, Barbieri succeeded in sending more than 1,000 rifles and hundreds of thousands of rounds of ammunition from the U.S. to Brazil before anyone sniffed him out.
For at least five years, Barbieri apparently was able to help fuel Rio's drug war from 4,000 miles away. This is largely because a remarkable unwillingness to even remotely limit gun manufacturers' ability to mass produce weapons for the sake of profit has made the United States the perfect staging ground for international smugglers looking to get a piece of the action.
The ATF, customs officials and law enforcement bodies in countries like Brazil, as a result, are left to play an unending game of whack-a-mole, all while U.S.-made guns continue to inflict violence and death on populations that can do little about it. And that's because the United States has made the political choice to cripple the agencies and partnerships vital in policing and preventing a problem it has created.
The Lord of Guns may have been toppled, but that doesn't mean the flow of weapons from the U.S. to Brazil has been stanched.
On Jan. 18, police in Rio de Janeiro seized 60 more weapons during a highway traffic stop in the city's south zone. Nineteen of them were rifles. Their make and model, as well as the manufacturer, are unclear from initial reports. So, too, is the identity of the person responsible for shipping them to Brazil.
One thing, however, stands out in the pictures police posted online: On the side of each of the rifles they seized is an American flag.