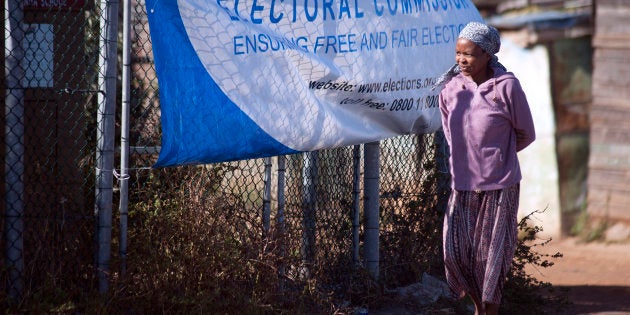 Despite "isolated disruptions in a handful of areas", voter registration weekend went well, the Independent Electoral Commission (IEC) has said. According to News24, IEC spokesperson Kate Bapela said there were no "major" disruptions to report.
However, she reportedly said there were incidents at seven voting stations in Katlehong in Gauteng, a voting station at Nthabankulu in the Eastern Cape, and in QwaQwa and Harrismith in the Free State.
Community members also threatened the landlords of venues in Tongaat in KwaZulu-Natal, and in Denoon in the Western Cape, election staff had to be evacuated due to protests.
She reportedly said: "Despite some continued isolated disruptions in a handful of areas, the Electoral Commission is pleased to report that most incidents which had affected registration operations yesterday had been resolved and almost all voting stations are operational today.
"The Electoral Commission would like to express its appreciation to community leaders, political leaders and traditional leaders, as well as the community members themselves for their assistance and support in ensuring voter registration activities could continue in almost all areas today [Sunday]."
Bapela added that 73,000 election officials were at 22,600 voting stations over the weekend.
There were also two accidents involving election personnel who were on their way to open voting stations, eNCA reported. One IEC staffer was hospitalised with minor injuries and the other one reportedly suffered more serious injuries.
On Saturday, IEC CEO Sy Mamabolo reportedly said the IEC was talking to communities in areas where stations had to be closed due to disruptions.
According to Eyewitness News, he said, "In those areas where we have had to close stations, we're doing everything within our means to reopen them, either by negotiating with community leaders or using alternative infrastructures such as gazebos."
Where stations were vandalised, cases were opened with the police, he reportedly said.
"There's going to be a case in Marikana, QwaQwa, Harrismith as well as in Katlehong. The intention is to reopen those stations at the earliest possible opportunity."
The EFF called on the IEC to hold special voting days for those areas marred by protests, according to the SABC. The EFF's chairperson in the North West, Betty Diale, reportedly said the IEC needed to ensure "maximum security" at those venues.
"We don't feel those community was so much that the IEC could not call for state security agencies to come and protect our communities (sic). They are protected by the law to ensure that they call for security where there's a need for that. We feel they must do their work, they must ensure that they call upon security when there's a threat."