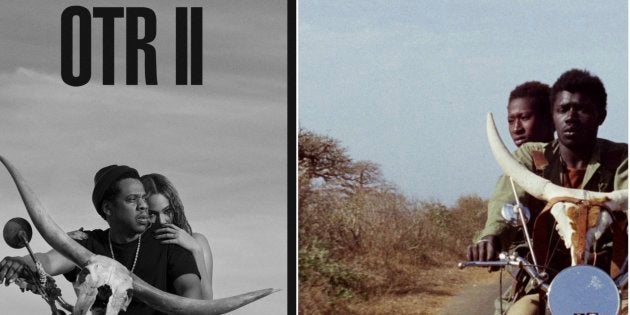 Beyoncé and her husband Jay-Z announced Monday they'd be taking our money and edges again with "On The Run II," their second joint world tour [which excludes Africa].
Bey's Twitter stans noticed almost immediately that the tour's promotion poster channels a classic '70s Senegalese film [but they're still not coming to Africa].
"OTRII tour poster references 'Touki Bouki,' a 1973 Senegalese film about two lovers who steal money and clothing, then book passage to Paris to start new lives," @Bey_Legion tweeted. "It's considered an African cinema classic."
Bey and Jay have aligned themselves with the infamous duo Bonnie and Clyde since the days of their aptly titled 2002 single "'03 Bonnie and Clyde." Bonnie and Clyde were even the theme for the first "On The Run Tour" in 2014.
But this tour poster appears to be the first time the couple has paid homage to an African couple in this way. [Cool story, but are you coming to Africa?]
Bey Hive fans have been on edge since Beyoncé was first photographed with her signature box braids and laptop combo — a signal some fans believe to mean that the queen is working on something new.
With Bey headlining Coachella in April and OTR II kicking off in June, this summer seems to be one made for the Hive [except for fans in Africa?].