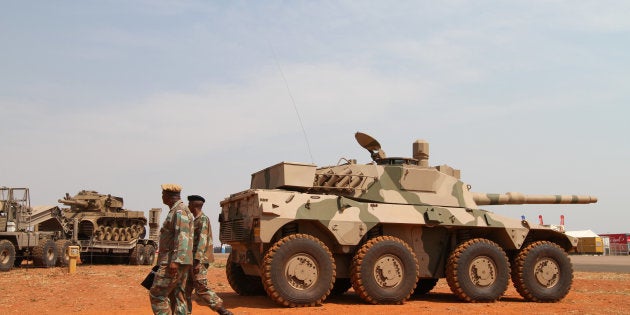 Five South African soldiers are facing "sexual exploitation" allegations in the Democratic Republic of Congo (DRC), prompting the United Nations (UN) to press for an investigation, eNCA reported. The incidents, one of which involves a minor, reportedly took place between 2014 and 2016 while the soldiers were stationed in the DRC.
The SANDF has also rejected allegations that it has not done enough to deal with the issue and reportedly says its investigators have gone to the DRC.
According to eNCA, UN spokesperson Stephane Dujarric said the DRC mission received reports of the "sexual exploitation abuse" allegations.
"According to the information available at this time, all five involve paternity and child-support claims. Four of the incidents were reportedly ongoing sexually exploitative relationships with adults. One incident concerns the sexual abuse of a minor, although she is now an adult," Dujarric reportedly said.
The incidents are alleged to have taken place in both north and south Kivu. The UN reportedly said the women and children concerned have been referred to various institutions including UNICEF for "support and assistance".
The SANDF has denied no cooperating with the UN, and reportedly says these allegations are "disturbing".
In a statement, the SANDF reportedly said: "Such reports seem to suggest that these are new allegations which have surfaced when in actual fact these incidents being referred to occurred a while back. That they are presently under investigation and will be concluded as quickly as required by the UN. The investigating team that is currently in the DRC is also mandated to investigate any such incidences that have surfaced beyond 2016."
According to News24, the UN seemed to infer that the South African government previously rejected its request for a joint investigation into the allegations. But the SANDF's Brigadier General Mafi Mgobozi reportedly said the South African investigators have asked for an extension to the deadline given by the UN "due to the extent of the investigations and the seriousness of the allegations".
SANDF chief General Solly Shoke reportedly said any soldiers found guilty will be dealt with "without fear or favour".
An AFP report said that the allegations follow previous reports of sexual exploitation by South African soldiers, and an allegation that the soldiers beat a 17-year-old boy in the Kasai region.
Dujarric reportedly said: "Allegations against this contingent continue to occur despite our sustained efforts."
Under UN rules, troop-contributing countries are responsible for prosecuting their soldiers accused of crimes while participating in UN missions abroad, according to AFP.
About 17,500 troops from the UN are reportedly in the DRC, in what is its biggest mission. South Africa reportedly contributed about 1,300 soldiers to the mission.