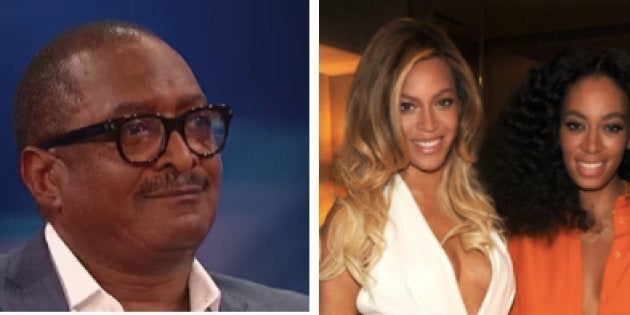 Mathew Knowles, the father of Beyoncé and Solange, told talk show host Wendy Williams last week that he "laughed so hard" when he first saw the video of thatinfamous elevator fight between Solange and Jay-Z.
Knowles, who was on "The Wendy Williams Show" to promote his new book, was responding to Williams' inquiries about the 2014 fight.
"I laughed so hard because if you know Solange, that's Solange," he said. "You never know what you're gonna get ― [she's] a firecracker. Don't know where she gets that from."
TMZ leaked the 58-second clip in May 2014. It showed Solange hitting and kicking Jay-Z while Beyoncé looked on. The three were leaving a party at The Standard hotel in New York after the Met Gala.
"Beyoncé would be in the corner, quiet, just kinda like, 'When y'all finish, let me know,'" Knowles told Williams, laughing with the audience. "So I just laughed."
While many in the audience found Knowles' story funny, instances of physical assault or violence are no laughing matter.
Solange, Jay-Z and Bey have all addressed the incident before. The three gave a statement to The Associated Press after the video of the elevator fight leaked.
"Jay and Solange each assume their share of responsibility for what has occurred. They both acknowledge their role in this private matter that has played out in the public. They both have apologized to each other and we have moved forward as a united family," the statement said.
It continued: "At the end of the day, families have problems and we're no different. We love each other and above all we are family. We've put this behind us and hope everyone else will do the same."
Solange addressed the incident again a few months later, telling Lucky magazine, "What's important is that my family and I are all good. What we had to say collectively was in the statement that we put out, and we all feel at peace with that."
Beyonce then mentioned the fight in a lyric on the remix of her song, "***Flawless" with Nicki Minaj, saying, "Of course, sometimes s**t go down when there's $1 billion on an elevator."
Jay-Z eventually addressed the elevator episode in an interview with RapRadar in 2017.
"We've had one disagreement ever," he said. "Before and after, we've been cool. She's like my sister. I will protect her. That's my sister. Not my sister-in-law. My sister."
He also spoke about the altercation in a track called "Kill Jay-Z" from his album 4:44.
You egged Solange on / Knowin' all along, all you had to say you was wrong / You almost went Eric Benét / Let the baddest girl in the world get away / I don't even know what else to say / N***a, never go full Eric Benét / I don't even know what you woulda done / In the future, other n***as playin' football with your son
Maybe one day we'll finally know what caused the fight.