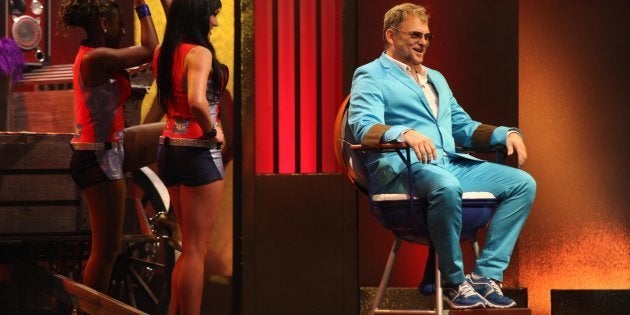 A former fellow pupil of Steve Hofmeyr's is determined to ensure the singer does not perform at any of the schools that have booked him. He attended Grey College in Bloemfontein and says Hofmeyr was his junior at the school.
Cape Town optometrist and self-proclaimed activist Des Bailes says Hofmeyr should not be allowed to perform at schools, because he is "beyond redemption".
Bailes has written to the Western Cape department of education urging it to halt a Hofmeyr performance at Laerskool Overberg in Caledon later this month.
"Mr Hofmeyr is notorious for his overt racism – with statements like 'black people were the architects of apartheid' and 'certain aspects of apartheid were brilliant'," Bailes wrote in the letter.
"As Laerskool Overberg is a publicly funded school with many black pupils, the prospect of having Mr Hofmeyr perform there is not only insensitive and insulting to black learners, but in fact abhorrent," he said.
Bailes says there are already enough divisions in the country and the last thing South Africans need is for Hofmeyr to be spewing racist insults at schools.
"As a concerned South African, I call on the DA to use this opportunity to at last take a stance against racism and white privilege. It's certainly not appropriate [at] a school, where children are. It's disgusting!"
Steve Hofmeyr is a danger to the future of white people in the country. It's the last thing we need in this country – Des Bailes
This is not the first time Bailes has taken it upon himself to ensure that the singer – who styles himself as an activist fighting the "persecution" of the white Afrikaner – does not perform at a school concert.
Hofmeyr was supposed to perform at Grey College primary school until, Bailes says, he wrote a letter to the school requesting that they bar him. The school then announced the cancellation of the event, but claimed the decision to cancel had been taken prior to Bailes' complaint.
"I think I have been instrumental in a couple of concerts being cancelled," he says. "Last month, after a complaint to the Free State MEC for education, a concert planned for Grey College in Bloemfontein on March 23 was cancelled and the headmaster is under investigation," he told HuffPost.
Despite calling the school to find out more about the matter, HuffPost has not yet received a response.
"Why does [Hofmeyr] fly the old South African flag?" Bailes asks. "He's clinging to this old Afrikaner apartheid and its racism. There is no place in society [for that] – and because we [went to] the same school, I just feel motivated to say something about it."
Bailes says Hofmeyr has used farm murders to advance his racism and this is putting the future of white people in danger.
"He uses [farm murders] to motivate people and stir [them] up ... to promote his racist cause. Steve Hofmeyr is a danger to the future of white people in the country. It's the last thing we need."
Hofmeyr reacted on social media about the latest attempts to prevent him from singing on social media.