Former U.S. first lady Barbara Bush died on Tuesday, a spokesman for the Bush family announced. She was 92 years old.
Bush, the wife of former President George H.W. Bush, had been suffering from chronic obstructive pulmonary disease and congestive heart failure. A spokesman for her family had announced Sunday that she would no longer seek medical treatment after a recent series of hospitalizations.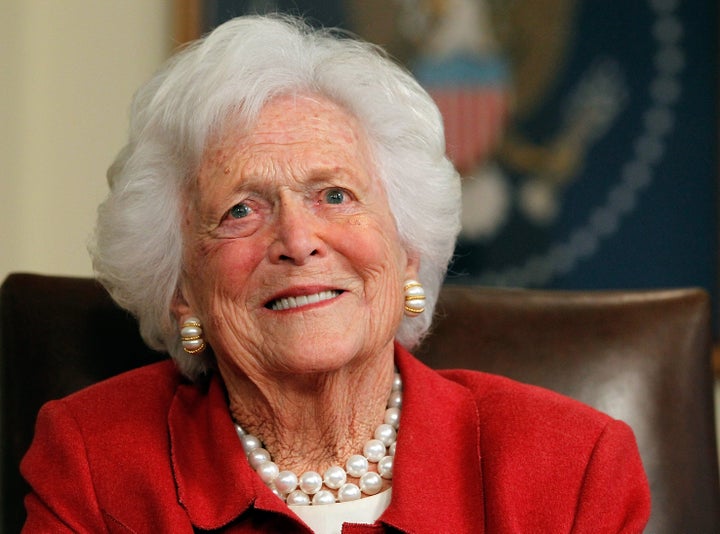 Her son, former President George W. Bush, released a statement to the press on behalf of himself, his wife, and his twin daughters.
My dear mother has passed away at age 92. Laura, Barbara, Jenna and I are sad, but our souls are settled because we know hers was. Barabara Bush was a fabulous First Lady and a woman unlike any other who brought levity, love and literacy to millions. To us, she was so much more. Mom kept us on our toes and kept us laughing until the end. I'm a lucky man that Barbara Bush was my mother. Our family will miss her dearly, and we thank you all for your prayers and good wishes.
George P. Bush, son of Jeb Bush, honored his grandmother's legacy in a statement to Twitter.
My grandmother's entire life was focused on others. For my grandfather, she was his top adviser and confidante. For her family, she was a steady, loving and guiding hand. And for her country, she was an inspiration and an example for all. My grandmother didn't just live life; she lived it well. And the sorrow of her loss is softened by the knowledge of her impact on our family and our country. I will miss you, Ganny — but know we will see you again.
As first lady from 1989 to 1993, she was known for her work on early childhood education. In 1989, she established the Barbara Bush Foundation for Family Literacy, with the goal of raising awareness about the importance of reading and writing at a young age. She was also recognized for her work on AIDS awareness and cancer research.
The Bushes celebrated their 73rd wedding anniversary in January, making them the longest-married couple in presidential history. Since leaving the White House, they had split their time between Houston and the Bush family home in Kennebunkport, Maine.
Bush is survived by her husband, her five living children, 14 grandchildren and seven great-grandchildren.
Bush, née Barbara Pierce, was born in New York City on June 8, 1925, and raised in the suburb of Rye. Her father, Marvin Pierce, was the president of McCall Corp., the publisher of popular magazines including Redbook. Her mother, Pauline Pierce, was killed in a car accident in 1949. Bush was the third of four children.
As a child, she developed a love of reading, encouraged by her publisher father. She attended the prestigious Rye Country Day School and later Ashley Hall, a boarding school in South Carolina.
While visiting her family during her winter break in 1941, she attended a dance in Greenwich, Connecticut. It was there she met her future husband, who was attending Phillips Academy Andover, a prep school in Massachusetts. The two connected instantly and wrote letters to one another while they were away at school. George took Barbara to his senior prom, and the pair continued their courtship after George graduated from Andover and deferred admission to Yale University in order to enlist to fight in World War II.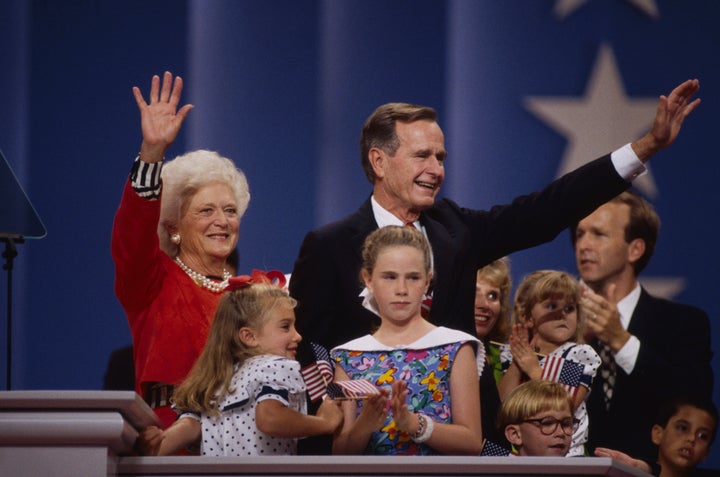 As Barbara returned for her senior year at Ashley Hall, George departed for the Navy, attending flight training in North Carolina, Minnesota and Texas. They didn't see each other for nearly a year but continued to exchange letters and plan for a future together. After Barbara's graduation, George invited her to spend part of her summer with his family in Kennebunkport. At the end of that trip, they became engaged to be married.
George returned to the Navy, ready to ship overseas as a torpedo bomber pilot, and Barbara set off for her first year at Smith College. (She dropped out two years later, shortly before their wedding.) In a letter written in December 1943, George expressed his reservations about shipping overseas and leaving "Bar" behind.
"I do want to go because it is my part. But ... even now, with a good while between us and the sea, I am thinking of getting back," he wrote. "This may sound melodramatic, but if it does it is only my inadequacy to say what I mean. Bar, you have made my life full of everything I could ever dream of — my complete happiness should be to hear of my love for you."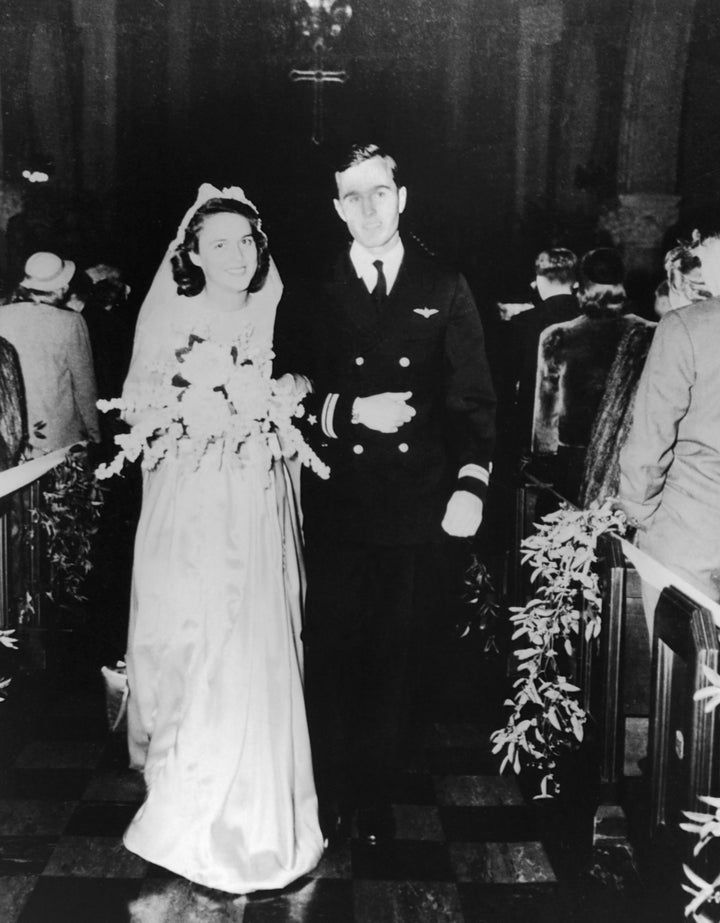 The two were married on Jan. 6, 1945, while George was home from the war on leave. After the war ended later that year, the Bushes moved to New Haven, Connecticut, so George could attend Yale.
In July 1946, the couple had their first child ― future President George Walker Bush. After her husband's graduation from Yale in 1948, the Bush family moved to Texas so he could pursue a career in the oil industry. The move would be one of many for the young family: By the time they settled into the White House for four years, they had lived in 29 different homes. After their big move west, the couple had two more children: Pauline Robinson, whom they called Robin, was born in 1949, and John Ellis, known as Jeb, came along in 1953.
Tragedy struck the Bush family shortly after Jeb's birth when 3-year-old Robin was diagnosed with leukemia. She died seven months later.
"Both George and I felt this enormous physical pain for months afterward," Barbara said in a 1988 interview with Texas Monthly. "It felt like our hearts were breaking."
Later, the Bushes would become major boosters for cancer research, raising millions of dollars for the University of Texas' MD Anderson Cancer Center in Houston.
The Bushes had three more children: Neil, born in 1955; Marvin, born in 1956; and Dorothy, born in 1959.
Meanwhile, George's political career was beginning to take off. In Houston, he was elected chairman of the Harris County Republican Party in 1959 and made a bid for the U.S. Senate in 1964. He lost that race but was elected to the U.S. House two years later. Barbara took on the bulk of the work of raising their five young children but made occasional stops on the campaign trail.
"Barbara Bush enjoyed politics," according to the 1996 book American First Ladies: Their Lives and Their Legacy, edited by Lewis Goud. "Her warmth and extroverted personality played well on the campaign trail; she was adept at small talk and rarely forgot a name. However, untrue or unfair statements provoked immediate and sometimes caustic responses from Mrs. Bush. She had to learn to control herself, to hold back."
After another failed run for Senate in 1970, George was appointed by President Richard Nixon as ambassador to the United Nations. He went on to take several other posts in the Nixon and Ford administrations, including U.S. envoy to China and director of the Central Intelligence Agency.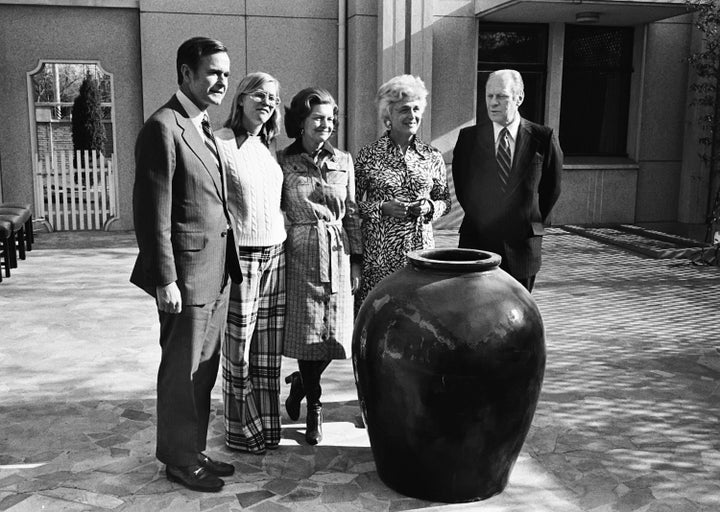 During George's time at the U.N., the couple spent most of their time in New York. Barbara volunteered at Sloan-Kettering Memorial Hospital, where Robin had been treated for leukemia. In China, Barbara took daily lessons to learn the language, studied Chinese history and explored Beijing by bicycle.
The couple returned to Washington in 1976 as George took the helm of the CIA. Years later, Barbara revealed that she experienced serious depression at that time, overwhelmed by being separated from her children as well as the demands of her husband's job. She said she also felt regrets over spending her time as a homemaker, saying that "suddenly women's lib had made me feel my life had been wasted."
"I would feel like crying a lot and I really, painfully hurt," she said in 1990. "And I would think bad thoughts, I will tell you. It was not nice."
She decided to combat her depression by throwing herself into volunteer work. She spent long hours at Washington Home, a hospice care center. She also gave public presentations on her time in China.
Life again shifted for the Bushes when George decided to run for the Republican presidential nomination in 1980. The couple returned to Houston but spent the better part of two years on the campaign trail. She regularly met with Republican women over tea, showing her China slideshow to introduce voters to her family. According to biographer Pamela Kilian, "Her outgoing personality and well-honed social instincts helped her establish a quick rapport with audiences, and her confidence grew."
While George won several contests, including the Iowa caucus and the Massachusetts and Michigan primaries, his GOP rival Ronald Reagan eventually appeared unstoppable. In May, George dropped out of the primary race and backed Reagan, who later selected him as his running mate. In November, the Republican ticket soundly defeated President Jimmy Carter and Vice President Walter Mondale, sending the Bushes back to Washington once again.
Barbara's new role of "second lady" came with increased scrutiny. During the campaign, she had been questioned on her earlier support for the Equal Rights Amendment (which she backed off from), her decision to leave Smith College after two years and her role as a homemaker. By the time the couple moved into the vice presidential residence near Washington's Embassy Row, Barbara was well-accustomed to interest from the press and the public.
Her years as second lady were largely spent attending dinners with foreign dignitaries and traveling with her husband. She also sowed the seeds for her future signature issue as first lady, literacy, by joining the board of Reading Is Fundamental.
At times, she found herself in the spotlight for her unwillingness to censor herself, perhaps most notably during the Reagan-Bush ticket's 1984 re-election campaign when she referred to the Democratic vice presidential nominee, Geraldine Ferraro, as a "$4 million ― I can't say it, but it rhymes with rich" after the then-New York congresswoman had criticized the Bushes for their wealth. Barbara later called Ferraro to apologize.
"She'll go to bat for me, sometimes more than I'm inclined to myself," George said of his wife at the time. "She'll take 'em on head to head, dog-eat-dog. And that's fine."
The GOP ticket win that year's race in a landlside.
By the end of Reagan's second term, George was laying the groundwork for another stab at the presidency. His campaign got off to a rocky start: He came in third in the Iowa caucus. And Barbara faced scrutiny for her appearance and her traditional background. She also had to fend off rumors that her husband had had an affair with a staffer.
"I'm not going to turn into a glamorous princess," she said in 1988. "I have plenty of self-confidence, not in how I look but in how I feel, and I feel good about my husband, my children and my life."
George eventually defeated his GOP opponents to win the nomination and selected Sen. Dan Quayle of Indiana as his running mate. The pair easily defeated Democrat Michael Dukakis, marking the third consecutive presidential win for the GOP.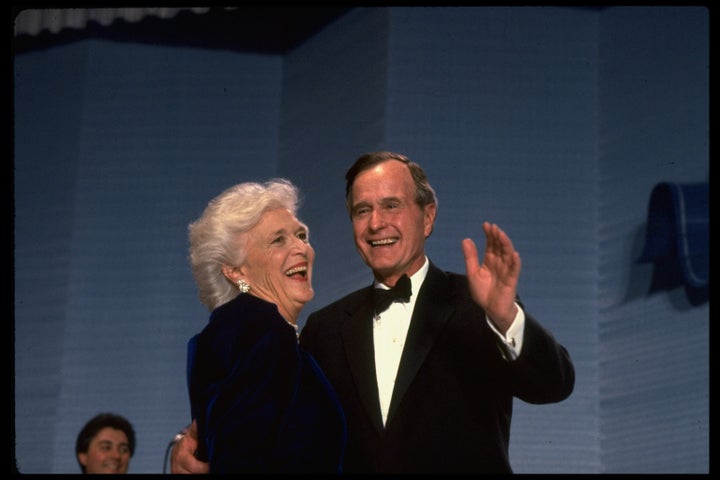 George's popularity as president ebbed and flowed, ultimately dipping as the 1992 election approached. But Barbara's approval ratings soared ahead of her husband's. The public saw her as down-to-earth, straightforward and tough, and her frequent self-deprecating comments endeared her to voters. According to a 1992 Vanity Fair profile, her aides referred to her as "the National Treasure ... in sly tribute to the qualities that make her an awesome asset to her husband."
She devoted her time to a variety of causes ― primarily literacy, but also AIDS awareness, homelessness and poverty. She pressed the American people to get involved with volunteer work and stressed the importance of volunteer programs in schools.
"Everybody has something, whether you have time or money or know-how or space," she said in 1989. "The drug problem worries me' or 'crime worries me' or 'illiteracy worries me.' If it worries you, then you've got to do something about it."
One of the most high-profile moments of her time as first lady was a 1990 commencement speech at Wellesley College, the all-women school outside Boston. As The New York Times reported, some students protested the speech, arguing "she did not represent the type of career woman the college seeks to educate." Despite the protests and a petition circulated among the students, she delivered her speech, urging the graduates to "believe in something larger than yourself" and to remember to make time for the important people in their lives.
"For several years, you've had impressed upon you the importance to your career of dedication and hard work, and, of course, that's true," she said. "But as important as your obligations as a doctor, lawyer or business leader will be, you are a human being first, and those human connections ― with spouses, with children, with friends ― are the most important investments you will ever make."
During the 1990 midterm elections, Barbara was an in-demand campaign asset for many Republicans.
"She inspires rank-and-file Republicans to pull the ticket through," Republican National Committee official Leslie Goodman told the Times that October. "There is no question that she can make people go to the polls."
That goodwill among Republicans, however, wasn't enough to keep her husband in office. He lost his 1992 re-election bid to Democrat Bill Clinton after a long and often bitter campaign. Upon leaving the White House, she advised incoming first lady Hillary Clinton to steer clear of the media, pinning some of the blame for her husband's defeat on what she felt was unfair coverage.
"Stonewall them," she suggested to Hillary.
The Bushes returned to Houston, and Barbara continued to champion childhood literacy and other causes. After a multi-year hiatus, she returned to the campaign trail to support her oldest son's successful quest for the presidency in 2000.
After George W. Bush's tumultuous eight years in office, she was hesitant to get behind her son Jeb's presidential ambitions.
"We've had enough Bushes," she said in 2013.
Nevertheless, when Jeb mounted his bid for the 2016 GOP nomination, Barbara was right beside him. While Jeb's campaign fell short, his mother did give him a jolt of press attention as he lagged in the polls.
"Mom, my crowd sizes normally aren't this large. I wonder why," Jeb said at an event where she joined him in New Hampshire in February 2016.
She later waded into the 2016 race to criticize its eventual winner, Donald Trump, telling CNN she was "sick of" the businessman.
Trump released a statement celebrating the life of the "wife, mother, grandmother, military spouse, and former first lady."
"Amongst her greatest achievements was recognizing the importance of literacy as a fundamental family value that requires nurturing and protection," Trump's statement read. "She will be long remembered for her strong devotion to country and family, both of which she served unfailingly well."
Former President Bill Clinton gave tribute to the "remarkable" former first lady on social media Tuesday.
"Barbara Bush was a remarkable woman. She had grit & grace, brains & beauty," Clinton tweeted. "She was fierce & feisty in support of her family & friends, her country & her causes. She showed us what an honest, vibrant, full life looks like. Hillary and I mourn her passing and bless her memory."
Barack and Michelle Obama, the former president and first lady, released a joint statement, calling Barbara Bush the rock of her family.
We'll always be grateful to Mrs. Bush for the generosity she showed to us throughout our time in the White House, but we're even more grateful for the way she lived her life ― as a testament to the fact that public service is an important and noble calling; as an example of the humility and decency that reflects the very best of the American statement.