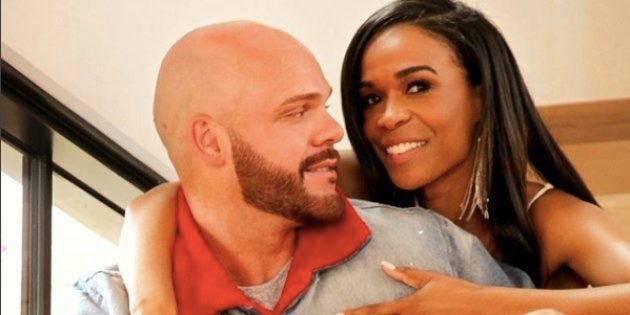 Can you keep up, baby boy? Apparently so. Days after the history-making Destiny's Child reunion at Coachella, Michelle Williams announced she's engaged to boyfriend Chad Johnson.
The singer revealed on Thursday that Johnson, a pastor and life coach, popped the question nearly a month before she took the stage with former bandmates Beyoncé and Kelly Rowland.
"We do wanna get married very, very soon," she exclusively told People about her upcoming nuptials. "We've been moving very quickly and planning. Why wait? I want to get married now, but he wants a wedding!"
And because, of course, everyone is wondering about the guest list, Williams has every intention of including her fellow independent women.
"We're wanting all of our friends and family to be there. So it's looking good!" she told the outlet.
The couple first crossed paths in March 2017 at one of Johnson's spiritual retreats when Williams was in a "horrible, dark place" following a bad breakup. As a guest host on the talk show "The Real," she'd previously opened up about discovering her boyfriend was cheating via social media.
"When we met, both of us were in very similar places on a personal level," Johnson explained. "Michelle was coming off the heels of a really bad relationship, and I was just in a place of despair as well."
The two clicked from the beginning, but didn't start a romantic relationship until after the retreat, texting, FaceTiming and talking on the phone for months before ever meeting again in person.
"What kept drawing me and drawing me at first was I felt like I could be myself," said Williams. "My first name is Tenitra; my middle name is Michelle. I felt like I could be Tenitra: just ratchet, I didn't have to have on any makeup, if I had to have on my hair bonnet — he just made me feel very safe in being myself."
So, when Johnson asked to marry her with a proposal video showing him asking for her family's blessing, she said yes.
"I've waited yeeeeeeears for someone who could come in to my world and be CONFIDENT and NOT insecure, love who I love and genuinely be there for people," she captioned a photo of her fiancé after the Coachella performance. "I LOVE YOU."
Destiny fulfilled!