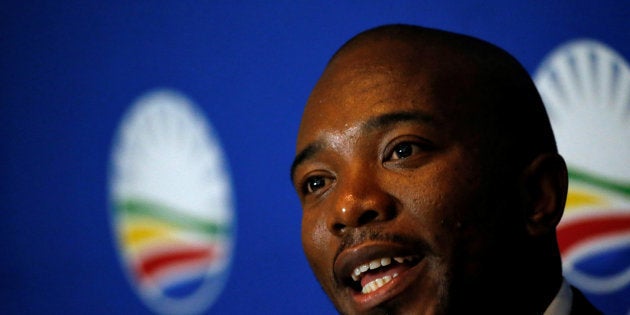 The DA is once again in the spotlight over its views on race, as senior members have reportedly taken on leader Mmusi Maimane for his views on white privilege. City Press reported on Sunday that Maimane is in trouble with some senior members for his use of the term, who reportedly say it could cost them votes from white people in 2019.
But on Sunday, DA MP Natasha Mazzone stole the show with her controversial tweets about the issue. Meanwhile, Joburg mayor Herman Mashaba has defended Maimane, while other DA members argue his use of race is polarising.
According to City Press, Maimane is in trouble after telling people at a Freedom Day rally in Soshanguve that "white privilege and black poverty" must be tackled. At a Parliamentary caucus meeting last Thursday, three MPs, Mazzone, chief whip John Steenhuisen and his deputy Mike Waters reportedly took Maimane to task over his comments.
MP Ghaleb Cachalia reportedly agreed with the three, while an anonymous MP sympathetic to Maimane reportedly said the issue was really about the leader's desire to see more black members included in election lists for next year's election.
The MP reportedly said, "So now they start this argument, which is neither here nor there. It is basically a few people. It seemed very coordinated, by a few people who are feeling very insecure. Change is coming and they just can't stop it."
This comes off of the back of the party's federal congress, held in early April, when Maimane was reelected as the party's leader. The congress saw a heated debate in the party over its so-called diversity clause, and whether or not the party was in favour of racial quotas. Ultimately, the DA's constitution was amended to say it was not in favour of quotas, but that it will "take action" to ensure diversity in its ranks "without recourse to rigid formulae or quotas".
On Sunday morning, Maimane defended his views on Twitter and said he would not "pander to the racists":
He was backed by DA MP Phumzile Van Damme:
But it was a series of tweets by Mazzone on Sunday that ultimately caused the most controversy. Attempting to explain her views on "white privilege", Mazzone appeared to compare the history of her Italian immigrant father to black people who were oppressed under apartheid.
Despite apparently disagreeing with Maimane, she later tweeted that she supported him "100%".
Mazzone's tweet was heavily criticised, for what many people said showed she lacked understanding of what "white privilege" means".
In a piece published by News24 on Sunday afternoon, Mashaba defended Maimane, and questioned the motives of those who disagreed with him on the issue of "white privilege".
"Maimane's remarks espouse neither a departure from the dream of the rainbow nation nor the party's commitment to redressing the legacy of our past. So the question emerges, who do these critics of Maimane represent?
Not the vast majority of people in our country, who across the racial identities, by and large understand that the legacy of our past has to be redressed. To get to the bottom of this question one has to look further into the 'reasons' for their reaction. When one does this, one finds this conservative, small-minded thinking cited in the article as the fear surrounding a perceived haemorrhaging of votes from the traditional base," wrote Mashaba.
He said, "So why then, under the leadership of Maimane, do some choose to pretend like this is some radical new direction that is being announced for the very first time? It can only be about the kind of self-interest that permeates politics at the time when politicians need to re-apply for their jobs.
I think it is time that the silent majority of our party speaks up, rather than allowing a small group to do so in their name, with sentiments that do not embody their values for our country."