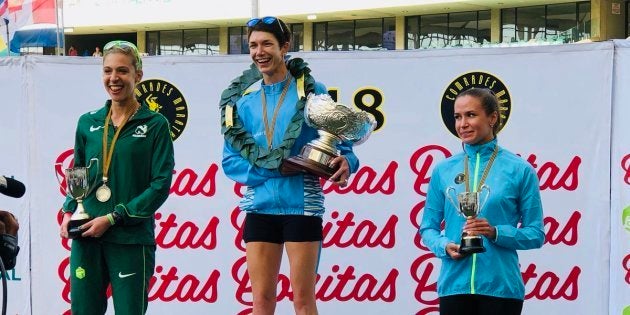 South African athletes impressively raised the SA flag very high at the Comrades 2018 marathon.
The 2018 winner for the men's race, Bongmusa Mthembu became the first South African since the late 80s to win the Comrades back-to-back; while Ann Ashworth who claimed her maiden Comrades title, crossed the finish line at an impressive 6:10:04 on Sunday.
As if keeping the title home was not enough, seven South Africans impressively finished in the top 10 men's race, while five South African women finished in the top 10 women's race.
Bongmusa Mthembu -- South Africa
Joseph Mphuthi -- South Africa
Edward Mothibi -- South Africa
Gordon Lesetedi -- South Africa
David Gatebe -- South Africa
Gift Kelehe -- South Africa
Nkosinathi Duma -- South Africa
Ann Ashworth - South Africa
Gerda Steyn -- South Africa
Alexandra Morozova -- Russia
Tanith Maxwell -- South Africa
Charne Bosman -- South Africa
Sophia Sundberg -- Sweden
Carla Molinaro -- Britain
Yolande Maclean -- South Africa
This was to the delight of many South Africans on social media:
South Africa is truly gifted, well done to the comrades

— walter monYepao (wa molobedu) (@MonyepaoWalter) June 10, 2018
#Comrades2018... M looking at top 10 runners both women and men and M so proud to see our flag🇿🇦 dominated...Proudly SAn...

— Xoxo Xo (@Xoliswa0405) June 10, 2018
They have to, this is our race. We can't be dominated in our backyard💪💪💪

— Mvuyisi Mcacelwa (@Small_1nc) June 10, 2018