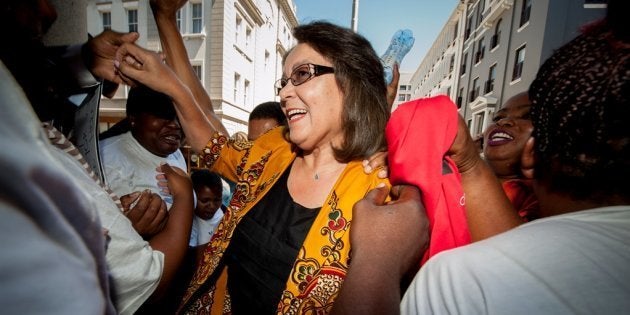 The High Court in Cape Town will today (Wednesday) hand down its ruling on whether the DA terminated Cape Town mayor Patricia de Lille's party membership with or without merit.
The DA formally charged De Lille with misconduct earlier this year. The decision was made following a report by the subcommittee formed to investigate divisions within the party, which pointed to De Lille as the source of tensions.
A leaked document containing recommendations by the subcommittee found that De Lille:
was believed to have interfered in appointments of senior management,
was accused of having an irrational, autocratic and divisive leadership style,
and had stripped key decision-making structures if their power.
In April, the Cape Town city council passed a motion of no confidence in De Lille in which 138 councillors debated her future in the council chamber for three hours. In a statement from the DA afterwards, the party revealed that 97 councillors eventually voted in support of the motion.
The matter was then forwarded to the DA's federal executive, to which De Lille made representations on why she should not step down.
1. The DA's federal executive did not properly consider or interrogate the reasons for bringing a motion of no confidence in her before allowing the local caucus to proceed with the vote. She said the reasons listed by the caucus motivating her removal "lack detail".
2. Allegations that she had interfered in recruitment processes for the city were not true, saying an independent investigation exonerated her.
3. She did not bring the party into disrepute through various media statements, saying these were made to defend herself from attacks made by other DA members and party leaders.
After considering the representations, members of the party's federal executive announced in May that her membership was to be terminated. This also meant she could no longer serve as mayor.
Following two days of argument, the court reserved its judgment and stated that the status quo would remain in Cape Town, with De Lille continuing as mayor until the matter is concluded.
This decision is now due, and De Lille, the DA and Capetonians will no doubt be following Wednesday's judgment closely. Naturally, so will HuffPost.