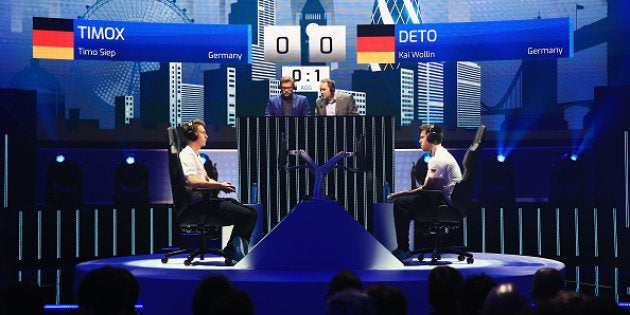 Shortly after the 'real life' football ends, 32 geeks will meet from the 2nd to the 4th of August in London, take to their Playstations and Xbox's and tackle the pertinent question: who will be this year's FIFA eWorld Cup champion?
Are you clueless about the eWorld Cup? Don't worry, you're not alone.
Here are some interesting facts about the FIFA eWorld Cup to get you up to speed:
1. It's a pretty big deal
There have been millions of players competing through a series of playoffs to make the final 32 (16 teams Playstation and 16 Xbox players) which will be playing off at the FIFA eWorld Cup champion this August. Here's what the final list of qualifying countries looks like (German is dominating!):
2. It's been around for a while
The virtual football tournament used to be known as the FIFA Interactive World Cup (FIWC) and has been around since 2004 when the first inaugural FIWC took place in Switzerland. In 2013, the tournament first saw an impressive 2.5 million players sign up. It's grown massively since then.
The last eWorld Cup was hosted last August in London (as it will be again this year), English player, Spencer Ealing was crowned the winner after beating German contender, Kai Deto Wollin.
3. Telkom sponsored the local tournament
The prize money for the tournament is sponsored by Telkom, who has been supporting the eSport industry for more than 10 years. This year, the FIFA eWorld Cup qualifier in South Africa was hosted by SA's biggest gaming brand, VS Gaming (a subsidiary of Telkom).
See the VS Gaming eWorld Cup qualifier match:
4. The prize money is NOT small change
The prize monies are outstanding! At the qualifier in South Africa, R1.510 million was the prize money pool, with the winner on each platform receiving an incredible R400 000. A 16 year old South African was one of the recipients of this prize this year.
In this year's main event, the FIFA eWorld Cup Grand Finals in August, the champion stands to win a whopping $250,000 USD prize (that's over R3.4 million)!
5. Where can you watch the finals?
The FIFA eWorld Cup 2018 Grand Final will be streamed live on YouTube and Twitch. The tournament is now broadcast on TV in more than 100 countries around the world. In SA, you can watch it on Supersport from the 2nd to the 4th of August 2018.
Make sure you have the right gear to catch all the FIFA eWorld Cup action, shop for the latest Gaming & Home Entertainment products from Dion Wired now!