I caught up with Rob from Abandoman after what has been their coming of age year. From big support slots to a well received Edinburgh Fringe show, Moonrock Boombox. They are at the stage of major breakthrough that must get them excited as every new day starts and opportunities arise.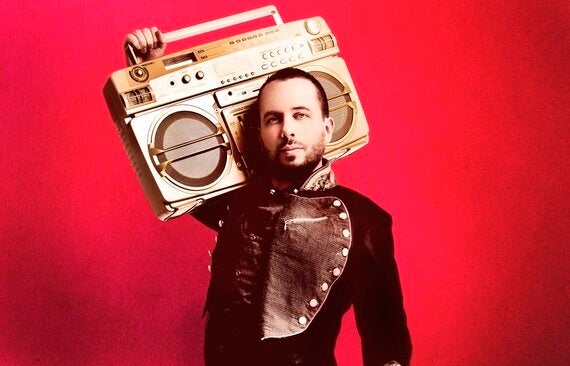 Here is what Rob had to say:
You have described yourself as the 7th best Irish hip hop act in the past. Is that still true or have you moved up or down the rankings?
I hope we have gone up but the other rappers in the top ten have all got better too. I can't say for sure but we have probably risen one over the last few years.
Who were your musical and or comedy heroes when you were growing up?
I remember going to the comedy section in HMV growing up and getting Bill Hicks, Chris Rock there were others but they stand out as being the first two that I really got. Music wise when I was around 13 I heard Hip Hop for the first time it was Snoop Dogg's album 'Doggystyle' and I remember being pretty blown away by it. I had no idea that music could contain what that album did. Lots of swearing and almost movie scenes within songs it was just so different.
What was your musical upbringing. What did your parents listen to?
Parents listen to Abba so that was always knocking around the house.
There wasn't that much Hip Hop around when I was growing up so the music I was into really felt a little bit like my own thing you know? I remember in 1996 I was rapping and people didn't know what to make of it really. But I remember thinking it's OK as Gangsta Rap was pretty new to most people and I was doing lots of Gangsta Rap covers whilst I was in a middle class school too so the audience's reaction was confused.
Have you ever performed at a freestyle/battle night in a purely Hip Hop context?
Yeah I did ages ago. In Ireland. I remember 8 Mile had just come out and there were these battle rap nights popping up all over the place and loads of Irish rappers coming out of the woodwork too. It was all a bit strange because people from Dublin would get up on stage and then do this almost over the Top American rap voice you know. You are like where did that come from? I did enjoy it though but it was my first time really performing in public really. I didn't win but I did grand. It was just a weird night and I discovered there were lots of other rappers around.
Would you like to do anymore of that in the future maybe?
No definitely not man. I love watching it but the bits I really enjoy are the more playful side of things. I really like the more craic side of things. The almost improv stuff between people which could be seen as a battle in itself but more Who's Line Is It Anyway. Less confrontation and I definitely think that vibe is way more exciting. I do like to watch battles but when it just goes to insulting people my head doesn't go there that quickly and I want to be in this interesting and more supportive environment I suppose.
Some people are worried about getting picked on at a comedy gig but you are actually really nice to the audience. Do you think you approach the relationship between artist and audience in a different way than others do?
I think I got inspired when I saw Dara O'Brien in Ireland for the first time. Lots of people were trying to interact with him and not in annoying I'm drunk and I want attention way but people just really wanted to interact with him. And I remember thinking man he is just playing with the crowd no one was getting slammed or put down. They became part of the show in a really fun way. The crowd was giving him so much more because of it. There was this real playfulness. I remember being in that crowd at 17 and I think he found out I was underage at a comedy club, you had to be over 18 and he just riffed about the exams I was about to do for ages. From that point I loved that part of comedy that type of interaction with the crowd. And I enjoy watching it too, that is the type of comedy I get excited about. The audience interaction element, with lots of people chatting and contributing in this really fun way.
You picked me out of an audience and asked me what my favourite party food was. So what is yours?
My favourite party food....erm.. maybe something Chinese? ACTUALLY PIZZA. I like walking in and seeing someone has a proper big pizza like Dominoes or something. Grab a massive slice of Pepperoni GET IN THERE! GET INVOLVED. Great hand food.
Well I said Cheese and Pineapple which seems like a bit of a cop out now...
No no Cheese and Pineapple is perfect. Wait no ham? Controversial.
I'm a vegetarian you see....
Oh, then that makes absolute sense. It would of been weird if you said cheese ham and pineapple for the sake of the crowd.
For anyone coming to your shows can you describe what they can expect?
Yeah it's an interactive Hip Hop show where the crowd kind of get to direct the show. We chat to people in the crowd and make stories from their lives. It's a very silly and vibey show. I love those parts and nights when the crowd take it off piste and they do really steer it.
You perform a song called 'What's in your pocket? What's the weirdest thing someone's ever had in their pockets?
Well at Reading festival I wasn't given it but I looked out and saw someone had taken off and was holding up their prosthetic leg. The crowd was going crazy then I looked over the other side of the tent and someone else had taken their prosthetic leg off and was waving that too. So we then attempted this almost Star Wars battle of the prosthetic legs, it didn't really come off but it was the weirdest thing. Oh and a baby! I remember being given like a 4 month old baby to hold when I was rapping. I remember thinking you are being way too louche with your baby. It was at Bestival I do remember thinking to myself I wouldn't of given myself that baby. You wouldn't give a baby to someone who is running into the audience and grabbing things and returning them by throwing.
What does 2014 hold for abandoman?
A Trip to Australia in February for 6 weeks which is exciting. James and myself have been doing this thing where we bet on a creative idea or thing we would like to achieve. So we put down like £100 and choose a thing we would like to achieve by the following week. If you don't do it the other person gets to give the money away to a charity of their choice. So I have just done a first song. So there may be an album. I'm not sure how funny it will be. I just finished one today it is this full on Rave Trap song which is not normally the area I work in. But we are having lots of fun with it all and lots more riffy stuff coming out which I am really excited about. We are back in Edinburgh in August too with a new show. Have a little tour in May too. So some really exciting stuff happening for us. Not for the public, feck them! But for us very exciting!
Related