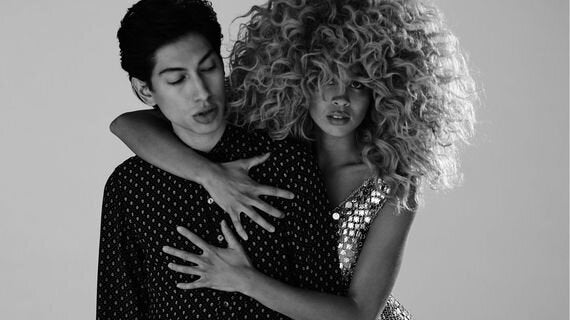 These pair are pretty much my new favourite people. The lion is an animal known for its unpredictable ferocity and has inspired generations of sartorialist's for serving some wildlife realness. A Babe . . . well, go figure. One of the dopest names I've heard for an act, in almost like . . . forever, they took inspiration from bands like Blondie and Pink Floyd when picking a name. Jillian Hervey reigns from Westchester and she began artistically developing her style as a dancer, an art she started aged two. Lucas Goodman comes from East Village, New York, and both form this two-person Soul stylefest. Producing some of the coolest music being made right about now. They are so chameleonic it's difficult to slap them with a definition.
Check out their new video for "Where Do We Go":
The pair met in school through a mutual friend, Zack Baker, a family friend of Hervey's and University friend of Goodman, though they didn't really form until about three years after that. Hervey, not knowing many producers, asked Goodman to score a dance piece of hers, a very organic and congenial experience that kept on going after a neat fit. Their song 'Treat Me Like Fire' blew up something major, and they seemed to get a lot attention in the UK. A cocktail of sounds from different time periods, they are making music that they think needs to be out there, and that they want to hear.
Taking diverse inspiration from Wu Tang Clan, Billie Holiday, Flying Lotus, Jack White, Frank Sinatra, The Neptunes, Diana Ross, The Strokes, Curtis Mayfield, and Hendrix. The goal, they've declared, "is to make timeless music without any genre, and that can work in any age." Also, check out their mates. They've worked with Pharrell Williams, Jeff Basker, and Andrew Wyatt (Mike Snow). Donald Glover (Childish Gambino), asked them to open for him at South by Southwest and featured on their plush track 'Jump Hi'.
Creatively, they begin by free-styling and making some beats, melodies, words, and rhythms, see what they're feeling and evolve on from that. Aiming to complete a song a day. Hervey has a real street-smart classic-funk vibe going on, and that hair is untold. Goodman brings a contrast of real slicked-back keep-calm-and-move-on, and his t-shirt collection is a walking exhibition of eclectic influences. I think, really, what's happening here is an anti-genre innovation that is pushing the medium. Only a month after David Bowie died, it really is encouraging to see a new credible and risky new group pushing what music can be. These guys are ones to watch, to hear, to inspire.
Disclosure - Hourglass ft. Lion Babe: