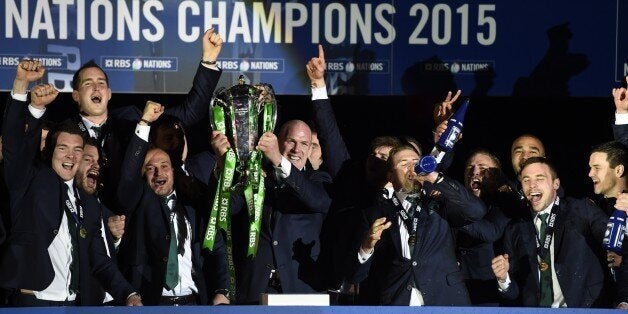 With Super Saturday certainly living up to its billing, we've reached the end of the 'What does it mean for the World Cup?' Six Nations and here are some final thoughts from the Championship...
Ireland will challenge for World Cup title
Big statement time: Ireland will reach the World Cup final. Now I would have said this even if England had taken the title yesterday. I feel that out of all the Northern Hemisphere teams (and I'm including Wales and England in this) they seem to be best placed to challenge for the World Cup.
Ireland have been criticised for relying upon their kicking game to win them matches, especially after their defeat at the Millenium Stadium. However rugby over the last four to five years has come down more often than not to the team with the best kicking game and Ireland's is still arguably better than anyone else in the Six Nations.
They have a powerful forward pack that can hurt you in the tight and loose though their scrum may need a bit of work before the World Cup. Yesterday Sean O'Brien was at his destructive best not only with ball in hand but also at the breakdown and when you add in the complimentary skills of Peter O'Mahony and Jamie Heaslip, Ireland have a backrow that can match any in world rugby.
Their backline is full of skilful, attacking players and most excitingly we haven't really seen them being unleashed, though we did get a pretty good glimpse of what they are capable of at the weekend. Add in the Conor Murray-Jonathan Sexton pairing at halfback and you've got possibly the most complete team in the Northern Hemisphere.
That's more like it France
All Six Nations we've been lamenting the turgid displays of Philipe Saint-André's French team. "Where was the French flair we've come to know and love?" we cried. "How could Saint-André be such an exciting player and lead such a boring team?" we wondered.
And to be honest we're still wondering but it's safe to say that the France we saw at Twickenham is more of what we want to see. Yes they shipped 55 points but credit to England they've been playing that sort of rugby all tournament and until this game France had only conceded two tries in the Championship.
It was France's attacking play that has everyone so excited. This was the France of old with two outstanding long range counter-attacking tries, a back of the hand Matt Gidley-esque offload from a hooker to a centre for another and also a good old-fashioned try from a lineout drive. This was French flair in all its glory. Power, pace and skill. If this France turns up later this year...even New Zealand will be worried.
Goodbye departing legends?
Super Saturday may well have been the last time we see Paul O'Connell and Thierry Dusautoir playing in the Six Nations. While a lot of the focus has been on the Munsterman and his international plans post the World Cup, the Toulouse hardman has said this Six Nations may well be his last.
If that is the case then European and World rugby will be saying goodbye to two of the best players of the modern era. Both men have been talismanic figures not only at international level but also club level. O'Connell more than stepped into Martin Johnson's sizeable shoes as the next great Lions second rower while Dusautoir was so good that he won a man of the match award in a World Cup Final in New Zealand, against New Zealand and in a match that New Zealand won.
While to some extent their powers are on the wane they still have a tremendous influence whenever they play and international rugby will be poorer without them.