12 years ago, my friend and colleague, Sheryl Greentree, founded the charity, Water For Africa, and works tirelessly to provide safe, clean water to the Gambia. Sheryl says:
"Over the last 30 years, donors and NGOs have spent billions of dollars installing over 800,000 hand pumps in sub-Saharan Africa. Yet broken water supply points across Africa are rife. Inadequate systems for cost recovery, repairs, maintenance, and the inability to obtain spare parts, mean women and children must walk for miles to collect dirty water from unprotected springs, rivers, and contaminated wells. Various statistic show between 40%-60% of water points failing across Africa. It is desperately time for a different approach."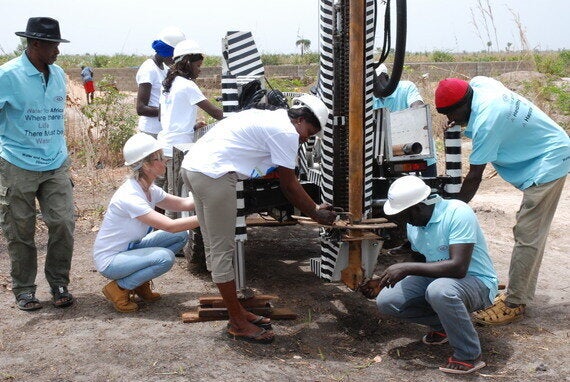 The Water for Africa Drilling Team
It seems that many NGOs go for the quick fix, rather than thinking long term. Without altering the mindset and behaviour of people on the ground, lasting change is impossible. Installing 800,000 hand pumps sounds impressive until you realise that many of them are now inoperable because of a lack of funding for ongoing mainenance and support. When she founded Water for Africa, Sheryl was determined to transform the aid model.
"Water for Africa is the one of the few charities across Africa with its own drilling organisation based permanently within Africa. We challenge decades of failing water points, by training African men and women in water supply installations, community mobilisation, technical repairs, and monitoring. We are the only charity from the United Kingdom with its own drilling organisation based within Africa. Water for Africa drills only boreholes and not open wells. This provides communities with water systems which are safe and reduces the risk of cross contamination, preventing the threat of children and livestock falling into the water source. This model is sustainable because boreholes reach deeper aquifers and do not diminish in the dry season, providing communities with a continuous, high yield water source. In addition, boreholes can upgraded from a hand-pump to a fully integrated irrigation system for agriculture. Based locally within Africa, the Water for Africa team has been able to provide a permanent level of support and service to the communities with whom we work."
It seems simple common sense to share skills and expertise with local people and to trust them to transform their own lives, but the approach taken by Water for Africa is not common. There tends to be a paternalistic attitude towards helping Africa, but Water for Africa shows that an alternative approach is required to embed long-term change. Of the hundreds of boreholes drilled by Water for Africa in the last twelve years, not a single one is currently out of service, because the charity's model requires local communities to set aside funds for ongoing repairs and maintanence. A 100% operational record is unheard of, but this achievement is thanks to the innovative, long-term model that Water For Africa implements when it works with a community.
"There have been many significant changes across the continent, particularly in the Government and leadership. We have some amazing leaders and presidents in positions of power in many African Countries, who are calling on the West to change our donor model from aid to investment in training and infrastructure. Short-term aid is required in true emergencies, but it makes my heart sink when I see pallets of water being flown into refugee camps, or people travelling hundreds of miles with their family and livestock, often perishing on the way to reach water in a drought. There are rivers of aquifers beneath the ground. We have to use a Sarah Palinism 'drill, baby, drill! We can drill a borehole within 48 hours, with the correct drilling rig and the trained personnel. Africa does not lack the people willing to work, it lacks the know how and resources."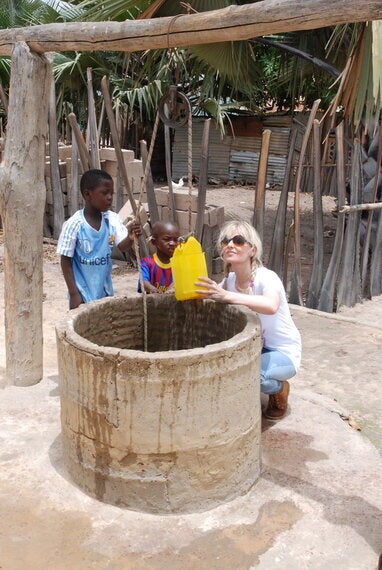 Africa's Future Lies in its Own Hands
It's not just the way we engage with Africa that needs to change. Charity has become big business, but charities are not held to account by shareholders. Sheryl is worried that donors are simply not getting value for money.
"Too much of donors money is spent on infrastructure, salaries, suppliers, overheads in city headquarters, and marketing and promotion. We feel very strongly that the money we raise from donors should be spent on our work in Africa and not spent on marketing or high overheads in the UK. This has made it harder to be heard above the noise, but I have always believed our model and work will speak for itself in our results. As in any business, return on investment is the key and we need to measure long-term impact and investment in Africa. Is the project still working 15, 20, 30 years on? What percentage of donors money is spent on the ground and are donors getting value for money in terms of suppliers? It is big business, but is it the best business model for the beneficiaries?"
Sheryl is optimistic about the future and believes that if we re-engineer the aid model, we can help make a real difference.
"Training and investment is the key to success across Africa. Give people the right resources and they will transform their own futures."
In 2009, Sheryl was voted Tesco Mum of the Year for her charity work and was invited to join the Clinton Global Initiative. In addition to their work in the Gambia, Water for Africa is about to launch in the Democratic Republic of Congo with the support of a Congolese company, Feronia. To find out more about Water for Africa, visit www.waterforafrica.org.uk