I wrote recently about advances in filmmaking technology that are going to put exceeding high quality visuals within reach of most budgets. One of the most powerful of these new tools is the Movi M10, a 3-axis gyroscopic stabiliser from Freefly Systems. We recently purchased an M10 and have been blown away by its versatility and potential. Like so much else in life, it seems that the future is all about being mobile.
Waiting for the New Era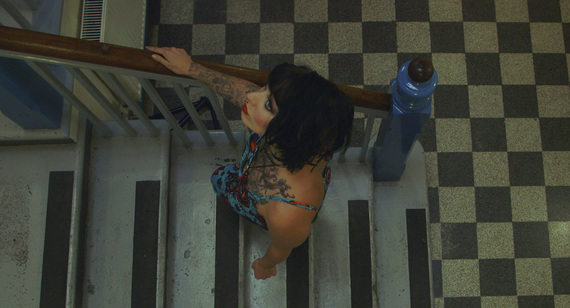 Model: Eve Elle

Photo: Dare
Charlie Chaplin famously refused to move his camera, preferring instead to shoot locked off and wide if possible. His reticence might have been the result of the challenges of moving a camera in the early days of cinema. Cumbersome and temperamental, early film cameras were not designed to be mobile. With high quality cameras like the Epic-M Red Dragon Carbon now weighing in at under five pounds, we've come to expect to see camera movement, and Steadicam, dolly, jib and crane shots are standard in many productions. The explosion of found footage movies and YouTube videos saw handheld camera work become mainstream, but for some filmmakers and viewers the instability and unpredictabilty of movement is unappealing and it certainly won't suit every instance when one needs to move the camera.
Smooth camera movement is unobtrusive. It can help build tension or add to atmosphere and is a powerful, if often under appreciated, storytelling tool. Most of us just enjoy the experience of the end result and probably don't even think about the amount of work that goes into achieving a moving camera shot like this one:
Kiesza - Hideaway
or this one:
Jungle - Busy Earnin'
Gyroscopic drones have democratised aerial photography and there is a similar revolution happening on the ground. Originally designed to work on aerial drones, gyroscopic gimbals like Freefly's MōVI are totally revolutionising what filmmakers can do with their cameras. Anyone out there viewing gimbals as a Steadicam substitute needs to take another look. Combining them with other grip equipment, or custom-built rigs transforms the gimbal into one of the most versatile production tools ever seen.
We're preparing to shoot a short film entitled The Traveller later this month, and have been testing custom rigs designed to enhance the capabilities of the MōVI. Here are some rough and ready test shots that were executed to test the Dare FlyWire rig that we've built to work in conjunction with the MōVI. The challenge was to track model, Eve Elle, walking up and down a number of flights of stairs with the camera placed in the centre of the stairwell. Due to the size of the stairwell, shots like these would previously have been extremely difficult, if nigh on impossible to execute, but using the MōVI, a team of three was able to rig and get the shot in just over two hours. All footage is 'as shot', with no post production stabilisation.
Tracking Eve Elle up stairs
Producer: Reels In Motion, Dare Productions Director: Dare
Tracking Eve Elle down stairs
Producer: Reels In Motion, Dare Productions Director: Dare
These are equipment tests, so they are not quite production quality, but they serve to effectively illustrate the massive leap forward in filmmaking technology that gyroscopic gimbals represent. Combining the MōVI with the Dare FlyWire rig, we can move the camera smoothly to almost any point inside virtually any building. When we shoot The Traveller later this month, we'll be putting the new technology through its paces in some of the most remote and challenging landscapes the UK has to offer. If it lives up to expectations, this new technology will have truly revolutionised the way we shoot films.
These gimbals don't just represent a massive leap forward for professional filmmakers. Low cost gimbals designed for the GoPro are already available on eBay, and I have no doubt we'll soon see lightweight gimbals marketed at consumers who are tired of shaky footage of their holidays or the kids' sports day. When that day comes, people will be able to have high quality, smooth movement to go with their HD cameras.