We've seen Bubble Football and Footgolf, so what's the next craze to sweep the football world for 2016?
Well, ladies and gents I give you Footpool. The Footpool phenomenon is becoming hugely popular in the UK as more and more fans take on the challenge of potting balls with their feet, rather than a pool cue.
I was sent a video of the Arsenal stars Olivier Giroud, Laurent Koscielny, Mesut Özil and Per Mertesacker having their first experience Footpool in a France vs Germany doubles match held at the Arsenal Training Ground.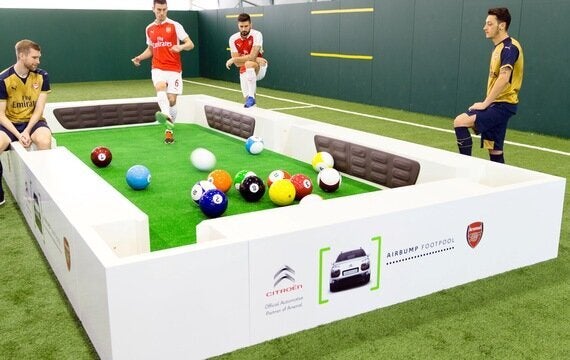 This fun activity was brought to life by Citroën, who has created the new and unique Footpool table with Airbump® technology forming the cushions of the pool-style table.
Apparently Airbump® technology is a feature of the multi-award winning Citroën C4 Cactus and is designed to protect the bodywork from minor bumps and scrapes.
As well as showcasing the skill set of the players, the France vs Germany match - consisting of Koscielny and Giroud against Özil and Mertesacker - brought out the competitive spirit of the Arsenal first team players. Like a classic game of pool, the team who potted all of its balls first, won.
It was the German duo of Özil and Mertesacker that emerged victorious. The action was captured in a fun video, which also shows the players practising their trick shots while trying to out-do each other.
To watch the match click here
For any Arsenal fans out there the Airbump® Footpool table will be making an appearance at Emirates Stadium early in 2016 giving fans an opportunity to try it out for themselves!