You have a big occasion on the horizon and you've decided to splash out on a new suit. Money has been put aside and you are searching for something dapper and specially fitted to celebrate the big day but with so many options where do you start?
Terms like off-the-peg, tailored, ready-to-wear, custom-made, made-to-measure and bespoke have all been suggested by someone 'in the know' but other than understanding that some options are pricier than others, most blokes don't really know what it all means and what is actually right for them.
I spoke with sartorial experts Clements and Church, an independent British tailoring brand that creates various levels of tailoring solutions and good-looking attire for style conscious gentleman.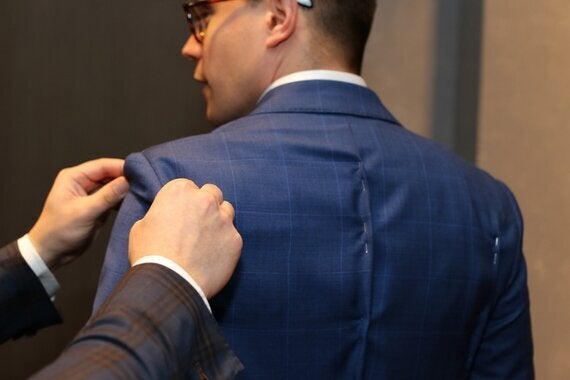 "To simplify things straight away and despite the various terminology you may have heard, you actually have three options: 1. Off-the-peg 2. Custom-Made and 3. Bespoke." Says Master tailor Aaron john.
Each will include a certain level of personalisation but here's how they differ:
Off the peg (otherwise known as ready-to-wear) is factory made and usually produced to standard sizes. There will be a wide range in quality standards depending on manufacturer and the production of the suit will have been completed already by the tailor so you won't have any input into its creation.
To a certain extent the tailor can then work the garment to your profile, usually tapering trousers and tweaking elsewhere, but this option really is for those who fit within the standard sizing brackets and working to tighter budgets.
Next is made-to-measure (otherwise known as Custom Made). Made-to-measure is essentially a pre-made suit shape altered based on your preferences and measurements that take between 6-8 weeks. Rather than starting from scratch, you are fitted from a selection of sample garments, which are then tailored to your unique body type and provide you with fabric and detail options.'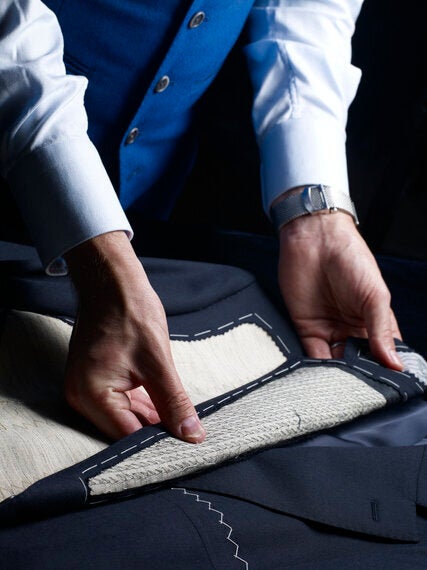 The pattern is then cut by hand specific to the individual's measurements taken from the fitting.
Here you have more control in the production and you'll be far more involved in the process from start to finish. The steps include:
1. Measurement fitting: The tailor will measure everything from waist, arm & leg length to whether one of your shoulders drops lower than the other.
2. Choosing your fabric: the customer adds input into the type of fabric they want and can choose from a selection of fabric swatches
3. The Style: single button, double button, double-breasted, three-piece, lapel size - it's your choice!
4. Adding your personality: this is when the detail is added. For instance, choosing your buttons, lining, stitching colour etc.
5. Final fitting: by this stage everything should all be in place but one more fitting is required just in case...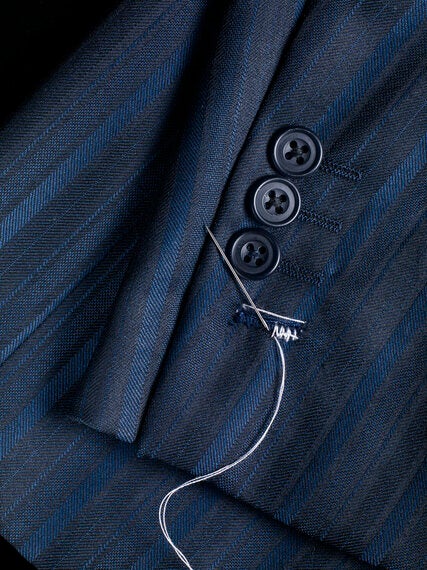 The last option is bespoke. Now, I've just outlined the detail of what goes into a made-to-measure suit where the service is already pretty robust with two measurement fittings, and choosing details like fabrics, style of buttons, stitching and patterns so you're probably wondering what's left to do?
Well, it's more about how it's made and allow me to use luxury cars as my analogy. One day I'd like to buy a Maserati. I could go and get one from the garage tomorrow, adjust the seat, tweak the mirrors and drive away in my lovely new car, this is my off-the-peg option.
Instead, I could go into the garage & have the same car built made to my specifications, choosing the interior colour, initial the dashboard, tweak the spec etc...then it'll go away to the factory and when I go in to pick up I'll drive away a car which was made for specifically for me. Although it will cost thousands more, it will be completely unique and that's the benefit of a made-to-measure suit.
Now, bespoke suits can only be described as buying a Bentley. Again the car costs thousands more and doesn't necessarily perform better than other supercars but the price point is reached because of, in the most part, the car is handmade and with that comes the level of detail competitor products simply can't offer.
So back to suits. Bespoke has become a bit of an exhausted term in the industry and it loses meaning each and every time a made-to-measure suit company uses it incorrectly.
Bespoke suits usually take 12 weeks, are handmade and hand-stitched which will not only make the suits last longer but will look even more impressive than machine stitched garments. Here's how it differs to made-to-measure:
1. Handmade from start to finish
2. Working from an individual pattern as opposed to a standard block
3. More personalised service as more fittings required. Some bespoke shops could require five fittings.
4. A larger selection of fabrics
5. Every single thing is measured to the individual
6. A more personalised product that takes more than 50 hours to create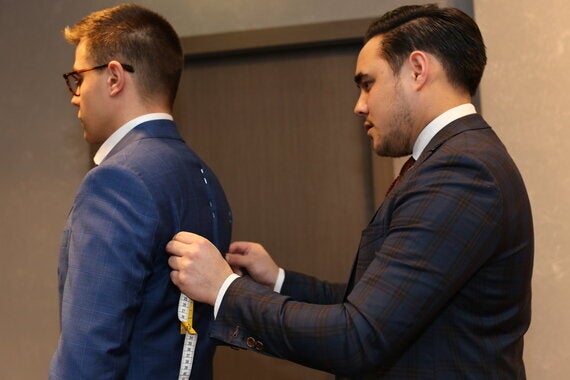 So effectively you're paying for the craftsmanship when it comes to a bespoke suit, which the super wealthy won't mind doing. A bespoke suit is also an attractive option particularly to those who have a physique that's significantly different to the standard sizing - for those chaps you can really tell the difference.
Pricing will vary greatly depending on where you go but to give you some guidance, the chaps at Clements and Church price suits between £800-£1,900 for off-the-peg, £2,000-£4,500 for made to measure and £2,500 - up to anything you want to spend on bespoke.
So, for most of us, once you've identified a good tailor a made-to-measure suit will satisfy most of you, particularly if you're new to tailoring but no words can describe the feeling of wearing a bespoke suit!