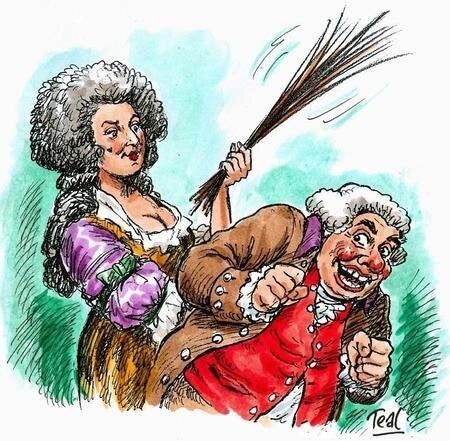 I offloaded some well-thumbed books on my local British Heart Foundation outlet recently, and the volunteers' relief that there wasn't a copy of Fifty Shades of Grey amongst my offerings was palpable. Charity shops in every corner of the realm are being inundated by used copies of E. L. James's spank-fest, it seems.
So, does this signal that the nation has tired of its brief flirtation with light bondage, vicarious or otherwise? We're told that the 'next big thing' will be The Mistress Contract - A Memoir by She and He. This book tells the supposedly true story of an anonymous couple's written agreement that 'She' would become her lover's longstanding 'sexual property', in exchange for which 'He' would supply upmarket accommodation and cover all expenses incurred. Regardless of the debate about the sexual politics of Fifty Shades of Grey's sado-masochism, or the betrayal of feminism that might or might not be inherent in The Mistress Contract, I'm more interested in why the chattering classes consider such themes as middle-class bondage and 'sex for sale' as novelties in the first place.
There was a time when both 'kept women' and flagellation were commonplace. The Georgians were inured to flogging, and meting out a sound leathering to your servants or the kids was an everyday occurrence. In 1782, Judge Buller famously decreed that it was perfectly acceptable to beat your wife, as long as the rod used was no thicker than your thumb. As youths, the well-to-do were birched almost daily by governesses in the nursery, or by teachers - who were known as 'bum-brushers' - in the nation's more exclusive schools. They often came to enjoy punishment so much that, in adulthood, many a nostalgic gentleman frequented bawdy-houses offering a good spanking to its punters. Flagellation became known as 'The English Vice' on the continent.
The main directory of prostitutes and their specialities in the 18th century, Harris's List of Covent Garden Ladies, gave details of which working girls would service aficionados of 'birch discipline'. Some of the entries are even prefaced with verses to whet clients' appetites:
I will whip you while the rod will last!
I will! I will! You're always lying,
I will whip you for all offences past.
A listed prostitute in George Street was bequeathed a fortune from an 'old flagellant, whom she literally flogged out of the world'.
One brothel's 'flagellation machine' could service 40 clients at a time, and Mrs Berkeley's famous 'Berkeley Horse' was a contraption to which clients could be strapped, and then flogged at 'any angle that might be desirable'. Mrs Collett's whipping establishment was even visited by the dissipated Prince of Wales. A trade in erotica and pornographic literature with flagellation as its main focus burgeoned from the 1770s, and one late example entitled An Exhibition of Female Flagellants titillated its readers with girl-on-girl birching action.
It's undeniable that most erotic literature and the sex trade had men as its target market, but women's sexuality was by no means swept under the carpet. A newspaper advertisement from 1717 by a 'Sarah Y-tes' sought 'Any able young Man...endow'd with a...Carnal Weapon...in good repair', who would be offered 'Half a Crown per Night...to perform Nocturnal Services'. Mrs 'Y-tes' lamented she was driven to this 'last Extremity' by her husband, who wasn't up to the task. There's some debate as to whether this was a genuine advertisement, but even if it was an example of off-colour male humour, it was at least some form of tacit admission that women had needs too. One of the reasons that high-class courtesans were in such demand in the 18th century was because they were openly sexual and vivacious characters. Aside from their erotic charms, conversation with them was frequently more engaging than it was with wives and 'respectable' female acquaintances, who were expected be behave demurely.
It's unlikely that the central question about the morality of sex as a financial arrangement raised by a book such as The Mistress Contract would have been discussed widely in the Georgian era. Courtesans were simply a fact of life. They could also become celebrities, who were often genuinely cherished by both the men who kept them, and the public who encountered them at the playhouses and pleasure gardens. In The Gin Lane Gazette, I relate one affecting true story about the courtesan Emily Warren, who was the 'amorous fair' of a Captain Bob Pott of the East India Company. Bob was so taken with Emily that he furnished her with a swanky London residence, a bright yellow carriage, liveried servants, and a box at the opera. To his father's great displeasure, Bob later made her his wife. She died suddenly on a ship in India after a brief illness, and Bob was so grief-stricken that he towed her putrefying body behind the vessel to its final resting place by the River Hooghly. Here he spent a fortune building her a mausoleum and a commemorative column amongst the tigers of Culpee. If you can find anything as compelling or touching in the current crop of bargain-basement bonkbusters, I'd be seriously surprised.
Related