It is now the Season of Fashion. Yay! First London, then Milan and now Paris! The fashionistas are out in full force!

Photo: Afton McKeith
Recently, I attended London Fashion Week Men's for the first time. My mum, TV personality and author Gillian McKeith, decided to accompany me at the last minute. The only problem was that she did not possess an official entry pass. Luckily for us, upon arrival at the British Fashion Council headquarters, security knew her from her television work. It helped that key members of the Security Detail were huge fans of Gillian McKeith. Next thing we knew, patrol guards whisked us through pass-check and announced that my mum would be escorting me through the designer showrooms.
Men's Fashion often takes a back-seat to women's attire. The forgotten fact is that the males' rags can be magnificent too! I am quite intrigued by Men's Fashion (but I do prefer Women's Fashion because I can actually wear it!) and sought to view the designer showrooms in order to evaluate the evolution of 'la mode des hommes'.
Before viewing any designs, my mum and I visited the LAW (Lives And Works) Magazine Photography Exhibition. It looked like a fun room to walk into and look around. Unexpectedly, photographer Harry Mitchell started taking some portrait photos of me. The photographer man said he loved my face! I then began mingling with the crowd in order to meet some interesting people in the room. Suddenly, I turned around to my left and saw a big blown-up photo of my face! Somehow my photograph ended up being featured on the walls of the magazine exhibit in a cool monochrome black and white colour scheme. I went into that room just to hang out. Instead, I became part of the exhibition!
Photo: Afton McKeith
The first new fashion we stumbled upon was by designer Michiko Koshino. The designs included inflatable garments. We lit up as we pondered swimming in the sea with the clothing. However, the Koshino assistants were quick to advise us not to do so! When the exhibitors informed us that the fashion range was unisex, I was ecstatic and speedily began to try on everything! It was as if I were wearing rubber rings! The garments were surprisingly warm thanks to their inflatable abilities. See me in cool designs: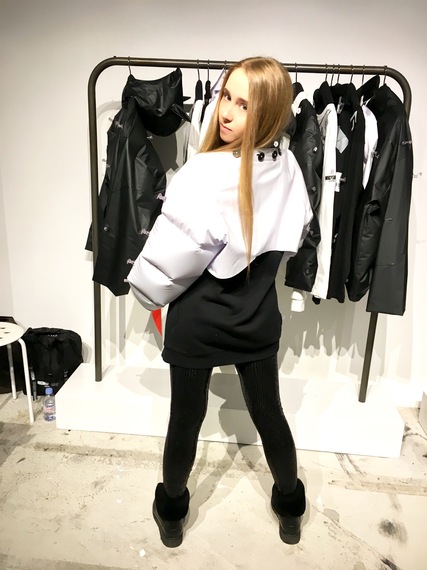 Photo: Gillian McKeith
Fashion company Good News London is not only creating unique concepts in design, but they are heroes in charitable distribution of their trainers (aka sneakers). They established a project called 'Good Luck Shoes'. This venture seeks to source factory dead stock from their network of footwear factories and to donate those shoes to the refugee population arriving into Europe.
Then we stumbled across YHIM (as in 'Why Him?!'), a company specialising in luxury men's pocket squares. Just in case you aren't up on your garment jargon, the Urban Dictionary defines the pocket square as 'a handkerchief inside the breast pocket of a jacket. It can be folded in myriad ways, from the Straight Fold to the Presidential, and scores in between; it adds a bit of extra flair to make a great suit even better.' My own definition of a 'pocket square' is a piece of fabric that men blow their noses on when they have an overflow of mucus in their nostrils. The reality today is that they are really just used for decoration to add a splash of colour and to make a fashion statement. The designer and founder is Sophia Wu. YHIM showcased their British Made Innovative Pocket Squares 'ANYTIME ANYWEAR' collection. It was one of the most unique garment creations. These versatile squares are designed to reflect and celebrate who you truly are.
Each design is aimed to a person with a different personality. Each pocket square has varying designs, patterns and colours, so that the wearer can change the fold for every day and every occasion of the week.
YHIM is an inspiring brand who desires to put out a positive message. Their slogan: 'Be Confident, Be Bold, Be Unique, Be YOU!'
See video below:
Unbeknown to this pocket square designer, she taught me something very special: 'BE YOURSELF, ALWAYS'.
Follow Afton McKeith on Instagram: www.instagram.com/AftonMcKeith
Like Afton McKeith on Facebook: www.facebook.com/AftonMcKeith