I'm a normal teenager, but I do go to star-studded events. On Friday night, I attended a wonderful evening with the world-renowned punk/rock fashion designer, Vivienne Westwood, with my mum Gillian McKeith and my sister Skylar. This evening left quite an impression on me.
The event was promoting Vivienne Westwood's enthralling new book 'Get A Life'. It was held in a beautiful church venue in Piccadilly.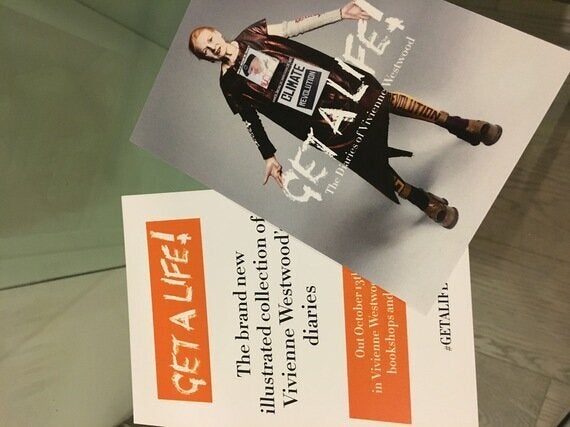 As we arrived in the exquisite monument, the three of us strutted down to the front of the room, in hopes of finding a spare seat. Receiving a multitude of cold, hard stare-downs when asking if a space was available that was occupied by a rucksack, we searched elsewhere for a spot, and were unsuccessful.
At the front of the room, were the press and paparazzi, noticing our predicament. They chose to pull us away from our puzzlement to take photos in front of the Vivienne Westwood 'Get A Life' board. We stood for the photos, peaking at other known guests in the front rows, whose eyes were goggling at us.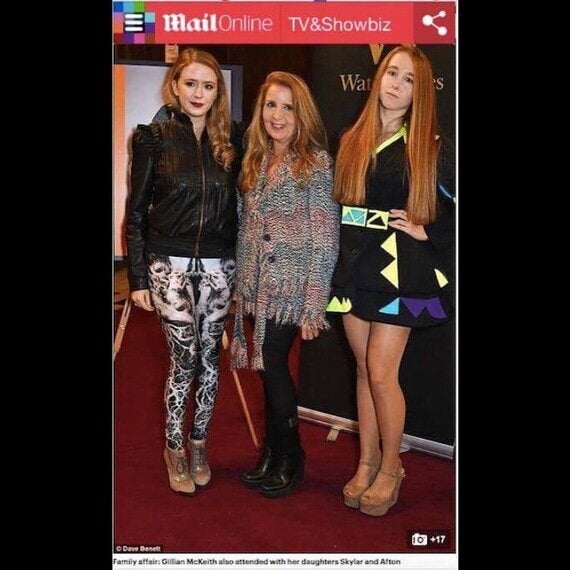 To the left is my sister, Skylar, wearing elegant beige-coloured TOD'S boot heels, with black and white electrifying leggings with a lightening effect from the world-renowned designer ALEXANDER McQUEEN. On the top half of her body, she opted for an edgy black biker jacket from one of her favourite designers, RED VALENTINO. In case you're wondering who did her make-up, she did. Skylar used her favourite brand of make-up, MAC, in order to create a glamorous finish to her look.
Positioned in the middle is my mum, GILLIAN McKEITH. She is wearing the pinnacle of fashion. Gillian is rocking bold black GUCCI wedged boots, followed by a stunning duo of a skirt and jacket with complex bluish, reddish designs by MISSONI, one of her favourites.
Then there's me on the far right. I chose to wear some elegant beige wedges from FOREVER 21, mostly because they are one of the most comfortable heels I have ever worn; they allowed me to enjoy the event pain-free. On top, I am wearing a stunning NATALIA KAUT black coat dress, with bold, eye-catching retro yellow, blue and purple designs. You will often see the three of us wearing NATALIA KAUT designs because we love her outstanding, unique style. Plus, she is a good friend of ours.
Back to Vivienne Westwood's inspiring talk. After taking the photos, we walked towards the front row of seats, where the likes of PAMELA ANDERSON, models LILY COLE and JODIE KIDD were sitting. We introduced ourselves to Pam, and I asked if I could have a photo with her, to which she reluctantly agreed. The photo below with AFTON MCKEITH was taken the night before PAMELA ANDERSON delivered a vegan meal to JULIAN ASSANGE at the Equadorian Embassy.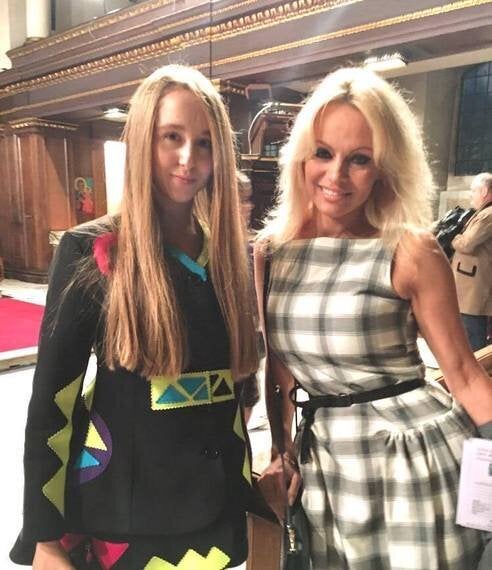 When we did find a seat, it was in the last row, behind a 6ft4 man. Great! (Sarcastic Tone) We could see Vivienne, but she seemed very far away.
Vivienne's talk was very passionate as she argued against globalisation and encouraged going green. She urged listeners to become more aware of the environment and take steps to look after it, even just simple steps such as not using plastic bags.
I was so interested by her ambitions, that I posed her a question. I asked when was the pivotal moment in her life that made her become such a major activist, and what advice she would give to young people for how they can help to make a difference. You can view her response in the video below:
So, to finish off my experience at 'An Evening With Vivienne Westwood', Vivienne comes across as a very creative and inspiring woman, who is worth looking up to. I thoroughly enjoyed the evening and was most interested by the famous designer. Thank you Vivienne for a wonderful talk!
© Copyright Afton McKeith 2016