Ever wondered what it's like to be a fashion model for a day? I have. So I thought I would put myself in the shoes of a high fashion model and recount my experience.
I was able to do a high fashion editorial photoshoot for a day because I am considered a 'social influencer'. Social influencers are individuals who have an impact on large numbers of followers by posting on social media. For example, some post comedy skit videos like Cameron Dallas, others sing (Shawn Mendes was considered a social influencer before he was a professional singer), and some model (Afton McKeith!). In fact, even Dolce & Gabbana, the world-renowned Italian designer, recently used social influencers and millennials to walk in their fashion show during Milan Fashion Week Men's.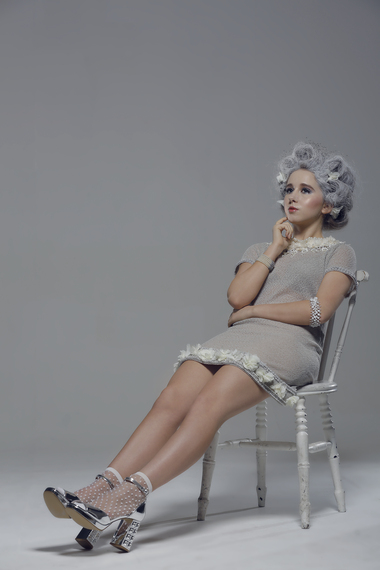 Photo: ANTANAS MARTINKUS
The world of modelling is evolving for the better. Here's why: you don't need to be 5'10" and above, size 0 and always on a diet, to strut your stuff on the catwalk. And the same goes for those models in editorial high fashion photo spreads, thanks to the new way. All good news for me since I am not 5'10" and I am not size 0.
My way in was social media. I was approached by a top London-based designer from Romania, Lacry Puravu, who reached out to me on Instagram. One day I received a notification of a comment from Lacry offering to provide me with stunning garments for the many red carpets I attend. To which, I replied 'yes' with eagerness. Next thing I know, she is asking me to model in her Winter Queen Campaign. I thought 'why not?' and agreed to model her designs. Fashion is one of my loves so I was ecstatic.
My mum, famous TV personality and bestselling author Gillian McKeith, accompanied me to the shoot. It took place in a very industrial part of London, one of the fashion capitals. When we entered the photography studio, there were many people busy setting up a very exciting set. I was the first model to get my hair styled. My hair styling took hours of intricate work on the part of stylist, Gurpal. She first used a curling iron to create cute ringlets in my golden hair, which she then brushed out. Then, she sprayed clouds of hairspray in my hair, making it bigger and even bigger, whilst teasing every piece of hair I have. I never use hairspray; it smelt awful. We had to go outside in the freezing cold in order to breathe! The hairstylist sprayed my hair with silver, changing the colour of my hair. She is super talented at what she does, but my hair felt like straw by the time she had finished and I was afraid my hair would never return to its normal softness.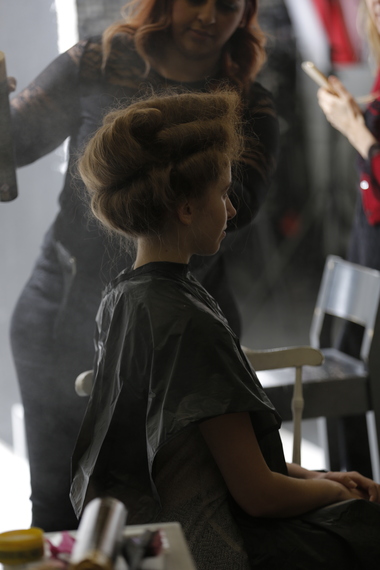 Photo: ANTANAS MARTINKUS
With little time to spare, I rushed to get my makeup done by Sonia, who made me look like an icy queen. I was basically painted white. When it came to doing my eyes, it was a bit complicated as my eyes are really sensitive and didn't stop flickering anytime she went near them with a brush. The worst was when she was putting on eyeliner and false lashes!
It's the first time I've done a photoshoot with such crazy electrified hair, and I was nervous about what poses to do. Luckily, the photographer Antanas was friendly enough to ease me into some fun poses. I also used my background in dance and performed some balletic 'pas de chat' steps.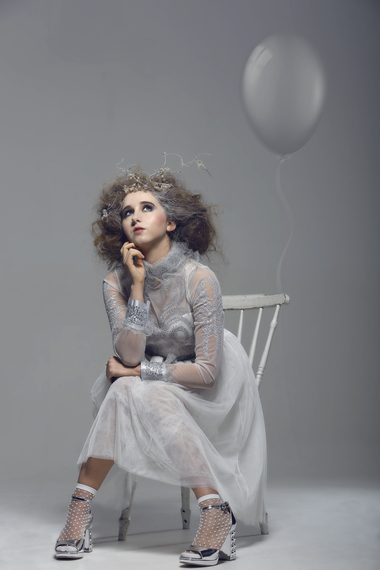 Photo: ANTANAS MARTINKUS
Then it was time for a dress change. I went backstage to pull off my dress, but there was a big problem. The dress wouldn't come off. My hair was too big. It wasn't just big, it was humongous; like an overgrown mane of a wild lion. I called for help. An assistant quickly arrived to assist me. Meanwhile, the photographer was calling for me to return to the photoshoot. But he didn't know that I was stuck in what felt like a straight-jacket with my wide hair as the impenetrable gatekeeper. The assistant kept yanking and yanking to get the dress off. No joy. The assistant then called for another assistant. The next thing I know, two assistants and moi the model are all desperately trying to free me from dress jail. Still no hope of freedom. The photographer shouting for me. The head designer Lacry Puravu starts sprinting at top speed to help save me from the dress with the two assistants. Three women furiously working hard to get me out of the dress; me shimmering with every pulsing yank from my releasers. And voila, I am finally freed! Hallelujah! Praise the Lord! I am free.
The day was long, but time flew. Before I knew it, the sun had set and I hadn't even noticed the hours going by. And I had been transformed into a China doll, albeit one with an exaggerated coiffure.
Written by AFTON MCKEITH
© COPYRIGHT AFTON MCKEITH 2017
Follow Afton McKeith on Instagram: www.instagram.com/AftonMcKeith
Like Afton McKeith on Facebook: www.facebook.com/AftonMcKeith