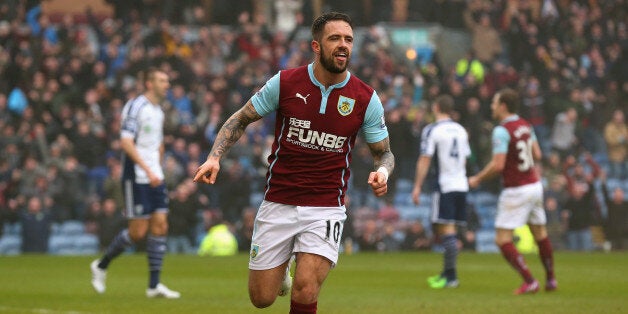 The lack of British players plying their trade in Europe's top leagues remains a mystery, but it's a concept that does seem to be catching on, albeit at a snail's pace. As it stands there's Ashley Cole at Roma, Micah Richards at Fiorentina and Gareth Bale at Real Madrid, of note - while Ravel Morrison has all but confirmed his intention to gangster-walk into Lazio.
For the first time in a while, others are being tipped to do the same. James Milner's waning contract situation at Manchester City is thought to have alerted old boss Roberto Mancini at Inter Milan, amongst others, while Burnley's Danny Ings is reportedly on David Moyes' summer shopping list at Real Sociedad - alongside a kettle, some teabags and a toaster, presumably.
Assuming La Real's interest in Ings is genuine, it's something the England Under-21 striker should seriously consider. Rumour has it that both Liverpool and City are monitoring the soon-to-be free agent closely, but if history is anything to go by, he should avoid the bright lights of Lancashire's two biggest cities at all cost. Would he get a chance at either, or is he simply being viewed as an English name on an increasingly cosmopolitan squad list?
A move to Liverpool is one so many have craved in the past, only to cave inside the expectant cauldron that is Anfield. Robbie Keane lasted a mere six months on Merseyside following his £19million transfer from Tottenham.
Fernando Morientes, whose Real Madrid career was extremely well decorated, looked a shell of his former self in Liverpool red. Rickie Lambert, too, has so far struggled to recapture the form which led to a call-up to England's World Cup squad last summer. At 22, is Ings ready for that sort of pressure?
If he opts for Manchester City, is he good enough to dislodge Sergio Aguero - or even Wilfried Bony for that matter? A £28million investment, the Ivorian is far more likely to be afforded first-team opportunities than the player they acquired on a free transfer because a quota needed filling.
Scott Sinclair wasted two and a half years of his career by moving to the Etihad. Jack Rodwell, slightly less - though neither can be blamed for trying. When the champions of England come calling with enough money to blow all competition out of the water, no just isn't an answer.
But where Ings differs from the Sinclairs and the Rodwells, now of Aston Villa and Sunderland respectively, is that he has options. Being out of contract this summer - though compensation would be forthcoming should the striker depart Turf Moor - means that, for potential suitors, it's a relatively even playing field.
It's a short career, granted, and a four-year-deal at Manchester City is likely to mean he won't have to work quite so hard during the twilight of his career, regardless of whether he plays or not, but watching Ings I get the impression that he's no stickler for hard graft. That's why a challenge like Real Sociedad would suit him so well.
In his brief career so far, Ings has always adapted well to stepping up a level. From impressing on loan at Dorchester Town in 2010, to making his breakthrough with Bournemouth in League One later that season. He then made the £1million leap to the Championship with Burnley and after biding his time initially - Ings was frequently kept out of the side by now QPR striker Charlie Austin - he hit 21 goals in 2014-15 to catapult the Clarets into the Premier League.
Seven goals in his first 20 top-flight matches are not to be sniffed at, while he has also flourished internationally at under-21 level - particularly during England's 3-1 win over Portugal in November, which, incidentally, was played at Burnley's Turf Moor, where Ings scored twice.
Ings has all the attributes to succeed in San Sebastian, especially if Carlos Vela departs Estadio Anoeta in the summer. Like the Mexican, Ings is far from your run of the mill penalty-box poacher. His pace and direct running will ask questions of a defence, while his movement hints at intelligence beyond his tender years. A stint in the Football League has also taught him how to deal with brutish centre-halves, should any await him in La Liga.
La Real will be a different proposition next term, assuming Moyes is able to continue his recent turnaround, and could provide the most suitable challenge for Ings. If he proves himself there, perhaps he'll walk into a Liverpool or Manchester City starting line-up a few years down the line?
Whether the Basque country is right for Ings or not, emigration isn't to be feared and is something that he and others alike should certainly consider.
For more fan views or to join the conversation, visit www.90min.com
Popular in the Community