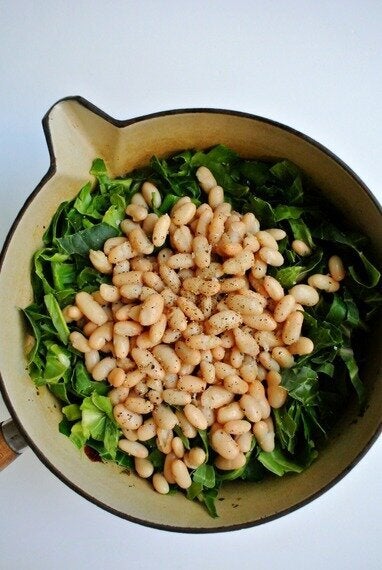 It's a New Year folks and I for one am ready to wipe the slate clean and start anew. Sayonara 2014, I've seen enough of your sorry ass and I'm more than ready to move on. In honour of this fresh beginning we have laid out before us then (please be kind 2015!) I've decided to strip things right back to basics. Nothing fancy. No unpronounceable, difficult to source ingredients or lengthy, long-winded 'is it ready yet' instructions. Simply a straightforward stew. Comforting. Familiar. Seasonal. And super easy to make. I (and I hope you) approve.
Whilst resolutions have never really been my thing I am hoping to implement a few (minor) changes to my lifestyle this coming year - one of them being banning phone-use before bedtime. A self-confessed Instagram, Pinterest, Twitter and YouTube fiend, you'll normally find me glued to my screen until the wee hours of the morning. It's an addiction (or rather new-age affliction) I've been desperate to break for a while now. Just a little over a week in and I'm pleased to inform you that this small concession to my nightly routine has been something of a revelation. The whole 'no internet before bed' thing is having a staggering effect on my sleep. In fact, not just my sleep but my 'rest' because it is rested that I actually feel. Not forcing stimulation on my already tired, social-media addled brain is like a magic cure for overactive minds like mine that tend to worry themselves into frequent late night stupors. It's quite literally like turning off the light in my head. If you haven't made such a resolution yourself, I seriously urge you to give it a go - especially if you're in need of a good night's kip like myself.
Back to the stew then. Straight-up comfort food is what I'm after during these dark months, not least in January when my morale is at an all time low - heck, whose isn't? Just when I think I have a handle on things, boom, something else sidles out of the woodwork just to add an extra level of stress to my day - hence the ultra pared down images with minimal accessories, which kinda reflect my current need to focus on the job at hand without any major distractions. Chance would be a fine thing.
The one thing I can always rely on to bring me solace though is food. The simple, honest, stick to yer ribs sort that make you feel all warm and fuzzy inside. Exactly what a blustery British January evening calls for. Isn't it ironic then that we all vow to 'detox' and 'lose weight' just when the temperature plummets and our bodies are practically screaming out for heat? Rest assured, whilst everyone else is forcing down salads, I'll be relying on big pots of vegetable and bean laden stews that are as good for your mindset as they are for your waistline. Personally, I tend to think our climate should dictate how we eat and for me that means piping hot porridge in the morning and steaming bowls of stew at night - and, in my opinion, this basic but beautiful 'New Year, New You' version fits the bill perfectly.
380g drained cannellini beans
two large handful spring greens
Heat the olive oil in a heavy-based saucepan. Roughly chop the onion, carrot and celery and add to pan. Season, cover and sweat for several minutes until they begin to soften.
Finely chop the rosemary, thyme and sage, add to pan and stir to coat. Sweat for several more minutes. Finely slice the garlic and add to pan. Cover and let the garlic infuse for a few minutes.
Roughly chop the salad potatoes and add to pan. Stir to combine before covering with water and adding the stock cube. Bring to a gentle simmer and cook for around 10-15 minutes or until the potatoes are cooked through.
Add the spring greens followed by the drained and rinsed cannellini beans, season and cover. Let the greens wilt into the stew before stirring to combine, then simmer gently for around 10 minutes. Check seasoning and serve with a generous scattering of freshly chopped flat leaf parsley. A hunk of crusty bread would be perfect to mop up any juices too.