"You're going to L.A? Why? You'll get bored!" remarked a friend on the east coast, before my very first visit to L.A, "you should visit New York instead." And though I love New York, there's something about Los Angeles that will have me coming back, again and again. Maybe it's simply the all year round sunshine and pretty vistas, the anonymity in a city where everyone wants to be famous or its alchemy of carrying and understanding dreams. Whatever it is, L.A is far from boring.
Ready to visit? Here are some tips on where to stay and where to eat.
Where to Stay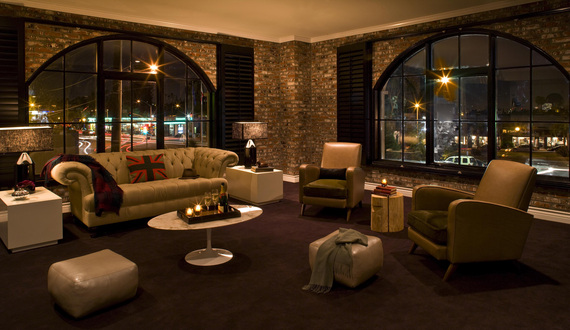 Palihouse. Image credit: West Hollywood Marketing & Visitors Bureau
Palihouse8465 Holloway Drive, West Hollywood, Los Angeles
Think New York style luxury apartment; exposed brickwork, large sash windows, chesterfield sofas, delicious mahogany chairs, tables and bookcases. My studio suite was huge (maybe not so NY!), boasting a modern fully equipped kitchen and a bathroom with luxurious amenities. The hotel is designed for long-stays, with 36 studio, one- and two-bedroom guest suites and loft-style residences and its décor and style certainly achieve a private, home-like ambience. The airy lobby is something quite special, encompassing fluidly, the check-in desk, the lobby bar and lounge area in a bright, trendy, relaxing space. The bar staff here are friendly and very accommodating; the barista produced a flat-white via my directions, insisting he could make any kind of espresso based beverage.
Set away from the sunset strip, the hotel sits in a comparably quiet and residential part of West Hollywood, but the buzz of L.A is never far away. Just a minute walk away is Melrose Avenue, with its restaurants, clubs and bars and a short drive will take you to Rodeo Drive and Santa Monica.
http://www.palihousewesthollywood.com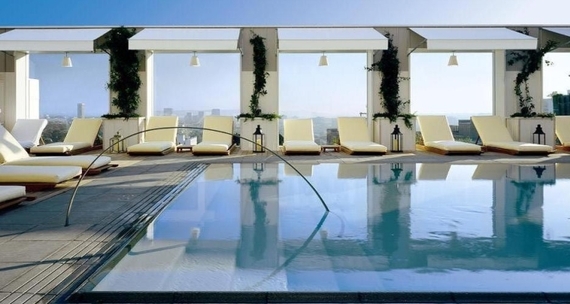 Pool at Skybar, The Mondrian. Image credit: West Hollywood Marketing & Visitors Bureau
The Mondrian8440 Sunset Boulevard, West Hollywood, Los Angeles
The star here is the rooftop pool and Sky Bar. It's the place to see and be seen, coveted by the celebrity and socialite and enjoyed by all the hotel's guests. The rooms are small here, but ample and comfortable for a short stay. The views of Downtown L.A, Studio City or the Hollywood Hills are incredible. The Mondrian's flagship restaurant Asia de Cuba serves excellent fusion food and has an especially good breakfast menu.
https://www.morganshotelgroup.com/mondrian/mondrian-los-angeles
Best Western Sunset Plaza. Image credit: West Hollywood Marketing & Visitors Bureau
Best Western Sunset Plaza8400 Sunset Boulevard, Los Angeles
This budget hotel has a curiously boutique feel, nestled amongst larger luxurious hotels on the sunset strip. Rooms are classically decorated, with free bathroom amenities, free wi-fi throughout the hotel and free local calls. The pool area is especially lovely. A free basic breakfast is also available to all guests. Families looking to visit tourist attractions are well catered for, with staff on hand to impart advice and issue tickets.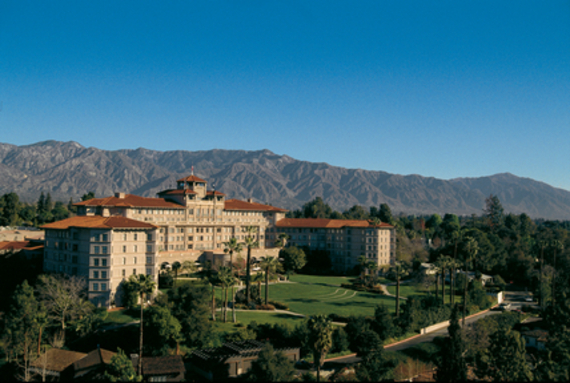 Image credit: The Langham Huntington, Pasadena
The Langham Huntington, Pasadena1401 S Oak Knoll Ave Pasadena
This luxury hotel will blow your mind. Just a short drive from Downtown L.A and you'll find yourself in a lush green oasis of calm. Located at the foot of the San Gabriel Mountains, in Pasadena, this historic building and its 23 acres of land will keep you engaged throughout your stay. There is beauty everywhere you look; the architecture, décor and various landscaped gardens.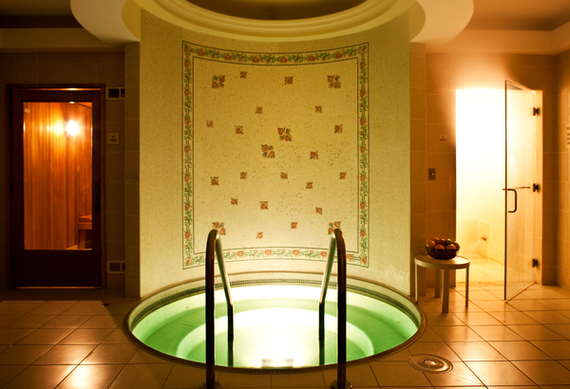 Image credit: The Langham Huntington, Pasadena
My spacious room looked over the original hotel entrance and out onto a vista of green, that went on for miles and miles. The hotel houses one of L.A best fine dining restaurants, The Royce Steakhouse, a dream come true for carnivores, but the restaurant also serves excellent seafood, including oysters served three different ways. The Huntington Spa is the best spa in Pasadena and one of the best I've experienced. Uniquely, the spa provides treatments based on traditional Chinese medicine and the four elements, and where the effects of most spa treatments expire within a day or two, the calming and rejuvenating effects of my treatments at the Huntington Spa were felt for much longer.
http://pasadena.langhamhotels.com
Where to Eat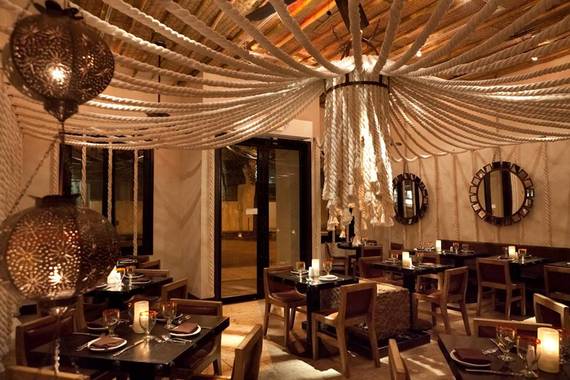 Tortilla Republic. Image credit: West Hollywood Marketing & Visitors Bureau
Tortilla Republic616 N. Robertson Blvd, West Hollywood, L.A
Come Friday evening, this restaurant is heaving and understandably so. The space is designed to incorporate inspirations from the owners' travels and delivers a warm and rustic ambience, with earthy furnishings and hanging lamps. I'm no authority on Mexican food, but I do know good food and the food here is delicious, excellent guacamole and the Tacos de Jicama and Seared Albacore Tuna are especially good. Do not leave before indulging in the dessert menu - the churros are amazing!
http://tortillarepublic.com/west-hollywood-california/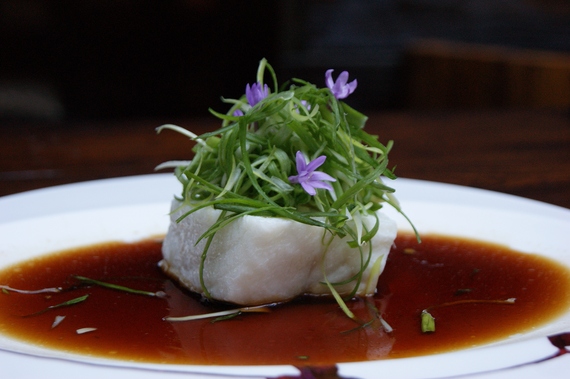 Image credit: Wagstaff Worldwide inc
Chi-Lin9201 Sunset Blvd, West Hollywood, L.A
This new high-end restaurant oozes Hollywood glamour, with its crimson walls, dark wood wainscoting, chairs covered in traditional Chinese brocade and beautiful mirror features celebrating infinite white butterflies. It's truly stunning and worth visiting just to enjoy the atmosphere. The authentic Chinese cuisine is beautifully presented and the Fresh Kale and Crispy Shiitake Mushroom Salad is a definite winner.
http://www.innovativedining.com/restaurants/chi-lin
Tiago7080 Hollywood Blvd, Los Angeles
The best coffee in Hollywood! Artisan coffee is difficult to find in L.A and even more so in Hollywood, so this place is a gem. The baristas are friendly and knowledgable and all my espresso based drinks (including flat-whites) were excellent. Tiago also do a great breakfast menu, delicious eggs benedict and the tastiest granola I've had in L.A.
Lamill Coffee Boutique1636 Silver Lake Blvd, Los Angeles
A coffee lover's paradise; the variety of coffee methods and coffee drinks on offer is immense and the baristas are coffee chemists eager to guide you to coffee discovery. A creature of habit, I go for an iced latte, which I'm told will complement a chocolate salted cookie perfectly. Both are divine. The breakfast menu is fantastic here. I especially enjoyed the Salmon Benedict and the Not So French Toast.
How to go: Virgin Atlantic fly twice daily to Los Angeles from London Heathrow. Prices start from £234 plus £382 tax. For more information please visit www.virgin-atlantic.com or call 0844 209 7777