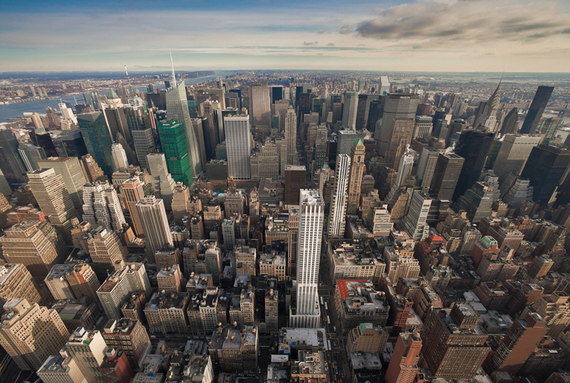 Image courtesy of Langham Place, Fifth Avenue
In all my 29 years, I'd only really celebrated my birthday once. Birthdays have never been episodes of significance in my family and I can't imagine this will change. But having vicariously indulged in others' celebrations through the years, I had made up my mind, I would not allow my 30th birthday to transpire without an explosion of fun and indulgence. And so I embarked on my very first trip to New York City, for a birthday getaway of culture, fine dining and pampering.
Here's a guide to celebrating your 30th in NYC, in style!
Getting there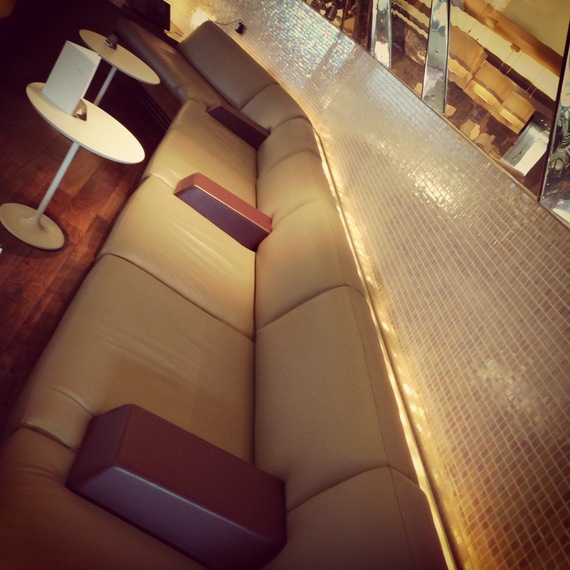 Image credit: Akeela Bhattay
As I was celebrating my 30th, it was only right that I fly Upper Class and flying with Virgin Atlantic meant I would get to experience their renowned flagship Clubhouse at Heathrow. The Virgin Atlantic brand exudes glamour, elegance and chic, with its tongue in cheek, sexy advertising and high fashion uniforms, and the Virgin Clubhouse boasts an aesthetic and architecture to match. It's spacious and sleek, encompassing a restaurant, libraries, an extensive bar, a Cowshed spa and various modes of seating, from communal to private. All Upper Class customers enjoy a free spa or salon treatment and I thoroughly enjoy my pre-flight 15-minute relaxing facial, using some of my favourite Dr. Hauschka products. Post facial, I indulged in a three-course lunch, completed some work on my laptop and took a refreshing shower before my flight.
It was my first time in Upper Class, so an in-flight bed and privacy of an Upper Class seat were a wonderfully welcome revelation. Customers are offered champagne before and throughout the flight, but I opted for water instead. Bespoke menus offer three courses with a couple of different options and the in-flight bar is replenished regularly with fresh fruit and other snacks all through the flight. My only chagrin is with the quality of the in-seat media tech; unlike other airlines I've recently flown (and in economy), such as Air Canada and Air New Zealand, Virgin Atlantic are still persevering with frustratingly slow remote controls (instead of HD touch screens) for their in-seat screens, and USB ports for charging your phone are as yet, non-existent.
Where to Stay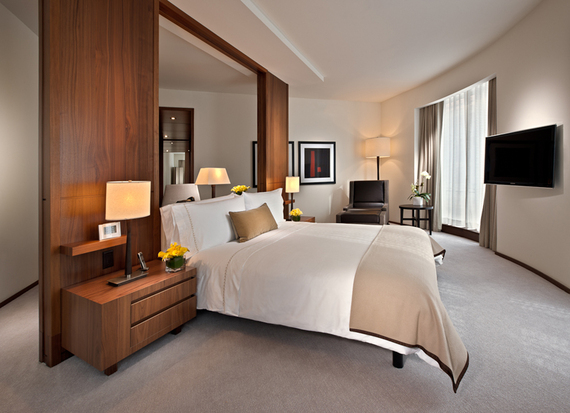 Image courtesy of Langham Place, Fifth Avenue
Langham Place, Fifth Avenue400 Fifth Avenue New York
Midtown Manhattan and just a block away from the Empire State Building, Langham Place is ideally located for a very first visit to The Big Apple. I was booked into one of the spacious premier rooms, probably the size of a New York studio flat. The room is stylish, modern and elegant, with its Italian rosewood and walnut furnishings, contrasted by pale walls and coffee cream luxuriously soft bed linen.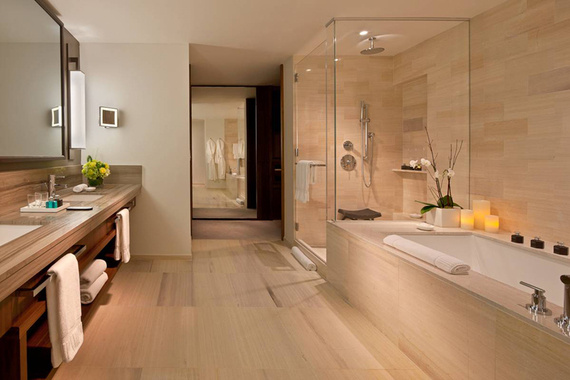 Image courtesy of Langham Place, Fifth Avenue
The walk-in style wardrobe provides ample storage for a lengthy stay and the immense galley style bathroom makes for an indulgent statement, with its deep set, wide bathtub, roomy shower and double basins. And for entertainment, the bathroom mirror reveals itself as a television at the touch of a button. Or for a larger screen, a window opens out into the bedroom, giving access to its 32" flat screen.
Langham Place offers two dining options, the hip casual bistro style eatery that is Measure and the intimate and sophisticated Michelin star restaurant Ai Fiori. Breakfast at Ai Fiori is enveloped in excellent, attentive and pleasant service and combined with the elegant surroundings, I was quite aware of its prestigious title. But I was not overly keen on the food; my eggs royale, though pleasant, was a mediocre dish in comparison to versions I have had at far less expensive and Michelin star-less venues.
The hotel also boasts modern fitness and wellness facilities, with state of the art gym equipment and a tranquil spa (see spa review below).
What I love about Langham Place, Fifth Avenue is, that the hotel doesn't charge its customers for basic modern necessities. So there's free Wi-Fi, free bottled water and no strict checkout time that could otherwise lead to extra costs.
http://newyork.langhamplacehotels.com/index.html
Hotel Elysee60 East 54th Street, 10022 New York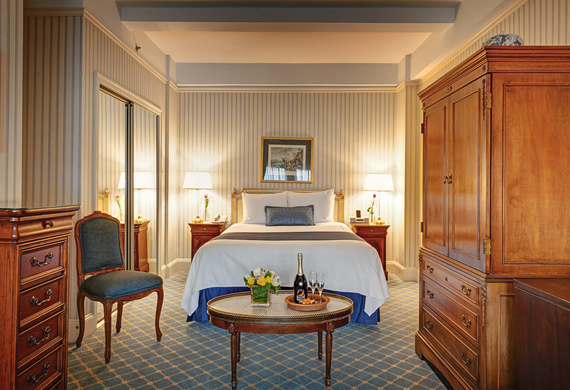 Image courtesy of the Library Hotel Collection
With the General Assembly taking place, the Hotel Elysee only had a room available for the one night, and though I don't feel you can fully appreciate a hotel's hospitality from a one night's stay, I'm very glad I got to spend the night. Built in the 1920's, this boutique hotel celebrates the glamour of the past, retaining its lavish décor and luxury offerings. My room was classically decorated, with antique mahogany furniture, fringed lampshades on ornate lamps and heavy damask drapes. The really star here though, was the spacious balcony with views of the city, the perfect place to enjoy the hotel's complimentary continental breakfast.
Hotel Elysee guests enjoy indulgent amenities by Gilchrist & Soames, free in room Wi-Fi, free complimentary continental breakfast, complimentary evening wine and hors d'oeuvres reception and complimentary passes to the New York Sports Club with locations throughout Manhattan.
Where to Dine
Molyvos871 Seventh Avenue, New York
(Midtown west, near Carnergie Hall)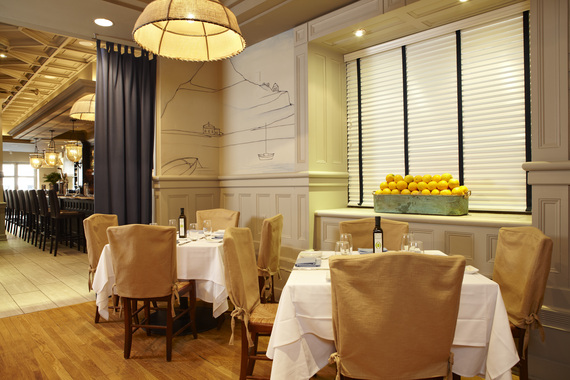 Image courtesy of Molyvos Restaurant and Wagstaff Worldwide
Run by the Livanos family, Molyvos plays tribute to their Greek heritage with its authentic soulful Greek cuisine, masterfully curated by acclaimed Executive Chef Jim Botsacos. The illustrated walls speak of charming Greek villages, sandy beaches and rocky coastlines, whilst the 'Family corner' celebrates photos of the Livanos family, sealing an ambience that exclaims the lively spirit of the Greek Islands. Molyvos has enjoyed a steady stream of rave reviews and its no wonder, the service is impeccable and the food incredible; gutsy, flavourful, fresh and wonderfully presented. Try the classic Mezedes Spreads, the Greek Salad (so much more than the 'Greek salad' you're probably used to), the Jumbo Prawns and the c
Coffee Crème Brulee.
NIOS130 West 46th Street New York
(In NYC's Theatre District)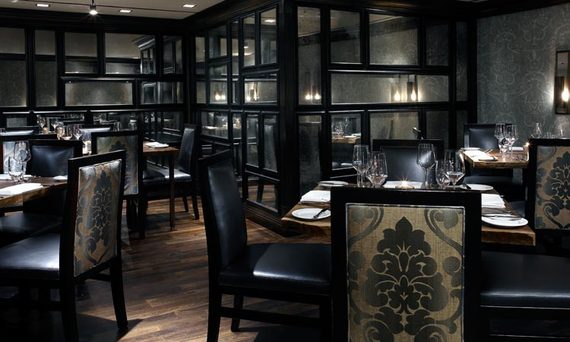 Image courtesy of The Muse Hotel
For something a little more slick and trendy, try the Prix Fixe or bar menu at The Muse hotel's intimate and dreamy restaurant NIOS. Boasting a 'wine experience as unique as Manhattan', this is a fantastic pre-theatre venue for wine aficionados. The food here is as beautiful as its surroundings and very satisfying. The tuna sliders are especially good! While you're there, be sure to visit the toilets; each one occupies a different theme - beautifully presented and worth the visit.
http://www.niosrestaurant.com/index.php
Crosby Street Hotel79 Crosby Street New York
Afternoon Tea, is the ultimate birthday foodie indulgence and Firmdale Hotels have it down to a T. Part of the Firmdale Hotels group, Crosby Street Hotel in trendy SoHo, is furnished in familiar contemporary style by Kit Kemp. Afternoon Tea is served daily, in The Crosby Bar, the Drawing Room and in the pretty sculpture garden on warm summer days. Two afternoon tea menus are offered here; the classic Afternoon Tea and the Ruinart Afternoon tea. Both include a choice of loose teas and coffees, a selection of sandwiches, cakes and petit fours and scones with clotted cream and preserves. The Ruinart also includes a Glass of Ruinart, Blanc de Blancs, NV. The sandwiches aren't remarkable, but the scones are especially good and the selection of teas, excellent. Plus the friendly service and pretty surroundings will have you wanting to spend the night.
http://www.firmdalehotels.com/new-york/crosby-street-hotel
A Spot of Pampering
Rejuvenating Bath Ritual at The Spa, Langham Place Fifth Avenue
400 Fifth Avenue New York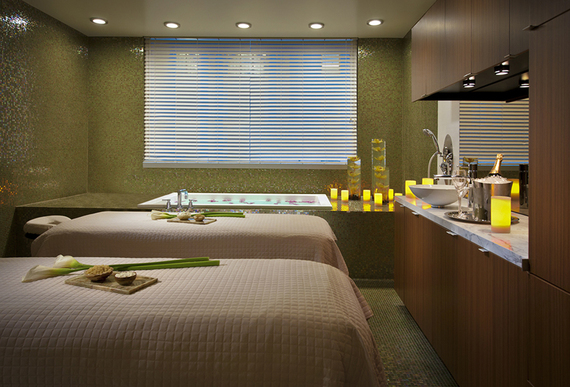 Image courtesy of Langham Place, Fifth Avenue
There's little more indulgent than a luxurious spa day and The Spa at Langham Place delivers indulgence in spades. I've had the misfortune of suffering rudeness and snobbery at a number of high-end spa establishments, but here at Langham Place, you'll enjoy a luxury with sincerity and friendly service throughout. Allow time to enjoy Aqua Lounge prior to your treatment and enjoy the hydrotherapy experiential showers, the soothing vitality pool and the fully-equipped steam room and sauna. The space is decorated in earthy and cool tones, delivering a stylish spa with a tranquil and relaxing ambience.
The spa specialises in a variety of stress relieving treatments, using natural and organic products. The Rejuvenating Bath Ritual is sublime. Your therapist will start by gently dry brushing your skin to stimulate circulation and rejuvenate the skin. You'll then enjoy an essential oil, milk and mineral infused bath, followed by a reinvigorating full-body massage. Don't be surprised if you fall into a sweet slumber from sheer relaxation.
http://newyork.langhamplacehotels.com/fitness/langhamplace-spa-newyork.htm
For something a little different, you might want to try the "Milk, Haute Honey and Rooftop Herbs" manicure and pedicure treatment featuring "Top of the Waldorf Rooftop Honey" at the Guerlain Spa at The Waldorf Astoria.
http://www.waldorfnewyork.com/guerlain-spa/
Enjoy Breathtaking Views of New York City
Visit the Top of the Rock Observation Deck for more than just the spectacular views. See the Swarovski Crystal Joie Chandelier as you enter the building, immerse yourself in the history of Top of the Rock and the Rockefeller Centre via a gallery of photos and artifacts and take the memorable Sky Shuttle ride to the Observation Deck. Finally, enjoy the dramatic views of NYC (including the Empire State Building). 30 Rockefeller Plaza, New York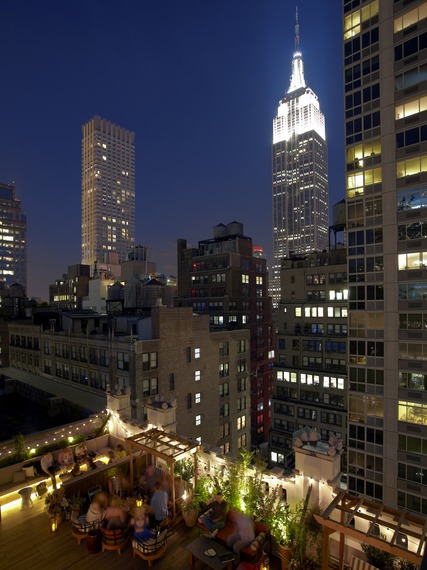 Image courtesy of The Refinery Hotel
If you're unlucky to visit NYC during a Government shutdown (leading to the closure of public parks and tourist attractions), you can still enjoy wonderful view of the city, elsewhere. The Rooftop Bar at the Refinery Hotel boasts stunning nighttime views of the city. 63 W 38TH STREET, NEW YORK