"In the first faint gray of the dawn the stately wild turkeys would be stalking around in great flocks, and ready to be sociable and answer invitations to come and converse with other excursionists of their kind. The hunter concealed himself and imitated the turkey-call by sucking the air through the leg-bone of a turkey which had previously answered a call like that and lived only just long enough to regret it. There is nothing that furnishes a perfect turkey-call except that bone. Another of Nature's treacheries, you see."
Mark Twain, The Mysterious Stranger.
My interest in the workings of the natural world and our place within it originates from growing up in rural Cornwall. I grew up on a farm and the materials I use often bear the mark of the specific language of the landscapes and communities of my youth. Owl pellets, abandoned wasp nests, debris washed up on beaches were at first things of curiosity to me but later they became linked with the ideas behind the work and, eventually, physical manifestations of it.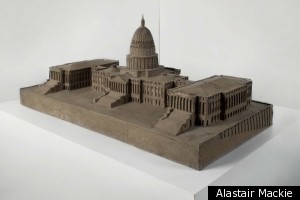 15 years of living in London showed me the other side of what I still like to think of as the natural world. I became interested in the relationships that the two different populations; rural and urban, have with their environments and this lead to a broader curiosity in to the mechanics of the human condition.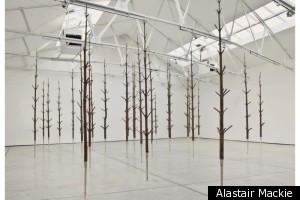 Organic materials continue to serve as a starting point for the reason that they possess an impartiality that stands for what is base inside of all things. Manipulation of these materials reflects something of my experience of a life lived somewhere between nature and culture. In making I like to think that I attempt to impose order on natural forces as a way of making sense of my role and position within my own human environment.
Initially inspired by the turned legs of a dining table I have at home, Copse is my largest installation to date. The idea was to create a pseudo forest, a suspended Arden, in which order is at once challenged and adhered to. Each tree is caught in the same liminal state of metamorphoses - halfway between what it was and what it is to become.