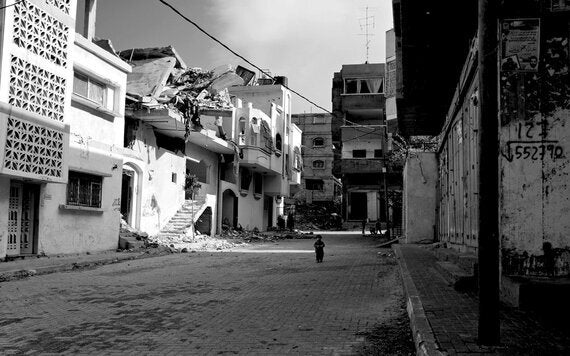 © B. Darrieux / Handicap International
As the year comes to an end, I'm starting to take stock of all the amazing and inspiring stories I came across this year. Sadly, as we all know, 2016 has been marred with horrific news, such as the ongoing bombings in Syria and all too often these amazing stories also have a tragic and shocking side.
With the festive period almost upon us, my thoughts are turning towards my loved ones. But I also can't forget about all the people living in difficult circumstances around the world - whether due to poverty, conflict or disaster. I know that 90 civilians will fall victim to explosive weapons every day, even between Christmas and the New Year. The indiscriminate use of explosive weapons means that many innocent people will be left with terrible, life-changing injuries.
Children are most at risk. With the innocence of youth, they fetch water, collect wood and play football. On a path, they step on an invisible landmine, or reach for a brightly coloured cluster bomb found in a bush. In a split second, if they survive, their life will be devastated - changed forever.
As the year comes to an end, I think about all the parents who had to bury their little ones because of bombs, because of war. I also think about the children who survived and who are fighting to get their lives back on track. The stories of their resilience and hopes for the future are etched in my memory.
Children like Malak, a five-year-old girl whose house was bombed in Syria while she was inside playing with her siblings. One of Malak's legs was fractured, the other blown off. Her brother was severely burned and blinded and her 8-month-old sister died in hospital. When Malak first met our team she was still in shock, crying constantly. But gradually, after weeks of rehabilitation, she was strong enough to be fitted with a prosthetic leg. Thanks to her new leg, Malak has started walking, playing and smiling again.
I also think about six-year-old Sayed from Afghanistan. He was traveling back home with his father when their minibus hit an improvised explosive device, killing four passengers. Sayed suffered severe injuries to both legs and his left leg had to be amputated to save his life. When our team fitted him with prosthesis, Sayed was so happy: "I just wanted to play with my friends again, and my brothers and sisters - that's what I like best. Now I've got my leg, I can. I'm so happy!" he told us.
And finally I am in awe of the courage of 5-year-old Fayaz from Kashmir. Two years ago, he was playing with his sister Simran, 6, when they found a strange object. Simran picked it up, thinking it was a toy. It wasn't. It was an explosive shell. She was killed instantly; Fayaz lost both legs. A year on from the tragedy, our team fitted Fayaz with artificial limbs. Back on his feet, he's now dreaming of becoming a cricket star!
The fact that Fayaz, Sayed and Malak, despite their trauma, can dream once more is only thanks to their own resilience and the generosity of our donors.
This winter, when celebrating the New Year with my loved ones, I will also think about Malak, Fayaz, Sayed and all the other children living in conflict zones all over the world, whose only wish for 2017 is peace.
Handicap International is committed to keep on supporting people affected by conflicts by repairing and saving lives. We will also keep on campaigning to put an end to the use of explosive weapons in populated areas. These indiscriminate, inhumane weapons cause too much suffering.
With war comes responsibility. There are international rules that must be enforced - all states have a responsibility to ensure international humanitarian law is upheld and enforced. The international community must ensure protection and life-saving assistance in response to the immediate needs of all victims of explosive weapons, from all impacted areas and wherever they are.
So please, this Christmas, help children like Fayaz, Sayed and Malak by signing our petition at stop-bombing-civilians.org . Every signature will show them that they are not alone.
Related