The issue of the laws around prostitution has once again been brought onto the news agenda by the recent decision by French politicians to adopt regressive laws criminalising the purchase of sex. This follows similar proposals in Northern Ireland and stalled attempts in Scotland to adopt an approach based on the Swedish model (often misleadingly called the Nordic model by its supporters) which has resulted in widespread displacement of sex workers, subjecting them to greater danger and an increase in the stigma attached to their work.
When I am told by those who advocate for the Swedish Model, based purely on a moral objection to sex work, that the Swedish model will help sex workers I am instantly reminded of the story of Petite Jasmine - a real example of the fatal consequences of state enforced stigma. Jasmine was a sex worker and activist who was told that she was living with false consciousness and that she didn't realise that her work was a form of self-harm. Her children were placed with their father regardless of the fact that he was abusive towards Jasmine - they deemed him a more suitable parent than her. He threatened and stalked her but she was never offered protection by the Swedish authorities who don't recognise the rights of sex workers. She fought the system and had finally started seeing her children again. On July 11th 2013 their father brutally murdered her.
The International Day to End Violence Against Sex Workers, held on December 17th every year, is a day when sex workers, their friends, allies and human right activists throughout the world come together to fight the stigma attached sex work and remember victims of violence. The day was initially created as a memorial and vigil for the victims of Gary Leon Ridgeway, the Green River Killer, who murdered at least 71 women, most of whom were sex workers, in Seattle Washington. He, like many of those who target sex workers, did so because he believed that the crimes wouldn't be reported to the police and he would therefore get away with it. Or, in his words, because he thought that he could "kill as many of them as possible without getting caught."
Tragically, Ridgeway is just one of many violent criminals who target sex workers. Sex work is heavily stigmatised in our society at every level and sex workers are often targeted by dangerous serial offenders. 141 sex workers have been murdered in the UK since 1990 and since the National Ugly Mugs (NUM) Scheme was launched in July 2012 there have been almost 600 incidents reported to it, almost a quarter of which were sexual violence. Despite the severity of the incidents that are reported to NUM, less than a third of victim are willing to formally engage with the police which means that the perpetrators often cannot be apprehended. The fact that these very dangerous perpetrators are still on the loose is a huge concern for the safety of sex workers and for the wider public.
It is crucial for lawmakers and the police to recognise and understand the consequences of criminalisation and enforcement. Even in the UK, where police enforcement of anti-sex work legislation (and this includes enforcement of kerb-crawler legislation) is more severe, sex workers working on the streets are far more likely to be forced into risky transactions, displaced into unfamiliar and more dangerous areas and are ultimately far less likely to engage with healthcare, support services and the police. Areas like Merseyside where the police treat sex workers as human beings and actively engage with them have far higher rates of sex workers reporting violent and sexual crimes than those who peruse regular enforcement activities like the ones we have seen recently in Soho. The brothel keeping laws in the UK forces indoor sex workers to work alone and, in turn, subjects them to greater risk of harm.
Many of those advocating for adoption of the Swedish Model in the UK seem to misunderstand the distinction between sex work and trafficking and regularly quote misleading statistics to cause moral panic - I have twice heard a politician who is vocal advocate of the Swedish model say that "75% of women working in prostitution are trafficked" which is simply not true and far away from any evidence based estimates of the actual figure. I suspect she is confusing the number of migrants working in the indoor sex industry in London for the number of people who are trafficked but whatever the reason it worrying to say the least. It is a real abuse of their position for politicians to widely use figures which have little or no basis in reality to advocate for a drastic change in the law which will have huge consequences for many people.
Worse still is the fact that hardly any of the public figures, mostly politicians, who are loudly banging the drum for the criminalisation of clients of sex workers have made any attempts to support or even engage with the National Ugly Mugs Scheme which has been a huge success in improving sex worker safety and apprehending dangerous offenders but still faces a constant struggle to secure funding to continue.
So, on the 17th December this year, I am determined to remind people of the achievements of the National Ugly Mugs Scheme in the seventeen months since it was launched. NUM has already led to the conviction of at least ten serial offenders and there are also a number of cases currently going through the criminal justice system. According to the Independent NUM evaluation, 16% of sex workers said they had avoided a specific individual or appointments as a direct result of NUM alerts and 63% of sex workers said they would be more likely to report to the police as a direct result of NUM.
One woman working as an escort summarised her experience of NUM as follows:
"I work as an escort and signed up to National Ugly Mugs and I have to say it has saved my life. I arranged business with a client... he was waiting in a car and [the number plate matched one] I had previously been given the majority of through text from NUM [which] said he was violent and robbed the girls. Because he hadn't seen me I walked away... a lucky escape."
NUM is pioneering. It the first of its kind in the world and is constantly contacted by sex workers and organisations in other countries saying that they wish they had something like it local to them. We should never forget the human cost of the crimes NUM prevents but the financial cost is often huge. To run NUM for a year costs around the same as a single rape investigation and 10% of the average murder investigation so by preventing crimes and identifying perpetrators NUM is saving the police and the taxpayer huge sums of money.
Don't take it from me, take it from Assistant Chief Constable Chris Armitt, National Police Lead for Prostitution who said,
"On the International Day to End Violence Against Sex Workers it is really important that we recognise the pioneering work of the National Ugly Mugs Scheme here in the UK, improving the safety of sex workers and supporting the police in bringing to justice the criminals who target them. Despite the remarkable success of the scheme in such a short time they still struggle to secure the funding they deserve. I believe passionately that NUM is a vital scheme and it would be a tragedy if the scheme did not secure the funding to continue to grow and save lives."
On the 17th December this year I will be thinking about Petite Jasmine and all the other sex workers who have been harmed, raped, robbed or murdered as a result of the stigma attached to what they do and the fact that many perpetrators, like the Green River Killer, believe that they can target sex workers without getting caught. I urge the people blinded by ideology who are campaigning for the Swedish model to be introduced in the UK because they believe it will improve the lives of sex workers to speak to sex workers - the Swedish Model is regressive, entrenches stigma and harms rather than helps sex workers. Focus your energy on supporting the National Ugly Mugs Scheme which is really saving the lives of sex workers but faces a constant struggle to raise enough funds to continue.
To make a £3 donation to National Ugly Mugs on 17th December please text "UGLY00 £3" to 70070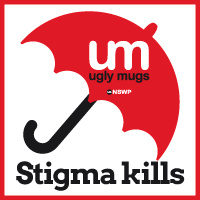 Related