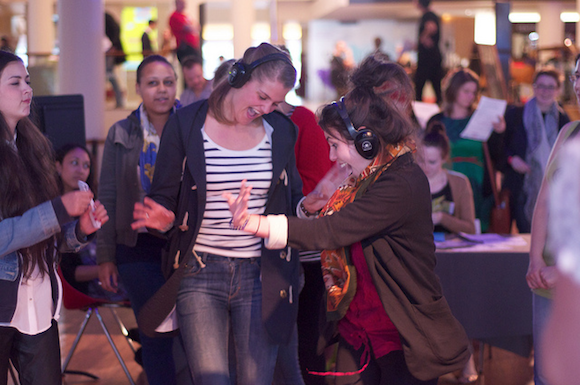 Game culture is everywhere - on our phones, in our living rooms, and on our movie screens, though we have yet to see games played out in public, in our cities or on our high streets. There are playgrounds, where children can play on their own, and there are betting shops, where adult players can gamble, but an immersive space where kids and adults can mingle through play? Not quite. That's why this year's Hide&Seek Weekender and Playing in Public Conference at Southbank Centre attempt to answer the question: how can we all play together?
Although games have been gradually entering the cultural space for a long time now - from actors' games in the rehearsal room, to digital games designed to promote or support other work, to games with an educational purpose and watch-only exhibitions of the history of games, what is missing with any regularity is games that enter the cultural space as contemporary artworks in themselves, the centre of attention, in a playable format. You might ask a friend for a drink in a public space, but if you want to have a game together there isn't an obvious place to go. Could we soon live in a world, where asking your mate for a game on the local high street will be as easy an option as going to the cinema, the pub or the club?
Things are starting to change. Earlier this summer we were lucky to be a part of Joue le Jeu at the Gaîté Lyrique in Paris, where thousands of visitors could play with a building, which could smell, see, touch and hear them through cheekily designed devices inviting play. And 12,000 people turned out in Edinburgh city centre on January 1st to play our New Year Games. Both experiences left me more certain than ever that playing in public is a mainstream activity that belongs in our cultural and civic spaces.
It's not just happening nearby. New York has a thriving public games scene, featured at the festival Come Out and Play, No Quarter and epicenter of the New Arcade Movement, Babycastles. MOMA recently hosted a forum on the Game as Art Form. We're regularly told of festivals, studios and events in San Francisco, Berlin, Athens, Pittsburgh, Melbourne, Toronto, Seoul, Johannesburg - it seems like there is a new event every month.
Something that's very important about these developments is the centrality of good game design. It's often been the case in recent years that interactive art has appropriated some of the elements of games and grafted them on to other cultural forms. What we have now is a generation of game designers who are confident in taking ideas and concepts from other art forms and integrating them into their creative practice.
When 40 years of videogame culture and technology intersect with iconic public spaces and the desire for unique live experiences, what results is something new and thrilling - and my hope is that as the rise of games as live experiences continue, so they colonise many different kinds of public space, to many different ends.
Come and join us for the Hide&Seek Weekender from the 14th - 17th September.
Drop in and play at Southbank Centre, dance and play at the Weekender Party in the Old Vic Tunnels, or listen, think & network at the Playing in Public conference.