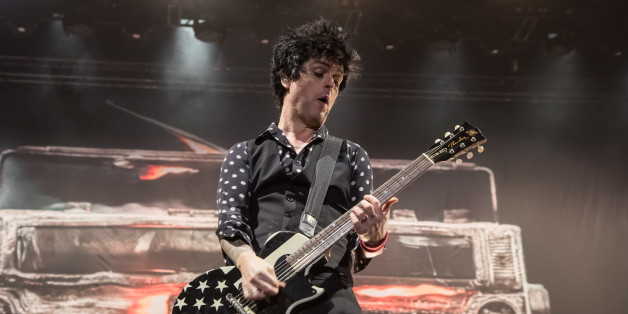 Barcroft Media via Getty Images
The subtext of 'American Idiot' is more relevant than ever and Green Day still know how to prove it.
If Green Day had been at Glastonbury last weekend they would have been among the crowds at the Pyramid Stage chanting 'Oh Jeremy Corbyn' when the Labour leader received a response worthy of one of the festival's headliners. Green Day are a band whose music and politics would resonate across Worthy Farm far more than, dare I say, Radiohead for example. Alas, no Glasto headline spot for the boys from the East Coast this year, but this weekend they'll be sending their message to the thousands of fans at British Summer Time in Hyde Park.
Earlier this year Green Day played a limited run of live dates in the UK on their current 'Revolution Radio' Tour. I saw them at Manchester Arena, buoyed by the strength of the latest album, a return to form after the rather confusing era of the albums 'Uno' 'Dos' 'Tre'. Coming soon after the inauguration of Trump, here was a band whose huge anti-establishment anthems had taken on even more relevance. Despite being thirteen years old, 'American Idiot' couldn't have been more prophetic given the current state of US politics.
Since that show in February, UK politics have taken a battering, the country has suffered loss and grief, and, in the same way that Corbyn graced the Pyramid stage, I expect Billie Joe Armstrong to take full advantage of being in the spotlight in Hyde Park. In his own unique manner he'll call for action and unity. He's a master of transforming a crowd, from a bunch of gig-going music lovers, to a political movement, ably assisted by his band's rousing anthems.
You can't call an album 'Revolution Radio' without delivering on the promise of an actual revolution, a fact lost on nobody in the crowd, least of all the band. What makes Green Day still stand out from the crowd, 27 years since their debut album, is their ability to hammer home the sentiment of their songs whilst delivering fun and harking back to their early days. 'Longview', 'Welcome To Paradise' & 'Basket Case' still maintain their charm alongside the more recent call to arms such as 'Ordinary World' and 'Know Your Enemy', where 'Minority' rightly holds its principles 17 years on, in a world where so many are still fighting to be heard.
Despite a few turbulent years, Green Day remain tight, in sync and still eager to please. Welcoming fans old and new, Billie Joe's regular routine of instigating cheers for the downfall of political villains whilst also inviting super fans on stage to take the place of various band members never gets old. These shows are grand, brave and, most importantly, very very loud.
If you're lucky enough to have tickets to see Green Day live in Hyde Park, or next week in Sheffield or Glasgow, allow yourself to be moved by the passion that this band still have for spreading their mantra. A band who never underestimates the power of their success and the audience they command. Billie Joe Armstrong will have you eating out of his hands before you know it. Has he considered running for President?