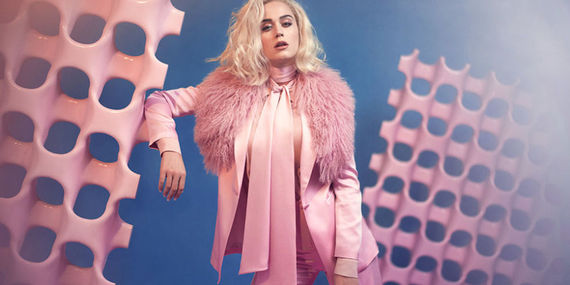 Katy Perry is coming to The Brit Awards next week. Inevitable after her turn on The Grammy's stage on Sunday, where she performed her new song 'Chained To The Rhythm' for the first time. It's a subtle, yet effective comeback single for Perry: upbeat pop values alongside a call for better engagement with the world around us. Her sentiment was proved when the Grammy performance ended with the message 'No Hate'.
Just two weeks ago, all was quiet in Camp Katy, and as Lady GaGa threw herself off the top of the football stadium in Houston, I was reminded of the moment Perry, quite literally, roared on to the pitch at the start of her Superbowl spectacle in 2015, proudly straddling a golden mechanical lion and powering through her back catalogue of pop anthems alongside a shark with spatial awareness issues.
It wasn't coincidence that shortly after Gaga had 'dropped mic' Perry's social media accounts were suddenly emblazoned with fresh profile pictures, cries of "New Life" and treasure hunt of disco balls in major cities for fans to hear the new song first. Comebacks can often be over hyped, but boy, is this the comeback we need right now.
That's not to say Perry has been completely M.I.A since 2014's 'This Is How We Do', the final single release from her stomping album 'Prism', which gave rise to one of the biggest tours of the year and a stream of radio hits that proved she's firmly cemented as one of the biggest players in the all-consuming, often cynical game of pop. During 2016 Perry played the political stage with aplomb during Hilary Clinton's election campaign, practically becoming the poster girl for the change and promise that a Clinton victory could deliver.
Last summer saw the release of the stand-alone single 'Rise', a song with all the hallmarks of Whitney's 'One Moment In Time', tying in with American coverage of the Rio Olympic Games. 'Rise' was an understated anthem of strength that played to Perry's primary strengths. Never one to be fazed by the necessary work it takes to be a consistent player on a global stage, the video for 'Rise' showed that Perry isn't one to shy away from suffering for her cause. A soul-searching mountain trek, hindered by a soggy parachute - it was the pop video equivalent of competing in the Olympic Marathon. Pop allegory folks. Satisfying for a mere three and a half minutes, it left fans craving more.
Rumours swirled that after Clinton's election defeat Perry's planned album had been abandoned in favour of returning to the studio to craft something a little more political. A thought that sends shivers through even the most liberal fans of such a pop titan. Subliminal messaging in pop often has a greater effect than nailing your flag to the mast and declaring "We Are The World". If Perry was to release 2013's 'Roar' today it would resonate more than ever: stand up, fight the fight and make some noise. More importantly you can make that noise, have a radio hit and still make the fun video that goes with it.
'Chained To The Rhythm' is just the beginning of what promises to be a big year for Perry. She has always been a popstar who crafts her songs, videos and performances with optimism and hope (I challenge you to go back and watch the video for 'Firework' again and not feel it). Never taking it all too seriously, she delivers her goods with a sense of humour that often eludes many of her peers. Whether you're fan or not, you can always rely on her for an optimistic banger, the kind that 2017 is in such desperate need of right now.