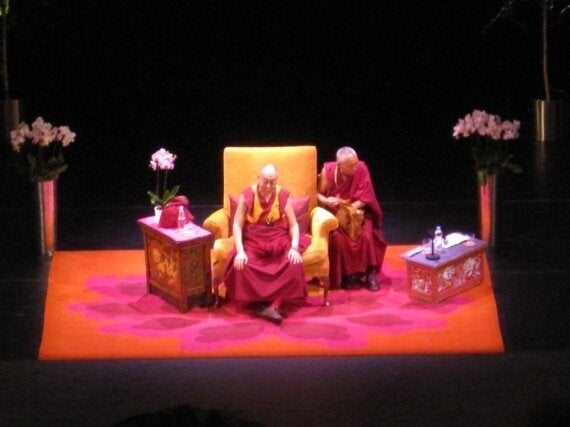 That's the very first thing he did upon arriving onstage at the London Coliseum on Sunday afternoon to give a public talk on Ahimsa, non-violence. He was half an hour late, held up, we were told, by traffic. Or was it just congestion caused by the group chanting, singing and welcoming the appearance of the Dalai Lama vs. the group chanting, singing and protesting the appearance of the Dalai Lama? And the visible police presence? Whatever, it made for a raucous welcome for a teacher of peace and compassion.
There was a sense that amongst the Coliseum's audience, filled to its capacity of over 2,000 seats, there were very few, if any, who minded the wait. It was a lively crowd who sat patiently and were yet amazingly lively to my mind, which perhaps reflected the final and ultimate message of His Holiness: What is the purpose of life? It is happiness and joyfulness.
In the midst of a mini storm outside, the Dalai Lama arrived calm, composed and appearing quite physically strong for his 80 years. He chose immediately to stand up at the microphone for most of the 90 minutes of his talk, only retiring to the 'throne' installed for him centre stage for Q&A at the end.
Once that familiar chuckle was heard, a sound that says so many things including, "everything is all right", in spite of everything that is not all right, he was off and speaking without barely taking a breath. In case you missed it, this is what the Dalai Lama said next, in summary:
Reminding us he has retired as a political leader, he told the audience his mission now is the preservation of a Tibetan culture, which he said is essentially "a culture of compassion and peace". To this end he enjoined us to consider what role "affection" has played in our lives, from our very conception to its importance at the very end. Thus he emphasized the need for commitment to human values throughout the life, of kindness, compassion, tolerance, forgiveness, and understanding. Friendship and a smile, he said, makes everything so much better than a frown.
He reminded us that although the war to end all wars did not succeed in achieving that in the 20th century, we should now be in the 21st century of peaceful dialogue, of constant efforts to seek harmony and promote a sense of Oneness of all humanity. This is his method and his message. Instead of seeing differences, can we see, as he does, that all human beings are basically the same? They all want happiness, but have different views how to get it. The whole world is dependent on each other, East and West. When there is danger and conflict, can we not sit and talk and work it out? He is a strong proponent of dialogue. Respect the other's right, their interests.
And once again, the reminder that it all starts with education. Our education has provided for the physical well-being of the individual, but not for a healthy mind. Money, fame, even a diamond ring 'cannot give you affection'! We need to seriously look at the education system and how it can include moral values; human values that help bring about unity, respect, mental well- being and inner peace. All of society after all, begins with one person: Me.
He referred to one of the true meanings of 'jihad', "to internally struggle against"; it's not "hitting other people". Someone who "hits other people" is not a religious practitioner. There was a round of applause at the reference to females being "biologically, more sensitive to others pain, so they should take responsibility for promoting love in society", after which he laughingly referred to himself as a spiritual feminist.
At the age of five, Tenzin Gyatso was formally recognized as the 14th Dalai Lama, and dutifully took on the restricted life, responsibility and education set out for him. At 15, he took on full political power over Tibet and watched his country, his people and his culture decimated, as the world looked on, or not.
His message is: "Since compassion and love are the very basis of our survival, if you feel that Oneness, share it with people, if you don't, keep quiet".
The audience showed their respect with standing ovations. We then all walked out into the protesting mayhem in the street; people who no doubt were expressing their interests and views, and also want to be happy.
Popular in the Community