When the Pozzo empire extended its reach deep into unassuming Hertfordshire, the narrative of Watford Football Club took a drastic twist. The club ceased to exist as its own stand-alone entity and was instead inducted into a pan-european footballing commonwealth. At worst; collateral, at best; an investment, dim predictions were made of Watford's long-term future.
The club was gutted from top to bottom. Sean Dyche was unmercifully cast aside and swiftly replaced by Gianfranco Zola. A legion of loanees, including eight from Serie A's Udinese and two from La Liga's Granada were awkwardly wedged into the pecking order.
With the changes came castigation from all quarters. Branded a club that had lost its soul, Watford had been reduced to a finishing school of transient talent; nothing more than a mere appendage of its Italian overlords. And when the club reached its nadir, a 5-1 defeat at Derby, the cacophony of vitriol reached fever pitch.
Greedy owners with split priorities; its very identity in tatters. To many, Watford had simply become a "snapshot of everything that is wrong with the modern game", as put frankly by the Daily Mail.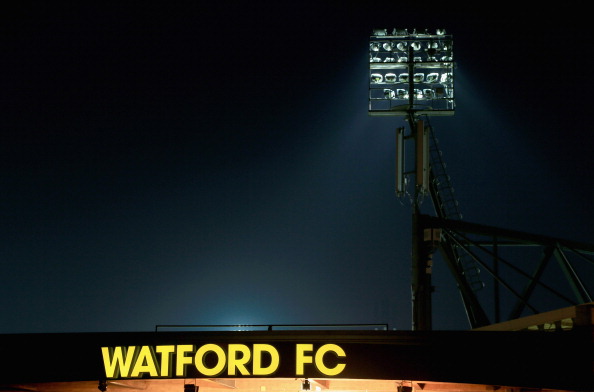 But in the face of these apocalyptic predictions, Watford have flourished from mid-table mediocrity to a club skyrocketing toward the top-flight. And with such ascendancy, the benefits of the Pozzo empire have come sharp into focus.
Since demolishing Leeds 6-1 at Elland Road in November, Watford have taken 43 points from a possible 60, losing just three of their 20 fixtures to boast the Championship's best away record. Averaging over two points a game, the Hornets have blazed through the competition, netting a staggering 50 times to become the highest scoring outfit in English football.
Watford are a portrait of success, blending english industry with continental swagger; a team of silk and steel.
Firmly in the vanguard of the club's recent surge are the new loan arrivals. Out of Watford's four top scorers, three of them - Matej Vydra (20), Almen Abdi (9) and Nathaniel Chalobah (4) - are loanees. Out of the eight most featured players this season, no less than five are temporary signings.
Indeed, such is the model's success that rival clubs have demanded the rules governing the current loan system be amended at this year's annual general meeting - a move that speaks volumes of the Pozzo's success at Watford
Now more than ever, it has become starkly clear that the initial, visceral critiques overlooked the Pozzo's glittering track-record, their impressive business acumen, and the nature of the system itself.
With the assurance of financial stability, the Pozzo takeover has allowed Watford to gorge on the fruits of Udinese's remarkable scouting apparatus; a worldwide network of over 50 scouts that unearthed such stars as Oliver Bierhoff, Fabio Quagliarella, Antonio di Natale and Alexis Sánchez.
At the heart of the system is financial prudence. With a modest stadium fanbase and an annual stadium revenue that equates to just a single Arsenal home game, Udinese have relied on a pioneering use of the transfer system to generate the working capital to compete with the titans of Serie A, and are one of the few club in the league to run at a profit.
Buy cheap; sell at a premium. Udinese have made over £200 million in the last decade from unheralded talent from untapped hunting grounds. Sánchez, who was brought in from Chile as a 16-year-old old for £2 million, was later sold to Barcelona for a staggering £30 million; Gökhan Inler, signed for £900,000 from FC Zurich in 2007, was sold to Napoli for £15.5 million.
But whilst Watford's induction into such an efficient set-up continues to pay dividends, the issue of sustainability stubbornly remains.
By sharing a deep pool of communal talent, there is the argument that the clubs at the bottom of the Pozzo food chain - Watford and Granada - are having their own academies bypassed. That the Pozzos did in fact backtrack on a previously agreed two-category upgrade of Watford's academy does suggest that the homegrown academy stars are indeed having their wings clipped.
And then there's the issue of longevity. If Watford are promoted, just how many of the club's loan stars will extend their stay at Vicarage Road? What if Vydra is the next Alexis Sánchez? What if Almen Abdi is the next Kwadwo Asamoah? It seems a testing foundation to build permanent success upon.
But for the answers to these questions, look to Granada - a formerly third-tier team rescued from the brink of implosion by the Pozzos in 2009. Under their stewardship, the Andalusians now sit in the mid-table safety of La Liga, claiming the scalps of clubs like Real Madrid after a staggering two promotions in three seasons.
On current form, Watford seem a club destined for the top-flight. And despite the stubborn issue of long-term sustainability and for all the talk lost identity, it seems unlikely that any self-respecting fan would trade in financial stability and access to one of the world's most revered scouting systems to 'have their Watford back'.