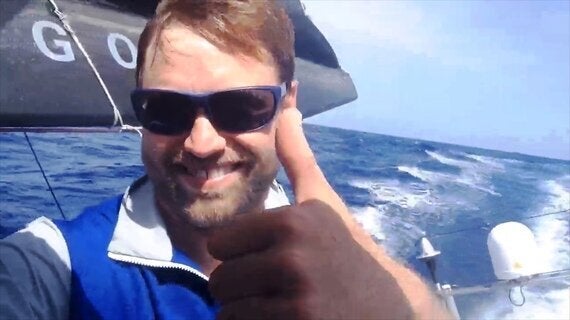 It's another great Tuesday morning for HUGO BOSS and I am celebrating with a beef and potato stew -Freeze Dried!
On Sunday night we crossed the Equator first in 11 days 13 hours and 50min, another pinnacle part of the race. This is 24 hours quicker than the last time this boat took part in the Barcelona World Race.
The situation on board today is calm, although the wind is building as we start to leave the Doldrums (Sailing Slang for the Inter tropical Convergence Zone found at the equator both in the Atlantic and the Pacific where the winds are light).
The lighter airs in this part of the race has allowed us to check the boat thoroughly. The wind will significantly build as we enter the South Atlantic. HUGO BOSS is performing well and we are pleased with our consistent position at the front of the fleet.
Over the last 12 days the fleet has been close and the competition at the front has proved at times stressful. We have been able at night to see the lights on our competitor's boats. This is a constant reminder to focus on speed to maintain our strong position at the front.
We tried to shake Neutrogena and Cheminées Poujoulat with a tactical decision to pass east of the Canary Islands, separating ourselves from the fleet. This initially provided us with the leading advantage we were looking for. Unfortunately the fleet has compressed again in the light airs of the Doldrums. We have recently picked up speed and are hoping to continue to do so as the day passes.
It is hot on the boat and I am cross with myself that I did not fit any fans to keep us cool! The hot airs around the equator mean we are reading 25- 28°C air temperature. Not ideal below deck for sleeping and navigating, an uncomfortable environment with no air circulation. The fresh food has now gone and we are meeting our nutritional needs with the freeze dried meals we stowed away - the very same as astronauts eat.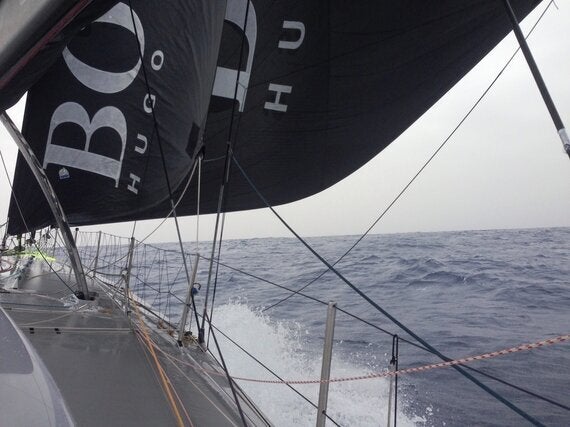 Pepe and I are getting along well and the light airs in the Doldrums have given us both the opportunity to rest. There were days last week where one of us had to be on the helm continuously. This is exhausting because the conditions are rough making our hands feel like they are moulded to the shape of the tiller. As you feel the motion of the waves beneath you and listen to the singing of the boat, constantly watching and listening to ensure HUGO BOSS is sailing safe.
Our goal now is to get south as quickly as possible and be the first to the gateway of the Southern Ocean in a couple of weeks' time!
For updates on the HUGO BOSS team's progress visit www.alexthomsonracing.com
Related